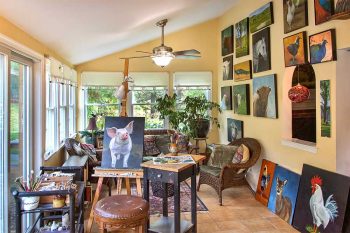 Art collectors, enthusiasts and novices will have two full days in May to meet some of the best artists in their Chester County studios, observe the creative process and to purchase their distinctive creations.
"The Chester County Studio Tour grows in popularity each year and this year will be the best ever," said Jeff Schaller, artist and show coordinator. "The public will have a unique opportunity to see the creative process as many studios on the tour will feature works-in-progress and artist demonstrations. The tour has something for everyone, from the first-time art buyer to the seasoned collector, in a wide range of mediums and prices."
This year 154 artists in 64 studios will exhibit different mediums such as painting, sculpture, jewelry, photography, clay, glass, paper and fiber. All the artists will be on hand to talk about their work and meet buyers and browsers alike.
The 2018 Chester County Studio Tour is free and open to the public on Saturday May 19, from 10:00 a.m. until 6:00 p.m. and Sunday, May 20, from 11:00 a.m. until 5:00 p.m. Please visit www.chestercountystudiotour.com for a map, artists and studio listings and catalogue.  Handicapped accessible studios are marked on the studio pages in the catalogue and on the website. Email info@countystudiotour.com or call 610.942.9629 for further information.
Visitors are encouraged to design their own self-guided tour with the catalogue and map, which can be downloaded from www.chestercountystudiotour.com. Members of the public can start with a nearby studio, or anywhere they like, by using a convenient map graciously sponsored by FIG Industries.  In addition, Tolsdorf Oil Lube Express has designed routes that will guide attendees across the county, allowing the public to view the countryside and selected studios.
The County Collector Series, sponsored by Otto's Mini & Otto's BMW, will be offered again in 2018. The public can collect an original framed 6" x 6" piece of art for the special price of $75.  Two-dimensional artists have created original works of art in a simple and elegant 6" x 6" frame, and three-dimensional artists have created special pieces for the County Collector Series.  A photo of each work in this series is included in the catalogue and displayed on the website.
The Chester County Studio Tour was created by Jeff Schaller, painter and tour organizer