By Mike McGann, Editor, The Times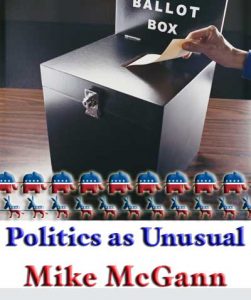 Welcome to a very special, bonus St. Patrick's Day edition of Politics as Unusual — marking a week where an awful lot was, well, unusual.
Democrat Conor Lamb appears to have beaten Republican Rick Saccone — the current tally separates the two by less than 700 votes — in a strongly Republican performing district (Donald Trump won there by about 20 points and former U.S. Rep. Tim Murphy was so untouchable that no one ran against him the last two cycles).
Combine that with the new Congressional District map (more on that in a moment) and things look pretty bleak for local Republicans, especially one Ryan Costello, the incumbent in the all-new 6th District, which now includes all of Chester County.
One media outlet — and things being things, it exploded all over the Interwebs — claimed Costello was thinking about opting out of the race, just days before the filing deadline. I'm going to call BS (as the cool kids are saying these days) on that.
While I give a little credence to reports that Costello briefly flirted with the idea of mounting a run in the neighboring 9th — which also contains a big hunk of the old 6th he currently represents and is a lot more GOP user friendly — there was zero chance that a: he would quit and b: that he would quit so close to the filing deadline and hamstring his presumed replacement, current Chester County Commissioners Chair Michelle Kichline with little to no time to get on the ballot.
Despite the fact of Lamb's win (pending litigation) and the fact that the new Sixth went for Hillary Clinton by about 10 points in 2016, Costello isn't going anywhere before the November election.
First off, he has the advantages and disadvantages of incumbency.
Second, he's sitting on a giant pile of campaign cash: about $1.3 million as of the last Federal Election Commission report I saw (the downside, his likely opponent, Chrissy Houlahan has $950,000 on hand and has been a strong fundraiser).
Third, and maybe most important: the dude is angry. Like volcano angry. Like someone who smoked bad weed and binge-watched the X-Files, he sees conspiracies against him everywhere, where largely none exist.
So, come hell or high water, Costello is in this for the long haul.
That's not to say it will be easy, of course. A big hunk of this race is out of his hands — a growing desire by voters to place a check on President Donald Trump. Voting out Republicans is the simplest solution for most voters who see it as an issue, hence the national headwinds against Republicans.
But, as former Speaker of the House Tip O'Neill (it seems right to quote an Irish-American icon today) famously said, "all politics is local."
And on that local front, Costello is feeling heat from the American Civil Liberties Union, which has threatened to file suit against the Congressman if he doesn't stop allegedly blocking constituents on social media and keeping them out of his town hall meetings.
In a letter, dated March 12, Witold J. Walczak, Legal Director, ACLU of Pennsylvania, wrote:
"Although we commend your creation of these online and in-person forums for engaging with your constituents, your suppression of their voices because they have criticized or disagreed with you is a form of viewpoint-based censorship that violates the First Amendment to the U.S. Constitution. We ask that you immediately unblock everyone from your congressional Facebook page and also confirm that you will no longer prevent constituents from attending your town hall meetings."
Walczak listed nine individuals who he said had been blocked from posting on Costello's Congressional Facebook page and/or attending a town hall because they had opinions that disagree with him.
Costello has previously alleged that some of the individuals are paid agitators — a claim that doesn't hold up to even cursory scrutiny. I know a number of the individuals listed by the ACLU, and while they certainly have strong feelings and what they see as legitimate grievances with Costello, they aren't professional protestors.
Part of the job of being an elected official is taking heat – and it seems like this is an area that Costello struggles with — whether it comes from the voters or the media, if they fail to meet his needs for fawning praise.
Unfortunately, he reminds me of my days covering professional baseball, when you'd see a guy tear it up in Double A, only to reach the Majors and not be able to hit the curveball (or cope with the pressure) and fail. How many "can't miss" prospects have gone from the big leagues to riding a bus for the Lancaster Barnstormers, hoping for one more shot in organized baseball?
It's a shame, but it is what it is.
***
We still have to speak of the Lamb victory as "apparent" because the GOP is in court claiming all sorts of issues. While none seem likely — complaining that the new district maps shown on the Department of State Website somehow confused voters is, um, interesting — it could delay Lamb being seated in the U.S. House. That of course, gives him more time to ramp up his campaign for the new 17th (Saccone plans to run in the neighboring 14th — so both could be elected to Congress this fall) against incumbent Keith Rothfus.
Meanwhile, the lack of action following a March 9 hearing on a suit seeking to vacate the new districts suggests that it — as well as another suit — aren't going anywhere. As Tuesday is the deadline to file petitions in the new district, a court ruling setting them aside in favor of the old, ruled-unconstitutional districts would set up chaos.
One political insider suggests a possible remedy that might be terrifying to Republicans: no districts at all, with 18 at-large seats for 2018, the one sure fire way to remedy all of those candidates who got their petitions filled.
In that scenario, Democrats might run the table and win all 18. So the GOP may want to be careful about what it seeks in court. Right now, the GOP should hold on to between eight and 11 seats, depending on the national situation.
Things could be a lot worse.
***
The peaceful, largely student-led, school-sanctioned protests by high school students around Chester County were an impressive show of engagement by a generation often maligned for being detached from the political process.
While some on the right called for student punishments — because God forbid we observe and protect the First Amendment rights of students — and some wrote it off as a left-wing plot, it seems like a moment where these young people are saying they have had enough.
Suggesting that they don't want to be shot to death in school seems like a pretty minimal demand, but could lead to further engagement on a wide range of issues.
It seems like these kids are paying attention now. Are our elected officials?
***
Finally, a happy and safe St. Patrick's Day to all. As my ancestors came to New York (on both sides) around 1848 at the height of the potato famine as immigrants, that this day has become a uniquely American holiday is interesting.
Back in those days, my ancestors were insulted, abused and spit on (kind of like being a Democrat in Chester County about 15 years ago), but slowly worked their way into the political process as cops, firemen and low-level politicians. Within two generations, they held real power — my great grandfather held countrywide office in Queens, NY. in the 1920s.
As this happened, the Irish in America went from despised, to accepted, to cherished — and a number of the last few presidents (Reagan, Clinton and yes, Obama) all had claim of Irish blood in the family history.
There is an object lesson in these times for those who choose to see it.
Either way, be safe and sane today.