By Dr. Stephanie McGann, DMD FAGD, Columnist, The Times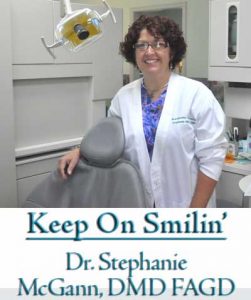 Each fall dentists from around our nation gather to attend the Annual Meeting of the American Dental Association.  Most years the meeting centers around improving the quality of our care.  Hundreds of continuing education seminars along with tremendous displays of new products, equipment and techniques keep the average dentist busy for the entire meeting.
This year — in Atlanta — was a bit different. The dentists, most of whom are self-employed professionals, running relatively small businesses were tackling more pressing problems. The face of dentistry is changing for us all, dentist, team member, and most importantly, the patient. I would like to take this opportunity to share what the future holds.
Dental care will ultimately be delivered by large corporate entities. Much like our medical colleagues who are employees of companies like Penn Medicine or Main Line Health, the corporate practice of dentistry is coming fast and furious.  This change has positives and negatives the reality is that when a small independent practice is competing against these giants they don't stand a chance.
Large groups have buying power for supplies and vendors, they have in house marketing agencies, human resources and most importantly teams of people who can negotiate and interact with huge insurance companies. The little guy does this himself, in some cases after he or she has been seeing patients all day.  While many dentists are fighting a good fight to keep their autonomy, we all know when the day comes to sell the practice and retire, the offers to buy are from the big guys.
The next thing to know is that states across America have been developing licensing for something referred to as a "mid-level providers."  In medicine you would think of these as physician assistants or nurse practitioners.  In this new age of large corporate offices, the dentist will be delegating a whole lot more care to individuals who are licensed to perform it.  In the corporate world, practices are being designed to maximize the productivity of these auxiliary staff and minimize the actual impact of the dentist.  Why?  Simple economics.  The dentists' time will be spent doing what only they can do – diagnose and prescribe treatment. The actual treatment will be performed by another.  Pennsylvania is one of these states where mid-levels are very much on the horizon.
The next change will be tele-dentistry and tele-medicine.  Take a cell phone picture of your tooth and soon you will legally be able to get advice on care and treatment.
This terrifies me the most.
Without seeing an x-ray or knowing a patient's medical status a person can get sent to a lesser trained person with a prescription for a certain procedure.  There is more to this and hopefully it will progress into something less terrifying as it is unfolded in many states.
As I wrote about before "do-it-yourself" treatments are showing up everywhere.  Why are they legal? Because since no professional is involved in touching the patient there is no professional board overseeing it.  These do it yourself orthodontics, sleep appliances and more. In some cases, they have "store-front" locations.  These places will talk you through taking your own impressions and give advice on how to make it work. Are they staffed by dentists? Unlikely.
So, what should a patient do?  First, be sure that in the coming years your oral health is in good shape. Ask your dentist about what you care needs may be in the future. Think proactively. Be supportive of your dentist and dental team. Contrary to what you may think, if they are participating in your network they are not making big money.
Don't no-show an appointment. The dentist still has to pay their team and overhead even if you don't come.  Be aware that many insurance carriers are cutting their dental reimbursements, this means that if you are in network, your fees will not change, but the dentist will get paid less (even though their expenses go up).   Simple, this means they have to see more people per hour to stay at their current levels.  So, don't get upset when your dentist looks busy. It means they are doing their job.
Change is hard, but when you know it's coming, you can be ready.
Dr. Stephanie McGann, who has more than two decades of dental practice experience, is a resident of the Unionville area and along with her partner, Dr. Marie Scott, practice at The Brandywine Smile Center, a family-friendly dental practice in Concordville. Dr. McGann also owns a practice in Valley Township, Rainbow Valley Dental. She is the current President of the Chester/Delaware Dental Society and she is a Fellow of the Academy of General Dentistry.