By Kelly Hockenberry, Columnist, The Times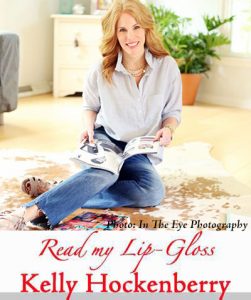 A week late, yes…but, I would never forget the Super Six! It's my favorite article to write. I love the excuse to delve into the must-haves of the month. Well, MY must-haves; but, hopefully you will like them, too.
As sad as I am to see the summer fade away, fall is my favorite season. I am excited for more saturated colors, cozier fabrics, and perfecting the art of layering! Aren't you?
Here we go…
Hubble Hill Smoking Loafer – A classic shoe will take you places! The smoking loafer is a wardrobe essential. I am obsessed with these linen, crest emblazoned slip ons created by two sisters from NYC. Available in a variety of colors (I am partial to the navy and coral, but you can never go wrong with black!) they have a leather insole and outsole and a comfortable, one-inch heel. Size down one ½ size for the perfect fit. I am really excited to wear mine with cropped, distressed denim and a white, button-down shirt! Get yours here :

https://www.hubbellhille.com/
Free People One Adella Bralette – Investing in pretty undergarments is essential when layering your fashions. These bralettes have the feel of a comfortable sports bra but the look of a fancy piece of lingerie. Comes in six colors. Click here :

http://bit.ly/2vZ88JI

Cashmere sweater – You know it's time to transition your closet when cashmere is the new arrival at your favorite boutique. No.109 Shop (109 W. State Street, Kennett Square) has a variety of GORGEOUS sweaters that feel like heaven. Check in often because shipments are happening daily. I realize that purchasing high quality cashmere is a luxury; however, if you are conscientious about care, these items will last for years. And, they will NEVER go out of style. Apply the "price per wear" formula to justify the cost. You'll thank me later.
OPI "Less is Norse" – Aaaaaah, I'm ready for my moody manicures! I anticipate the release of OPI's Fall/Winter line of colors like I'm waiting for Santa Claus. It is officially time to switch from the hot pinks and corals of summer to the richly pigmented reds and blacks of autumn. This particular shade, from the Icelandic collection, is described as a "dark ice blue". Of course, I recommend going to My Polished Salon at 112 S. Union Street. They are the best!
Bare Minerals Dirty Detox – I spent a lot of time at the beach this summer. And, it was fantastic…but, relaxing by the ocean means applying TONS of sunscreen. My complexion needed a jump start. So, the girls at my favorite beauty boutique, Houppette, recommended this purifying mud mask, complete with 4 mineral rich clays, charcoal, and papaya enzyme, to impart a healthy looking glow! The formula has a lovely scent and really helped to improve the tone and texture of my skin. Stop in to Houppette at 101 W. State Street, Kennett Square to purchase.
Beauty Counter – This week, I was invited to a Beauty Counter party at my girlfriend's house. If you are unfamiliar with the brand, it is a skincare and cosmetics company dedicated to revolutionizing the beauty industry by providing products free of harmful, chemical compounds. You can attend a home demonstration to try things out and have your selection shipped straight to your house.I was really impressed by the quality of the skincare options. They smelled incredible and seemed to absorb quickly into the skin. There is also a haircare line and products for men and children; so, it's a one-stop shopping experience! My consultant's name is Allison and this is her direct link if you are interested in perusing/purchasing:

http://www.beautycounter.com/allisonhenry
I hope you enjoy my selections for this month. As always, please feel free to share your favorites in the Comment section below!
Happy Weekend