By Mike McGann, Editor, The Times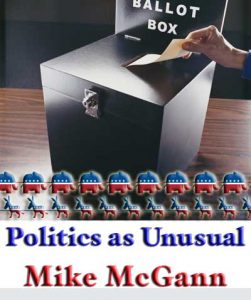 That loud sigh of relief you might be hearing is coming from our three local members of Congress — Ryan Costello (R-6), Pat Meehan (R-7) and Lloyd Smucker (R-16) — when it became clearer that the White House wouldn't force a vote on the revised replacement for the Affordable Care Act this coming week.
While the text of the revised legislation isn't out, multiple media reports suggest that it would end the Medicaid Expansion, offer waivers to states for coverage issues such as pre existing conditions and minimum coverage categories, all without fixing some of the original bill's fatal flaws, such as the potential to dramatically raise the rates for those ages 50-64, by changing the multiplier cap from 3X (from the base rate for young, healthy folks) to 5X.
Under the previous plan, personally, I was looking at a pretty massive rate increase — both me and my wife are in that 50-64 age group — and we already pay about $2,000 per month for coverage for our family of four (and we had to accept higher co-pays and deductibles). As both of us have some minor pre existing conditions (at our age, who doesn't?) — and again, we both own small businesses, so we have to buy our own insurance. The bill, as proposed, could see our monthly premium double — or worse if we get shunted into a high-risk pool, where some of the numbers quoted for yearly coverage are well into the six-figure range.
Let me repeat that for you: six figures for health insurance.
Obviously, we do all right, but the idea of having to pay nearly $50,000 a year for insurance is ludicrous. Worse, though, this bill appears to at minimum, knock some 14 million off health care, via the end of the Medicaid Expansion. If you add in those who could be priced out of the market, by six-figure premiums, that number is estimated to be as high as 25 million people.
While Smucker already voted for the previous mess — and Democrat Christina Hartman is drooling at the prospect of the delightful TV ads and fundraising campaigns she'll be able to run just from that — Costello and Meehan either have to oppose President Donald Trump, who really, really wants this bill to trumpet something for his first 100 days (and face the wrath of the Tea Party) or support it, and face a career-ending race in 2018. With the Democratic Congressional Campaign Committee having targeted both of them already, this can't be good news.
Had any of the three had a real town hall during this recess (more on that, later), they'd have a better sense of folks feel about this — as seen by their colleagues who were brave enough to hold real events.
Already, Democrats sensing opportunity are climbing all over each other to position themselves to run in the Sixth and Seventh districts — and protestors continue to camp outside both Representatives' district offices. And a couple of the Democrats — Christina Houlahan in the 6th and Kennett Square's own Elizabeth Moro in the 7th (and to be fair, Molly Sheehan also fits the job description well) — on first blush, look exactly like the sort of candidates I'd cast for the role: women, with strong business and some cases, science and military backgrounds. I'm looking forward to speaking with all of the candidates in the coming weeks, although it may take some time as there are so many.
Plus, the numbers we saw in Kansas and Georgia — from special elections to replace Republican Congressmen who joined the Trump Administration — have to be keeping Costello and Meehan up at night. Specifically, both districts underperformed expected Republican vote by about 20 points.
Meehan's district leans 3 to 4 points Republican (without incumbency) while Costello's is more like 4 to 5. Add in 8-10 points for incumbency and these guys have a margin of error of between 11 and 15 points. I don't have to tell you what happens if the wave is R minus-20. In terms of Smucker's district, the 16th, it has a lean of more like 8 points in favor of Republicans. However, as a first-term Congressman, he'll see a bit less incumbency benefit, closer to 5 points, which puts him in the same 13 point range as his Chester County colleagues.
Now, understand, when Democrats have to contest 435 seats, they won't get the money or focus everywhere you've seen on these special races, so a 20-point swing is highly unlikely (and would lead to about 100 seats nationally going from R to D). But, history shows us, as in 1994, 2006 and 2010, a 13-point swing isn't out of the question. If the incumbent administration is unpopular (so far, not looking good based on current polling for Trump) and the Congress members involved vote for a highly unpopular bill (which would be this health care bill — its less awful predecessor was polling at 17% support before it was pulled) that sort of swing seems possible or even likely.
Support for this bill — especially if it is rushed through House and dies in the Senate – is essentially a career suicide pact with Trump. The open question, though, is what the price will be for not supporting it, from Trump and the right wing of the GOP. I wish the fact that the bill is terrible (at least as described and keep in mind, I read the entire old bill, a rushed mess) was enough to spur "no" votes, but that's not how Washington works.
Sad.
***
I am, of course, mean. Just terrible and awful. Ask anyone.
I suggested that the Costello "town hall" (air quotes totally intended) earlier this month was pretty much nothing short of a prepackaged dog and pony show and showed a distinct lack of courage. I stand by that, entirely.
Still.
I got hit for being mean enough to suggest that any town hall should have been able to be video recorded by attendees, which was not possible in Courtroom One, due to rules that govern that facility. Or that more folks should have been able to attend, also not possible in Courtroom One, which is not that big. And so on from vetting the attendees to the questions that got asked (or what media got invited).
Folks, these weren't errors of omission, they were intentional.
Had the event been held at Stetson Middle School or Henderson High School, there would have been no issues with limiting recording or allowing many hundreds of constituents to attend. Had the event been announced a week or two in advance, instead of two days, it would have been fairer. And folks should have been allowed to get up and ask their congressman questions — without vetting.
These were choices that Costello and staff made. Not conditions forced on them.
If suggesting that an employee should be fully accountable to their employers makes me "mean," I will proudly wear that title. I'll note, too, you don't see me hiding from my readers — you're never shy about reaching out to let you know when you think I'm off the rails (and unlike some elected officials, I know who I work for — my readers — and listen).
I'm not letting Meehan or Smucker off the hook here, either — neither has held a town hall, long overdue and not acceptable. These folks need to understand who they work for and that not all of them are happy with them.
Not lost on me is the irony of getting a press release last week from the state Republican Party calling on the Democratic candidates (and seemingly focused on Houlahan) demanding they hold their own town hall. Aside from the fact that were I one of those Democratic candidates or a local party official, I would leap at that suggestion and comply – both to get free earned media and boosted name ID, and make Costello and his colleagues look even worse (seriously, who thinks this stuff up?) — this immediately refocuses attention on Costello's, uh, event, which is terrible messaging.
You can't make this stuff up, folks.
***
Rarely am I really surprised by anything that happens in politics. But I have to tell you, when I got word that the legislature was moving bipartisan bills in both houses to create an independent redistricting commission (a process that will require a constitutional amendment — two passes through the legislature in consecutive sessions and a voter referendum), I was pleasantly surprised.
Gerrymandering is a real problem in Pennsylvania — from the horrible 7th District in Congress to too many state house seats designed to be won by one party — and it is truly a good thing that the legislature seems to be taking it seriously.
The best surprise: the Republican sponsor in the State House is Rep. Eric Roe (R-158). While I really hadn't expected much from the young (I literally have ties older than him — which is probably an indictment of my fashion sense, granted) freshman this term.
Kudos to him for stepping up and being brave on such an important issue.
***
A survey commissioned by Brown University, done by RABA Research, looking at five counties around the U.S. captures some fascinating data about Chester County, which was one of the five counties surveyed.
The first question – which must have gotten the attention of the three gentlemen mentioned at the top of this column, asking if the election were held today whether they would support a Democrat or Republican for Congress: 47-47 — a startling number (when you look at the sample: 43% Republican, 38% Democrat and 19% other).
Another fascinating tidbit: the survey showed more support for Obamacare in the county than for the Affordable Care Act, which of course, are the same thing. Chester County voters supported getting rid of the ACA by a 46-43 margin, but opposed getting rid of Obamacare by a 50-42 margin. Looks like President Barack Obama is getting more popular after leaving office in these parts.
While there as support for continuing funding of Planned Parenthood — 51-39 — both the immigration ban and pulling back from international trade agreements were supported. The wall along the Mexican border was opposed by a 51-44 margin.
Interestingly, 33% rated Trump's job performance as "Excellent" and an additional 16% said he was doing a "Good" job, while 43% said he was doing a "Poor" job. Interestingly, though, 44% said said they actively opposed Trump by attending a meeting, a rally, signing a petition or making a donation.
Also of note: 48% of respondents disagreed that Trump had dangerous ties to Russia, while 39% agreed he does and 51% disagreed with the claim that former President Barack Obama wiretapped Trump Tower, while 34% said they believe it.
So…whew. Complicated numbers and a lot to digest, but they are numbers that should at least concern GOP members of Congress.
***
Lastly, word came down this week that Gov. Tom Wolf removed the protective detail from Lt. Gov. Mike Stack and his wife Tonya and reduced staff at the Fort Indiantown Gap Lt. Governor's Mansion after allegations — which Stack seemed to confirm as a rambling press conference — that he and his wife verbally assaulted state security and maintenance employees.
Stack, in the political world, is notorious for his boorish behavior. It's one thing for the former Philly State Senator to act like an ass with his legislative colleagues (although they continue to be happy to dish and even marvel about his poor conduct) and quite another to mistreat state employees who are just trying to do their jobs.
If someone cannot live up to the fundamental dignity of the office of Lt. Governor, you shouldn't hold it.
Pennsylvania would be best served if Stack and his wife took their poor behavior elsewhere by resigning, immediately.
To be honest, being Lt. Governor isn't a really tough job — although Jim Cawley handled it with a certain grace during the previous administration that made him stand out — but the bare minimum is not to act like a complete ass to state employees.
Stack has failed this basic test and should go. Now.