By Dr. Stephanie McGann, DMD FAGD, Columnist, The Times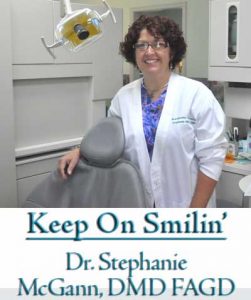 While you've probably seen linkbait around the Internet on "10 easy hacks to…" on everything to weight loss to dating, many of which are of dubious quality, there really are a few simple things you can do to improve your dental health (and keep your family happier and maybe save you a few bucks).
So here's an easy 10 items to try out:
Sugarless gum – keep sugarless gum on hand as an alternative to a sweet snack. Sugarless gum also helps keep saliva flowing and dislodges food particles stuck between teeth. Don't chew if you are currently wearing any temporary dental work.
Medications making your mouth dry? – Xylitol containing products will help try xylimelts https://www.oracoat.com/products/xmdm
Don't skip fluoride. Use over the counter mouth rinses with fluoride, if you have a lot of dental work ask your dentist for prescription fluoride paste or gel.
Fix it while it's small. A stitch in time saves nine is not just an old adage but in dentistry is the truth. Go twice a year and take care of small things before they become larger more expensive problems.
Sealants – sealants are standard of care for kids. They are also an inexpensive way to help prevent decay from starting in the grooves of teeth at any age. Take prevention seriously.
Think twice about sour – sour candy is the in–thing. Citric acid makes it sour; citric acid also dissolves dental enamel. Limit sour candies and be sure to drink plenty of water after eating them.
Holiday candy too much? Each year it seems more and more shelf space is devoted to holiday candy. Christmas, Valentines, and Easter provide endless streams of candy. Switch it up, choose one special piece of candy and then choose small gifts to fill out the Easter basket. Personally, I have a new found love of bath bombs. (Just as much fun but not at all fattening).
Twice a day. Don't skimp on daily care. When traveling take pre-pasted toothbrushes, they work great on an airplane.
Two minutes – brushing for two minutes can be a drag especially for teens. Most popular songs are around two minutes long; have them brush to their favorite artist.
Sonic brushes work. Invest in a sonic brush, use the two minute timer and enjoy a whiter healthier smile.
While none of these suggestions are magic, they are common sense and in many cases, inexpensive ways to improve your dental health.
Dr. Stephanie McGann, who has more than two decades of dental practice experience, is a resident of the Unionville area and along with her partner, Dr. Marie Scott, operates The Brandywine Smile Center, a family-friendly dental practice in Concordville. Dr. McGann has opened a new practice in Valley Township, Rainbow Valley Dental. She is a Fellow of the Academy of General Dentistry.