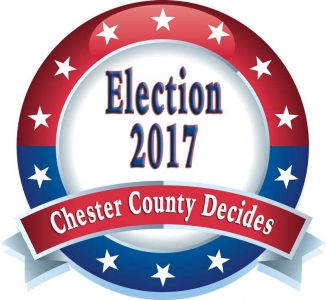 The focus on county elections in 2017 has already begun with both county party committees announcing slates of endorsed candidates for county-wide races, judicial retention and district justice races.
The Democrats met Wednesday and issued the following endorsements:
For Chester County row offices, Dr. Christina VandePol was endorsed for Coroner and Patricia Maisano for Treasurer. According to Chester County Democratic Committee chair Brian McGinnis, the party is expecting to announce candidates for Controller and Clerk of Courts in the near future.
Local Democrats also made a number of judicial endorsements:
State Supreme Court (retention) – Debra Todd; State Supreme Court – Dwayne Woodruff; State Superior Court  – Deborah A. Kunselman, Maria C. McLaughlin, H. Geoffrey Moulton, Jr.,  and Carolyn H. Nichols
State Commonwealth Court (2 seats) – Ellen Ceisler and Joseph M. Cosgrove (Todd Eagen is endorsed by the Democratic State Committee)
Multiple local candidates for Magisterial District Judge positions were also endorsed – Bret Binder (East Bradford), Al Iacocca (Kennett Square), Keith Eldridge (West Vincent), and incumbent Judge Analisa Sondergaard (Tredyffrin).
The county's Republicans met Thursday and offered the following endorsements:
Incumbent Robin Marcello for Clerk of Courts, incumbent Norman MacQueen for Controller, incumbent Dr. Gordon Eck for Coroner and Jack London for Treasurer, who is replacing current County Treasurer Ann Duke, who is not running for reelection.
The GOP committee also endorsed "Yes" votes to the retention of Judge David Bortner and Judge Katherine Platt on Chester County Court of Common Pleas.
Additionally, the committee endorsed six Magisterial District Justices (MDJ): Mark Bruno (MDJ 15-3-01), John Hipple (MDJ 15-1-03), Scott Massey (MDJ 15-3-05), Michael Cabry (MDJ 15-3-06), Liz Mercogliano (15-4-01), and John Bailey (MDJ 15-4-03). For MDJ 15-3-04 the committee voted to recommend Jane Donze and Sean Rafferty.
It is safe to assume that the fall races will be spirited and hotly contested, based on the comments of the party's respective chairs.
"We are planning on running Democrats for every elected office in Chester County," said McGinnis, the county Democratic chair. "Defeating Donald Trump's extremist agenda begins by electing Democrats to public office. The CCDC is excited about the quality of our slate of endorsed candidates and looks forward to them and their circulators engaging with the public to gain the necessary qualifying signatures during the petition circulating period that runs through March 7. Signatures are needed from registered Democrats for these candidates to be placed on the ballot, as well as Republican petitions where cross-filing is permitted. Recent national and state political events and issues of concern to all voters have apparently encouraged more people to engage with the political process, and we are pleased that so many qualified Democrats have come forward to be candidates for office."
Of course, local Republicans see it a bit differently.
"Chester County continues to garner national recognition as being a great place to live, work, raise a family and retire. This is due, in large part, to our good schools, excellent quality of life and beautiful open spaces," said Chester County Republican Committee Chairman Val DiGiorgio, who earlier this month was also elected as state GOP chair. "For 150 years, the Republican Party has practiced fiscal responsibility in our county government, allowing Chester County and its citizens the opportunity to thrive. Our Republican leaders at the county and local levels continue to win races by large margins, despite current voter registration trends. The Republican Committee of Chester County is committed to continuing the legacy of excellent Republican governance in Chester County and we are very pleased to endorse such an outstanding slate of highly qualified candidates."