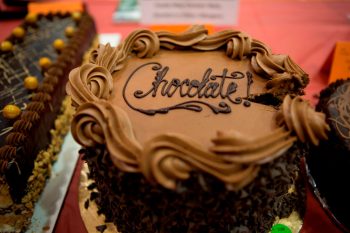 KENNETT SQUARE — Do you love to bake or simply love chocolate? Plan to celebrate "all things chocolate" at the Kennett Chocolate Lovers Festival on Sunday, February 12th at Kennett High School between 1 – 3PM.
Professionals, amateurs and students will vie for ribbons when their creations are judged. Last year, over 200 chocolate entries were judged and available for the public to taste. Winners included The Country Butcher, The Gables in Chadds Ford and Heavenly Sweet Chocolate, plus amateurs and students from throughout the area. The Festival raises funds for United Way of Southern Chester County, which supports 27 health and human service programs in the area. The Festival has been multi-year Best Desserts winner in the County Lines Best of the Best Contest.
An exciting addition this year is the Year of Living Chocolate raffle. For $10 for 1/$20 for 3 tickets, you can be entered in a raffle to win a chocolate dessert monthly from different area bakers and chocolatiers starting with Ann's Chocolate Banana Cake from The Gables at Chadds Ford restaurant in March of 2017! You can pick up raffle tickets online at www.unitedwayscc.org/OurStore , in person at the United Way offices, or at the Festival. The drawing will be held on February 14th!
Contestants in the Festival compete in specific categories and there is no fee to enter. Entry deadline is February 9, 2017. After the judging, chocoholics of all ages are admitted: Connoisseur ticket holders may enter at 12:00PM while general admission ticket holders enter at 1:00PM. Connoisseur tickets are $25 ($45 for two people) and include professional and amateur tastings, beverages, demonstrations by professional chocolatiers, and free parking. General admission tickets are $10.00 ($30 for family of 4) and include six regular tastings per person. Professional tastings are two tasting tickets. Additional tastings are available for $.50 each. For more info and fastest entry through the express line, visit www.kennettchocolate.org and buy your tickets now. Parking for general admission is $5.00 per car.
First-place amateur winners will collected prizes of Corian cutting boards and $100 gift certificates to area dining spots like Buckley's Tavern, DE's Platinum Group Restaurants, and Columbus Inn. "We couldn't do this Festival without the support of our community," said Carrie Freeman, CEO of United Way of Southern Chester County. "Thanks to our wonderful amateur and professional bakers and our local sponsors, the Festival raised over $16,000 for our community last year."
UWSCC serves the residents of four school districts: Avon Grove, Kennett, Oxford, and Unionville-Chadds Ford. Over 18,000 people received support from UWSCC last year.