To The Editor,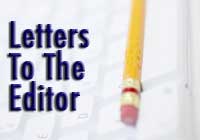 When describing public education in America our President-Elect Donald Trump compared our schools to third world countries. To fix the education system at a national level, he has chosen Betsy DeVos as education secretary.
The former leader of the Michigan Republican Party, DeVos' only contribution to education policy has been advocating for school vouchers and charter schools. Conservatives such as DeVos have advocated towards school choice. This would move money away from public schools and put them into charter schools. Studies have shown that the quality of education in charter schools is equal or worse than their public school equivalent.
Moving money away from public education will only worsen our school's funding problems, and indirectly leads to higher property taxes that we face locally.
Charter schools and school vouchers are only distractions from fixing the problems of public education. For solutions to fixing our schools Betsy DeVos does not have the skills, experience, or ideas needed to fix the system.
Ms. DeVos lacks experience in management of public schools and has no motivation to manage a public school. Her only contribution as education secretary would be the destruction of the public education system.
I urge Sen. Toomey and Sen. Casey to reject President-Elect Trump's nomination of Betsy Devos as Secretary of Education.
Kevin Burk
Charlestown