By Lele Galer, Columnist, The Times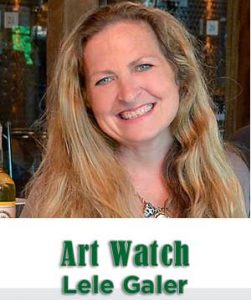 October 7th marks the kickoff celebration event for the Chester County Collects exhibition at The Chester County Art Association, CCAA, in West Chester. With over 90 art objects from 10 prestigious art collections throughout Chester County, this show promises to be an exciting and inspiring way to look at art, through the eyes of the collector.
What inspires someone to collect a certain artist? How does collecting inspire their lives and how is art incorporated into their home? Some of the 90 exhibition pieces include paintings, sculpture and furniture by Thomas Hart Benton, George Cope, Wharton Esherick, Frank Gehry, George Nakashima, Horace Pippin and George Whitney. What fun to imagine living with such wonderful art in one's home.. and it is all from local collections in Chester County. The opening celebration is October 7th, from 5-9pm, and this is a ticketed event at $125 per ticket, which supports the arts at CCAA. Thereafter, there will be a $15 general admission price, or $10 for members, and $5 for children under 12.
Every year CCAA has one exhibition that is organized by the CCAA Board, as special art event and fundraiser for the arts association. Last year it was the Founder's Day Exhibition highlighted with works by N.C. Wyeth from collections at The Hill School and The Westtown School. And this year kicks off what the CCAA Board hopes will be an annual exhibition tradition, "Chester County Collects."
"We never will run out of collections to visit!" says Kathleen Deets Price, the Board member and Chair of Chester County Collects. In an interview with Kathleen, she explained "We want people to understand what inspired collectors to start collecting art. Art comes in so many different forms. Different things appeal to different people. Art is not just something that is in a gold frame on the wall! Anyone can collect art, but how do you get started on it? "
Kathleen is also an art collector, and she and her late husband Reverend Stephen Price started very humbly, with nineteenth century prints purchased at local auction houses that were both beautiful and affordable. "Art was a great passion for both of us.. We would go to galleries and museums and compare notes about which ones we liked best. It was such fun."
As their fascination with collecting grew, and their eye became more acute, they sold off some works and started to purchase more significant painted works. Most recently, Kathleen purchased "The Dove" by Simi Knox, the first African American artist to paint the official portrait of a president. As soon as she saw it, she felt compelled to purchase it. Art can touch the soul to inspire or rekindle emotions in an extraordinarily powerful way, and the impact of "the Dove" went straight to her heart. Her husband died early this year after a long illness, and she saw the painting and was awestruck. She saw the Dove as representing Stephen, released from his pain, and soaring. This painting will be in "Chester County Collects" and is placed there in his memory. When you go to the show, imagine that this personal passion and identification that Kathleen feels for "The Dove" is felt by each of the other collectors, for each of the pieces in the show.
One of the many remarkable collections featured n this exhibition is by a local Kennett Square family who own a number of important contemporary art works, that often have a socio-political message to them.
One such image is a photograph "Emerson" by Vik Muniz from his iconic Aftermath Series. Vik Muiz combines painting, photography, and collaged objects and found elements into an impermanent art piece. Then he photographs the entire work, and that photograph becomes the lasting artwork. "Emerson" is an image of a street boy who was part of a street gang that stole Muniz's camera and supplies on the day of the shoot. The artist found the children and convinced them to return his valuable equipment by explaining his craft as a photographer, and then taught them how to pose in the manner of Greek classic sculpture. Once you know the story and you look again at "Emerson" , the story becomes personal. The child is someone you now know, we are more concerned about his fate, we are interested in interpreting the collaged materials, and we have entered into the world that the artist has encouraged us to understand.
New CCAA Executive Director, Wendy Kershner, remarks "I couldn't have stepped in at a more ideal time!!… I see the amazing art on display as a fitting tribute to the art association itself–reflecting our impressive legacy while at the same time featuring the dynamic growth we're currently undergoing. I'm truly thrilled and honored to be a part of the future of CCAA and expanding our role in the community." The exhibition will take part in all the galleries at The Chester County Arts Association location at 100 Bradford Avenue in West Chester, and all of the Board and staff have worked hard to make this an exemplary show of art from all over Chester County.
Throughout the month of October, the featured collectors will have evening discussions at CCAA to talk about the joy and the art of collecting. The passion, excitement and vast knowledge from each of these collectors is absolutely infectious! If you can't make the opening event, definitely try to come to either "A Discussion with the Collectors" Tuesday October 11th at 6:30pm, or "A Discussion with the Curators" Tuesday October 18 at 6:30 with Lisa Menardi from Winterthur. Both of these lectures are $15 each, and include a visit to the show.