First Fridays kick off busy month in Chester County
By Lele Galer, Columnist, The Times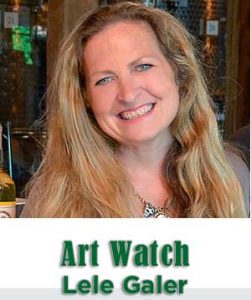 October is a very busy month for art! It starts off with the exciting biannual "Gallery Walk" Friday October 7th from 5-9pm in West Chester where dozens of businesses downtown become mini-art galleries, and existing galleries have fun, catered openings for their newest shows. Go to the West Chester Chamber of Commerce website (http://greaterwestchester.com/events/featured-events/gallery-walk/) for a complete list of participating businesses and a map – or just wing it and be assured of a fantastic evening in West Chester. Art Gallery openings in West Chester include The Art Trust at Meridian Bank, Church Street Gallery and the Gallery at Sunset Hill Jewelers at 23 North High Street.
Church Street Gallery has a double artist opening for acclaimed watercolor artist Philip Jamison, first on Thursday October 6th from 5-9pm, and then during Gallery Walk on Friday from 5-9pm. Church Street will celebrate the art of their friend and fellow artist Philip Jamison by presenting 25-30 works, most of which are from the artist's personal collection. The show represent's the artist's "lifetime pieces" and the gallery is extremely honored and overjoyed to show this collection to the public throughout the month of October. Hopefully there will be an evening of discussion with the artist, because Philip Jamison has a wonderful personality and has lead a very remarkable life as a renowned artist as well as art collector.
The Gallery at Sunset Hill Jewelers heralds the exhibition "CUBA: it's complicated. Layers of History, Perception & Change." Recent trips to Cuba have inspired a beautiful, diverse array of photography and painting by artists Darcie Goldberg, Ben Richardson ,Tracy Colleto Adams, Steve Adams and Ellie Byrom-Haley. Longtime friends, travel companions and fellow artists, this is truly a collaborative show that offers a very contemporary view of Cuba, that is beautiful, vibrant and "complicated." Sunset Hill is located at 23 North High Street in West Chester, and will be open all during Gallery Walk on Friday October 7th 5-9pm.
In West Chester, there is also a fabulous show at The Chester County Art Association called "Chester County Collects", open during Gallery Walk as a $125 per person gala ticketed event, or October 8 through October 23 for $15 general admission, $10 member, and $5 child under 12 years old. See the article on "Chester County Collects ART" for more information on this stunning new exhibition.
In Kennett Square, "First Friday Art Stroll" is also on October 7th , from 6-9pm throughout Kennett Square. At Mala Galleria, "Landscapes: How Two Artists See Nature" ceramic artist Janice Chassier and painter Kimberly English both incorporate the natural landscape in two distinctly different mediums and viewpoints. Kimberly's bright, colorful farm animals exhibit lots of individual personality, and are very appealing and cleverly painted. In juxtaposition, Janice's clay birds are in subdues monotones, lovingly rendered and then fired with natural components from her garden that create unexpected glazes. Both are inspired by nature's creatures and present them as individuals, with quirky personalities, or with dappled, force-of-nature plumage. Mala Galleria always has wonderful, well curated shows of interesting featured artists, couple with a range of small local artworks, and is a must-visit if you are in Kennett Square!
In Wilmington, Blue Streak Gallery features the mixed media and stoneware work of artist Libbie Soffer in "Formed Line/Lined Form". Blue Streak Gallery's opening artist reception is October 7th 5-8pm. If you can't make the reception, try to visit at a time when The Delaware Art Museum is also open, so you can check out Libbie Soffer's concurrent show there called "Fluidity", an Outlooks Exhibition with three other women artists: Valetta, Carla Lombardi, and N. Saranoulis. "Fluidity" goes through February 12th and is sponsored in part by The Blue Streak Gallery. Also in Delaware, at The Delaware Contemporary at 200 South Madison Street in Wilmington, Friday the 7th, from 5-9pm is the 4th Annual Underground Comic-Con, as well painting, sculpture and photography shows, a food truck, Dogfish Head beer and DJ Skinny White. The Delaware Contemporary is free to visit – so just go have some fun and explore all the interesting, innovative things that they have going on!