Vans' Warped Tour enters third decade
By Denny Dyroff, Staff Writer, The Times 
If you've ever seen the movie "Monty Python and the Holy Grail," you surely remember the Black Knight. He challenges King Arthur who then cuts off the knight's left arm. The Black Knight continues to fight and loses his other arm. Eventually, he is totally dismembered by Arthur. Still, he keeps going through all the adversity.
The Yardbirds, who are playing the World Café Live at the Queen (500 North Market Street, Wilmington, 302- 994-1400, www.queen.worldcafelive.com) on July 7, are a bit like the Black Knight.
Over the years, the Yardbirds have gone through their own continual process of being dismembered. Original lead guitarist Top Topham left and was replaced by Eric Clapton and then Jeff Beck replaced Clapton two years later. It was this line-up that recorded the group's signature hits "Heart Full of Soul", "I'm a Man" and "Shapes of Things."
In 1966, bassist Paul Samwell-Smith left the group. Jimmy Page joined and the band used a double-lead guitar format for a brief while. Then, Beck left and Page remained – but only for a short while before leaving to form Led Zeppelin.
In 1976, vocalist Keith Relf died in an accident leaving the band with just a pair of original members – drummer Jim McCarty and rhythm guitarist/bassist Chris Dreja. The group seemed to quietly fade into history.
Then, in 2003, the Yardbirds regrouped and recorded their latest album "Birdland."  The band's lineup included McCarty and Dreja along with other young British musicians.
Dreja sat out the US spring 2012 tour to recover from an illness. It was announced in 2013 that he was leaving the band for medical reasons and would be replaced by original Yardbirds guitarist Topham. Then, Topham left. On August 12, 2015, it was announced that Boston guitarist Johnny A. would become the newest member of The Yardbirds.
Helmed by Rock and Roll Hall of Fame inductee McCarty, the band now features guitarist Johnny A (Peter Wolf, Bobby Whitlock), bassist Kenny Aaronson (Bob Dylan, Billy Idol), singer/blues harpist/percussionist Myke Scavone (Ram Jam & Doughboys), and guitarist/singer John Idan.
The Yardbirds' most recent albums are "Birdland," which was released back in 2003, and "Making Tracks," which came out in 2013.
"We're talking about recording a new Yardbirds album — classic bluesy-type thing," said McCarty, during a recent phone interview from Toronto. "But, it's still early with this lineup.
"It's a new lineup. Apart from me, it's a totally American band — all young guys. This is a good group. There are no egos and they're all good guys. They know the music and it's quite authentic.
"We started last November. We were going to start earlier but we had to cancel a tour because I had an operation in France. The operation was a success and I'm fine now. We had a great tour in the U.S. back in November."
For a band that really wasn't around that long (just over five years in its original incarnation) and never really had a string of monster hits, the Yardbirds left an indelible imprint on rock music.
Taking their name from Jack Kerouac's writing ("yardbirds" were hobos that hung around railroad yards and hopped trains), the Yardbirds evolved from the Metropolitan Blues Quartet, a seminal British band put together by guitarist Paul Samwell-Smith and vocalist Keith Relf. They added Chris Dreja (guitar), Jim McCarty (drums) and a 16-year old guitarist Tony "Top" Topham to complete the original Yradbirds' lineup.
Topham was pressured by his parents to return to school and a then unknown British blues guitarist named Eric Clapton replaced him. Clapton was the first of three "Guitar Gods" to handle lead guitar duties for the Yardbirds. His tenure lasted for one very blues-oriented studio album and a live album of the band backing blues legend Sonny Boy Williamson.
The Yardbirds' final guitarist was Jimmy Page, who was with the group for one album. Page then formed the New Yardbirds — a band that was the embryo of Led Zeppelin.
Most of the Yardbird's groundbreaking music came during the three-year period when guitar master Jeff Beck was the group's lead guitarist. Beck's innovative and emotive style of playing stretched the boundaries of traditional rock and opened the door for new improvisational and experimental aspects of rock and roll.
"The original band was together for five years," said Dreja, during a previous phone interview. "But, it felt like 20 years with all the miles traveled and music played. It started to fade around 1968.
"After we did the last tour with the 'Little Games' albums – which was a good tour — Jimmy and Keith wanted to come off the road. Then, Keith and Jim left to form Renaissance and Page went to Led Zeppelin. Paul had left awhile before. I had already started my career as a professional photographer. So, I went to New York and learned the craft of studio photography."
Dreja and McCarty brought the Yardbirds back to life in 2003. Now, with Dreja sidelined, it is up to McCarty to carry the banner.
"This is the 50th anniversary of our 'Roger the Engineer' album so we're playing a few songs from that," said McCarty, referring to the band's current set list.
"We'll be playing some songs from 'Birdland' and, of course, all of our old hits like 'Shapes of  Things' and 'Happenings Ten Years Time Ago.'The Yardbirds have such a strong repertoire and we have a very energetic band. And, we have our original roadie — Henry 'The Horse' Smith who went with Led Zeppelin after the Yardbirds."
Video link for the Yardbirds (1965) — https://youtu.be/HU5zqidlxMQ.
The show at the World Café Live at the Queen, which has the Snails as the opening act, will start at 8 p.m. Tickets are $35.
Other upcoming shows at the Barry Crimmins on July 8 (Upstairs), Queen are kRUSH and Alive! '75 on July 9, Scott Wolfson and Other Heroes and Gina Forsyth on July 9 (Upstairs) and the Cowboy Junkies on July 12.
Another show in the area on July 7 will rock out equally hard — but with one of the newest acts around rather than one of the oldest. Cardiknox, which is riding high with its new single "Wild Child," will perform at Boot and Saddle (1131 South Broad Street, Philadelphia, 215-639-4528, www.bootandsaddlephilly.com).
Based now in Los Angeles, Cardiknox is a duo featuring Lonnie Angle and Thomas Dutton. Their debut album "Portrait" was released early this year on Warner Bros. Records. The album, which was produced by Grammy Award-winning producer John Shanks, has a dozen tracks filled with heavy beats, tasty sonic exploration and powerful vocals.
"We spent six months writing and recording the album," said Angle, during a phone interview Tuesday afternoon from a tour stop in Washington, D.C. "We started in late 2014 and finished in early 2015. We made the album with John Shanks at Henson Studios in L.A.
"John is an amazing man. We were in the studio seven days a week working with him. John is a gear head. He has a massive guitar collection. We used both analog and digital when we were recording the album.
"In the midst of writing and recording the album, we signed with Warner Bros. After we finished the album, it felt like it took forever to get it out. It took a lot of patience on our part."
Cardiknox played the Foundry in Philly with The Knocks back in January. This week's show will be the band's first since the album became available.
"We toured with The Knocks at the beginning of the year and then did a tour with Carly Rae Jepsen," said Angle. "We were out on the road for the first quarter of the year. Then, we came back to L.A., did a few one-offs and played Bonaroo."
Dutton and Angle originally got together in their hometown of Seattle and then later relocated to Brooklyn before moving back to the West Coast.
The two met while students at the University of Washington-Seattle. Dutton wanted to make a rock opera-type album.  Angle had a theater background and that was just what Dutton was seeking.
"A friend told me about this musician who wanted to do a theater piece," said Angle. "We started working together and then moved from Seattle to New York. We went to New York to work on developing a show.
"After awhile, we were getting really burned out. So, we decided to make some 80's-style pop music. And, then we moved to L.A. a year ago. We had such a love affair with New York City. We wouldn't have left if we didn't have to."
So, the duo moved back to the other coast — to the bright sunshine of Southern California.
 "While so much of dance-pop music is highly derivative — copy-cat songs abound in the genre — Cardiknox makes dance-pop music that is original and very refreshing," said Angle. We do not follow trends."
Cardiknox have made a sparkling new video to accompany the release of the single "Wild Child."
"We shot the video at a YouTube space in L.A.," said Angle. "It's very playful. The song is all about letting out your internal wild child — what it feels like after letting loose.
"In our live shows now, we've added two songs we hadn't played on previous tours — 'Supermodel' and 'What Do I Do Now?' They add a bit of grit and texture to the set."
Video link for Cardiknox — https://youtu.be/Pz2h5auP80U.
The show at Boot and Saddle, which also features Secret Weapons and Phoebe Ryan, will start at 8 p.m. Tickets are $12.
Other shows over the next week at boot and Saddle are Chestnut Grove and Brian Dale Allen Strouse on July 8, Needle Points, spaceface, and gods on July 9 and Nicholas Allbrook and Fascinator on July 13.
Amazingly, the Vans Warped Tour is well into its third decade. The touring music festival was started back in 1994 by Kevin Lyman and has continued to grow and flourish ever since.
In its early days, the tour featured mostly punk rock and ska bands.
Over the years, the lineup has become more diversified. It is an impressive tour that features more than 90 bands and covers a variety of genres — mainly punk, hardcore, power pop and the harder side of alternative.
Those attending the Vans Warped Tour, which touches down at the BB&T Pavilion (1 Harbour Boulevard, Camden, New Jersey, 856-225-0163, www.livenation.com) on July 8,  can listen to live performances by bands as diverse as Every Time I Die, Good Charlotte, Waka Flocka Flame, The Heirs, Reel Big Fish, Motionless in White, Vanna and Whitechapel.
Vans Warped Tour features a grueling schedule of non-stop dates — frequently in venue parking lots in addition to main stages. And, it hits the road during the hottest part of the summer.
The National Weather Service has issued an "Excessive Heat Warning" for Camden now through Friday night. The temperature is expected to have a high of 97 degrees on Friday with humidity above 70 per cent. That's more than uncomfortable — it's unhealthy.
But, it's the same almost every year when the tour hits the area so fans who are Warped Tour veterans know what to expect and how to deal with it.
Each year, there are number of bands making their Vans Warped Tour debut. One of 2016's rookie entries is Mother Feather, a New York-based rock band with a bit of theatrics in its DNA.
Mother Feather was put together by vocalist Ann Courtney in 2009. The band also features keyboardist and vocalist Elizabeth Carena, bassist Matt Basile, guitarist Chris Foley, and drummer Gunnar Olsen.
"It's really hot here," said Basile, during a phone interview Wednesday afternoon from a tour stop in Virginia Beach (where the temperature was in the 90s. "It's only six o'clock and I'm already on my fourth shirt of the day.
"We're pretty fortunate. We have an old RV with a bed, an air conditioner and a generator. That makes touring like this a lot more comfortable. We've all been in music for awhile so we didn't want to be in the situation of having seven people crowded into a small van.
"This is Mother Feather's first Warped Tour. Actually, it is Mother Feather's first official tour. We've played shows around New York and other one-off shows but this is the first time we've actually gone out on a full tour.
"The idea has always been for Mother Feather to be a working band. Ann had the idea to combine performance and rock. It's always been about making music. The performance part is huge but music has always been the main thing. It's been pretty organic.
"Ann and Lizzie were friends in college and they were in a band called Late Bloomers. That's where the first songs Ann ever wrote came from. Gunnar was in a band in New York and I had a band called Rich Girls.
"We all knew each other from the Lower East Side. Ann wanted this theatrical rock band and she brought us all together. We're all working musicians and performers and we've all been around for awhile."
Mother Feather released an eponymous EP in 2011 and followed with its sophomore EP "Living Breathing" in 2013. Both were independently released.
"I think we had more patient approach," said Basile. "We took our time and put together the kind of show we wanted to play. Then, we put out two EPs. Brian Slagel, the CEO of Metal Blade Records called us and said — I think this stuff is great. If you can add a couple songs to the two EPs, we can have an album."
So, Mother Feather signed with Metal Blade and went into the studio. The band recorded two songs — "The Power" and "Natural Disaster" — and Metal Blade released the band's debut album "Mother Feather."
"The songs were almost done so we polished them off for the Metal Blade release," said Basile. "The songs from the EPs and the new songs fit together well so we didn't have to do any remixing.
"For the Warped Tour, we have a 25-minute set. A lot of bands just play five or six songs but we took a different approach — a strategic effort. We have a 10-song set with the songs segueing into each other. It's fun — 10 songs in 24:40."
Video link for Mother Feather — https://youtu.be/fAqU5hECX-A.
Two of the bands on this year's Vans Warped Tour have a Philly connection — Ghost Town and Reckless Serenade. Both have members who will experience a homecoming of sorts when the massive tour touches down just across the Delaware River from Philadelphia.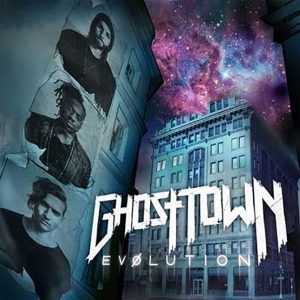 Ghost Town is a rock band from Los Angeles featuring Kevin "Ghost" McCullough (Vocals/Screams), Alix "Monster" Koochaki (Guitars/Vocals), Manny "MannYtheDrummeR" Dominick (Drums) and Alister Dippner (Artwork).
"Alix and I grew up together in Palm Springs, California," said McCullough, during a phone interview Tuesday afternoon from a tour stop in Charlotte, North Carolina. "We were in bands together in high school. That was years before Ghost Town started.
"I had moved to L.A. and met Manny there. Me and Manny had been living in L.A. for about five years. Then, I ran into Alix and the three of us got together. We realized that we could make great music together.
"We wrote three songs right from the start. Actually, we wrote some of Ghost Town's most popular songs in that first session. It all went so well. The floodgates were open.
"I play guitar but with this band I only sing. Alix plays guitar and does a lot of the backing vocals. Manny is a beast on drums. He grew up in North Philly but moved to L.A. 12 years ago. We've played Philly a number of times and he takes us to great places to eat."
In September 2012, Dippner uploaded a sped-up video of himself painting the artwork to "Game Freak" with the song playing in the background, and it went viral. The band ant the artist set up a PureVolume page shortly after and rose to the top of the site's charts.
After the release of "Game Freak," the band decided to write, produce, and release a new song every week. Calling the project "Ghost Town Tuesdays," the band released 12 songs over the course of nine weeks.
Using many of the songs released over the course of four months, along with five new songs, the Ghost Town self-released its first album "Party in the Graveyard" in December 2012.
"We put it out at the end of 2012 and then Fueled By Ramen Records re-released it in November 2013," said McCullough. "We told them that his album needed more life. Since then, we've released two more albums with Fueled By Ramen — 'The After Party' in 2014 and 'Evolution' in 2015.
"We do everything ourselves — writing and producing. We have our own little home studio that we use. We're writing all the time. Even though we just put 'Evolution' out a few months ago, we started up 'Ghost Town Tuesdays' again. We've done four so far."
Video link for Ghost Town — https://youtu.be/13bKRAovSmk.
Reckless Serenade is a pop-punk band from Mahopac, New York that has already performed a number of times in the Philadelphia area. The quartet — Cory Brent (Vocals), Mark Neidhardt (Guitar), Matt Ruggiero (Drums), Will Prinzi (Bass) and Rob Crews (Guitar) — took its name from the Arctic Monkey's song of the same name.
"The band started four years ago in Mahopac," said Neidhardt, during a phone interview Tuesday afternoon from a tour stop in Charlotte. "Cory, Matt and I went to Mahopac High School together.
"Then, Cory went to Purchase (State University of New York — Purchase) and met Will, our bass player. Will is from the (San Francisco) Bay Area. Rob, who plays lead guitar, is from Philly.
"We played some shows with the band Hold Your Own and he was the lead singer. We asked him if he knew any singers who could play guitar. He said he could do both. We practiced together and it went really well. His band was breaking up so he joined Reckless Serenade."
The band's first six-song EP was released by Fervor Records and has been featured on Fox Sports. The band won the MTVu Freshmen with the single from the EP "Two Years Too Late."
In summer 2013, Reckless Serenade released its debut album "Chasing Lights" and followed with an East Coast tour. Next up0 was an EP titled "Out Here."
Recently, the band signed with InVogue Records. The group's label debut "Strange Soul" came out on June 24.
"We took a bit of a darker tone with this one — songs dealing with anxiety and mental health," said Neidhardt. "With the songwriting, Cory and Matt bounce ideas off each other and then the rest of us add to it. With Rob and Will, we get a lot of diverse influences.
"We only have a 30-minute set on the Warped Tour so we're doing six songs — four from the new EP and two from the 'Out Here' EP. We open with the song 'Out Here.' You need a good song to get the kids' attention and that's the right song to do it."
Video link for Reckless Serenade — https://youtu.be/dlF0rHKtWkM.
The full line-up for the 2016 "Vans Warped Tour Presented By Journeys" includes Falling In Reverse, Four Year Strong, Less Than Jake, New Found Glory, Reel Big Fish, Set It Off, Sum 41, We The Kings, Yellowcard, Issues, Mayday Parade, Pepper, Real Friends, Sleeping With Sirens, State Champs, The Maine, The Story So Far, Tonight Alive, Crown The Empire,  Every Time I Die, Ice Nine Kills, Motionless In White, The Color Morale, Volumes, Whitechapel, Chelsea Grin, Coldrain, Cruel Hand, From Ashes To New, Gideon, In Hearts Wake, Oceans Ate Alaska, Emarosa, Vanna, Veil Of Maya, I See Stars, Knuckle Puck, Masked Intruder, Roam, Secrets, The Heirs, The Interrupters, Young Guns, Against the Current, Assuming We Survive, Ballyhoo!, Chunk! No, Captain Chunk!, Ghost Town, Sykes, Teenage Bottlerocket, Too Close To   Touch, Waterparks, Avion Roe, Bad Seed Rising, Broadside, Cane Hill, Dash Ten, Hail the Sun, Like Pacific, Mother Feather, Old Wounds, Palaye Royale, Reckless Serenade, Safe To Say, Silent Planet, Wage War, and With Confidence.
The 2016 "Vans Warped Tour" at BB&T Pavilionwilkl start at 11 a.m. Tickets are $41.50.
Will Kimbrough, who is playing the Sellersville Theater (24 West Temple Avenue, Sellersville, 215-257-5808, www.st94.com) on July 8, has built a legion of fans through his work as a singer-songwriter.
He has added to his fan base with listeners that are attracted to his multi-instrumental work and guitar playing. Kimbrough was voted Instrumentalist of the Year in 2004 by the Americana Music Association.
Kimbrough has released his first album in 1999. His seventh — and most recent — album is "Sideshow Love," which came out in 2014.
"When I tour now, it's usually for a week or just a few days," said Kimbrough, during a phone interview Tuesday as he travelled from his home in Nashville to a tour stop in Washington, D.C.
"I just do what seems to be the most effective. I don't need to be playing Sunday, Monday and Tuesday. If the tour is farther away, I might go out a little longer. I'm just trying to do what makes sense in a career that doesn't make sense.
"I don't want to be on the road for weeks at a time. I have a kid in college and a kid in high school and I want to be around for them. I also do a lot of production and studio work. I have my own studio in Nashville."
Actually, Kimbrough's career has made a lot of sense. He has been involved in a lot of great music.
Kimbrough started his musical career as a founding member of Will & the Bushmen, a popular college band in the 80s that produced a handful of albums and singles and made it to MTV. He then went on to form the Bis-quits with long-time friend Tommy Meyer. The Bis-quits produced an self-titled album which was released on John Prine's Oh Boy Records.
Kimbrough has produced albums for Adrienne Young, Rodney Crowell, Todd Snider, Kate Campbell, Kim Richey, Garrison Starr, Matthew Ryan, and Josh Rouse.
His songs have been recorded by Jimmy Buffett, Little Feat, Todd Snider and more. Kimbrough has also collaborated with many artists including Rosanne Cash, Guy Clark, Rodney Crowell, Steve Earle, Gomez, Emmylou Harris, The Jayhawks, Mark Knopfler, Buddy Miller, John Prine, Toumani Diabate, Billy Joe Shaver, Mavis Staples and Adrienne Young.
According to Kimbrough, "One of the reasons I've been in demand for sessions and touring is that I learned to be able to ape any playing style."
Kimbrough's services are always in demand — as a producer and as a collaborator.
"I work at my studio and at other studios in Nashville," said Kimbrough. "I'm a record person. I love the big studios and there are some great studios here in Nashville like RCA Studio A and Woodland.
"I've been doing music every day since I was 12 and I'm 52 now. I do all kinds of stuff for people. About three years ago, I retired as a touring player for other artists. I just wanted to do my own stuff. I also have my band Willie Sugarcapps.
"With Willie Sugarcapps, we have well-written songs and we can stretch them out. We're reacting to each other and not just playing parts. I really enjoy the interaction — and the friendship. We do about 65 shows a year.
"This tour now is just a solo tour — me with my guitar and mandolin. I'll be playing stuff from all my records. I'll also be playing some songs from both my other bands — DADDy and Willie Sugarcapps."
Video link for Will Kimbrough — https://youtu.be/LvJAy66kszw.
The show at Sellersville, which also features Toby Walker, will start at 8 p.m. Tickets are $15 and $25. Other upcoming shows at the Sellersville Theatre are Nicole Atkins and Chelsea Sue Allen on July 9 and Toronzo Cannon and Gabe Stillman & The Billtown Giants on July 10.
The Flash (102 Sycamore Alley, Kennett Square, 484-732-8295, http://www.kennettflash.org) will have "Dead Flowers – A Tribute to The Rolling Stones" on July 8, and An Evening of Comedy with The Legendary Wid, Doogie Horner, and John Kensil on July 9.
The Steel City Coffee House (203 Bridge Street, Phoenixville, 610-933-4043, www.steelcitycoffeehouse.com) will host Craig Bickhardt, Jack Sundrud, Kyle Swartzwelder and Michalel Braunfeld in the round on July 7, House of Hamill on July 8, and Radney Foster on July  9.
Chaplin's (66 North Main Street, Spring City, 610-792-4110, http://chaplinslive.com) wll present Dylan Andre, Gabbii Donnelly, and Mel & Mario on July 8 and Above the Mendoza on July 9.
The Ardmore Music Hall (23 East Lancaster Avenue, Ardmore, 610-649-8389, www.ardmoremusic.com) will present The Band Is Bond: Freekbass, Jennifer Hartswick & members of P-Funk and Bootsy's Rubberband play the music of James Bond movies along with The Royal Noise on July 13.
Doc Watson's Public House (150 North Pottstown Pike, Exton, 610-524-2424, docwatsonspublichouse.com) will host The Chatterband on July 9.
Valley Forge Casino (1160 First Avenue, King Of Prussia, 610-354-8118, www.vfcasino.com) will present the Charlie Daniels Band on July 8 at The Venue.