Preliminary study, set to be revealed Monday night, suggests smaller class sizes, savings possible by splitting K-2 and 3rd-5th grades
By Mike McGann, Editor, UnionvilleTimes.com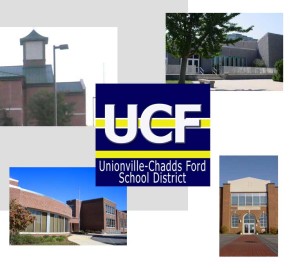 EAST MARLBOROUGH — As if there weren't enough to discuss at Monday night's Unionville-Chadds Ford Board of Education meeting, with budget cuts, ongoing teacher contract negotiations and the search for a new superintendent of schools, district administrators will reveal the results of their look at potentially reconfiguring the district's four elementary schools.
While officials cautioned that nothing has moved beyond study, administrators looked at four possible scenarios, with the idea of better balancing class size and potentially saving money at the same time — and laid out the framework briefly during Monday night's school board work session — on a plan that would split kindergarten through second grade students from third through fifth grade students.
Mindful of the controversy surrounding the last reworking of elementary students — embracing a "neighborhood school" plan when Pocopson Elementary opened in 2001 — Superintendent of Schools Sharon Parker made it clear that the study was done to see what the possibilities are.
"This may take place over a number of years, or it may be discussed and put away," she said and added that nothing will happen without a great deal of discussion and input from the community, including parents.
Although the initial study, which came out of public suggestions from the April, 2010 community conversation — and was built into the district's 2011 goals plan — looked at four scenarios, administrators seem to feel one of the options offers the best mix of educational benefit and cost savings. Currently, the four district elementary schools all offer kindergarten through fifth grade, with sending districts designed to be as local as possible to the school. Pre-first grade classes were bundled and moved to Unionville Elementary School in recent years to better even out class size and make use of space there.
Prior to the opening of Pocopson Elementary, Chadds Ford and Unionville had only K-3 students, while all of the district's fourth and fifth grade students attended Hillendale.
Imbalances in class size, with smaller schools such as Hillendale, as an example, having either 28 or 29 students in its fourth grade classes, while numbers at other district schools are notably lower, is one of the motivating factors.
"It was a district goal to look at school configuration," said John Nolen, the district's director of elementary education. He said the district looked at enrollment trends over a seven-year period to get a better sense of growth and student class size to build their models.
The plan that emerged from the study that appears to bring the most benefit would recast Pocopson and Unionville as grade three to five schools, with Chadds Ford and Hillendale handling K-2. The schools would be paired, with Pocopson teamed with Chadds Ford and Unionville tied to Hillendale.
Nolen said that this configuration would both allow for more uniform class sizes and potentially save money by requiring 12 to 13 less teaching positions. A more detailed presentation is expected at Monday night's Board of Education meeting, at Charles Patton Middle School.