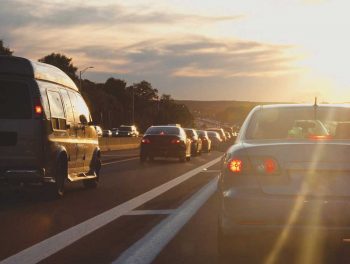 Chester County, you know you're not staying home this weekend.
Whether you'd headed down the shore, off to see relatives or just ready to get out of town for a few days, according to AAA, fewer of you than ever will skip a "staycation" this coming long weekend.
Americans will take more trips than ever this Independence Day weekend. The nearly 43 million people projected to travel represents the highest Fourth of July travel volume on record and five million more travelers compared to Memorial Day weekend. This trend holds true in the Philadelphia 5-county region as AAA Mid-Atlantic projects more than 577,000 Philadelphia-area residents will take a trip, a 1.2 percent increase over last year. AAA defines the holiday travel period as Thursday, June 30 to Monday, July 4.
"Lower gas and airfare prices are prompting more people to travel for the long Fourth of July weekend," says Jana Tidwell, Manager of Public and Government Affairs for AAA Mid-Atlantic. "More than 153,099 more Philadelphia-area residents will travel for Independence Day compared to Memorial Day."
AAA Independence Day Travel Highlights
GROWTH

: Independence Day holiday travelers will grow for the sixth time in the last seven years. The 2016 total will be 10.7 percent above the 2000-2015 average.

 

ROAD TRIPS RULE

: The 36.3 million auto travelers will mark the third consecutive year of all-time high auto travelers.

AAA expects most U.S. drivers will pay the lowest Independence Day gas prices since 2005.

 Sunday's average price for gas in Philadelphia was $2.42, 49 cents less than the same date last year.

U.S. drivers have saved about $20 billion on gasoline so far this year compared to the same period in 2015.

 

ROADSIDE RESCUES

: From July 1 through July 5 of last year, AAA Mid-Atlantic helped more than 25,000 motorists with vehicle issues, 5,187 of those were from Philadelphia area. The primary reasons for roadside service include dead batteries, lockouts and flat tires

AIRFARES DOWN, TRAVEL UP AND AWAY

: Air travel will show the highest growth by mode as airfares are down by 15 percent for the year.

According to AAA's Leisure Travel Index, average airfares for the top 40 domestic flight routes will be nine percent less this Independence Day, with an average roundtrip ticket costing $207.

 

HOTEL COSTS FALL

: Hotel costs have fallen slightly compared to last Independence Day. AAA Three Diamond Rated hotels will average $185, while a AAA Two Diamond Rated hotel will average $144 nightly.

 

LONG WEEKEND

: 2016 will be the fourth consecutive year of a five-day Independence Day holiday travel period.
2016 Projected Independence Day Holiday Travelers
Philadelphia (5-county) Area
NUMBER OF TRAVELERS

Total Population

2016 Travelers

Percent of population traveling

Percent change vs. 2015

Philadelphia
(5-county) TOTAL
Auto, Air & Other

4,093,906*

577,241

14.1%

1.2%

Philadelphia
(5-county) Auto

84.4% of people travel by car

487,175

11.9%

0.8%

Philadelphia
(5-county) Air

7.8% of people travel by air

45,033

1.1%

2.3%

 

 

 

 

 

Pennsylvania

Auto, Air & Other

12,802,503*

1,805,153

14.1%

1.2%

Pennsylvania

Auto

84.4% of people travel by car

1,523,498

11.9%

0.8%

Pennsylvania

Air

7.8% of people travel by air

140,828

1.1%

2.3%

 

 

 

 

 

National TOTAL

324.5 million*

42.9 million

13.2%

1.3%

National Auto

84.4% of people travel by car

36.3 million

11.2%

1.2%

National Air

7.8% of people travel by air

3.34 million

1%

2.2%
*U.S. Census Bureau/IHS Global Insight
Before You Go
AAA recommends motorists check the condition of their battery and tires before heading out on a road trip. Also, have vehicles inspected by a trusted repair shop, such as one of the nearly 7,000 AAA Approved Auto Repair facilities across North America.
Before setting out for Independence Day, download the free AAA Mobile app for iPhone, iPad and Android. Travelers can use the app to map a route, find lowest gas prices, access exclusive member discounts, make travel arrangements, request AAA roadside assistance, find AAA Approved Auto Repair facilities and more. Learn more at AAA.com/mobile.
AAA's projections are based on economic forecasting and research by IHS Global Insight. The Colorado-based business information provider teamed with AAA in 2009 to jointly analyze travel trends during major holidays. AAA has been reporting on holiday travel trends for more than two decades. The complete AAA/IHS Global Insight 2016 Independence Day holiday travel forecast can be found here.
As North America's largest motoring and leisure travel organization, AAA provides more than 56 million members with travel, insurance, financial and automotive-related services. Since its founding in 1902, the not-for-profit, fully tax-paying AAA has been a leader and advocate for the safety and security of all travelers. Motorists can map a route, identify gas prices, find discounts, book a hotel and access AAA roadside assistance with the AAA Mobile app for iPhone, iPad and Android. Learn more at AAA.com/mobile. AAA clubs can be visited on the Internet at AAA.com.