American Dental Association celebrates its code of ethics
By Dr. Stephanie McGann, DMD FAGD, Columnist, The Times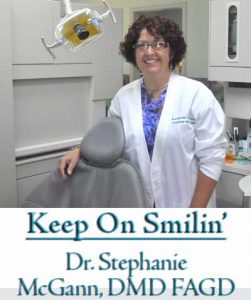 The American Dental Association Code of ethics is celebrating its 150th anniversary. Seems like a lot of hoopla for a document. Dentists who belong to the American Dental Association are bound by the organization's principals of ethics and code of conduct.
This document sets standards for the profession when it comes to many interactions with our patients.   As more and more dental practices are owned by national corporations, knowing if your dentist is a member is more important than ever.
Members voluntarily agree to follow the code as they practice the dental profession. The ADA code has evolved over the past 150 years but its focus has always been putting the patient's needs first. This code is not law; it is a written document that outlines the implied contract between dentist and the society they serve. The code was first adopted by the ADA in 1866. The ADA Code of ethics is under constant review. It is important to note that while legal and ethical obligations are related, they are not the same. Ethical obligations may–and often do–exceed legal duties.
https://www.youtube.com/watch?v=0VCcymTKG6U
Principle 1: Respect a patient's wants and needs
You have the right as a patient to be involved in your treatment decisions, and your ADA dentist has a duty to honor your decisions within acceptable treatment parameters and to safeguard your privacy. There are many situations where there is more than one treatment option. Your choice may not be the same as the preferred choice of your dentist. However, your dentist should respect your choice and allow you to have input into your treatment decisions.
Principle 2: Do no harm
Your ADA dentist has a duty to protect you from harm and must keep his or her knowledge and skills current. Staying current with new advances in dental techniques and materials is the first step in protecting our patients. Incorporating more and more safety advances into our practices is an ongoing process to protect our patients and employees.
Principle 3: Do good
Your ADA dentist has a duty to promote your welfare by delivering competent and timely dental care that takes into consideration your needs, desires and values. Providing good care for our patients and out communities is essential.
Principle 4: Fairness
Your ADA dentist has a duty to treat all people fairly and deliver dental care without prejudice. At no time should race, creed, sexual orientation or socioeconomic status be used to determine the treatment options available.
Principle 5: Truthfulness
Your ADA dentist has a duty to be honest and trustworthy. The doctor-patient relationship only works when there is trust.
I believe it is more important than ever for dentists to belong to the ADA. So many young dentists graduate from school and find their first dental position at a large corporate practice. The name on the door may read something simple but the organization behind the multi doctor, multi specialty office can be a large corporation that focuses on volume and aggressive billing in order to make their monthly projections. Small family owned practices are feeling the pressure of these mega-dental offices.   The ADA code of ethics is a great tool for these new dentists to use when being faced with difficult decisions and situations as they navigate their career.
Not sure if your dentist is a member?   Visit the ADA find-a-dentist to see if your dentist belongs.
http://www.mouthhealthy.org/en/find-a-dentist
Why choose an American Dental Association dentist? The ADA Principles of Ethics and Code of Conduct, serves as the foundation for ADA members' pledge to provide the highest quality of care and professionalism by putting our patients first. Now celebrating its 150th anniversary, the code is more than just words; it is our commitment to provide the best care for our patients and the profession.
Dr. Stephanie McGann, who has more than two decades of dental practice experience, is a resident of the Unionville area and along with her partner, Dr. Marie Scott, operates The Brandywine Smile Center, a family-friendly dental practice in Concordville. Dr. McGann has opened a new practice in Valley Township, Rainbow Valley Dental. She is a Fellow of the Academy of General Dentistry.