The first-ever Unionville-Chadds Ford Battle of the Bands will feature a spirited competition between faculty bands — including bands from Unionville High School and Charles F. Patton Middle School as well as an exciting showcase of high school musical talent, presented by the Unionville-Chadds Ford Education Foundation.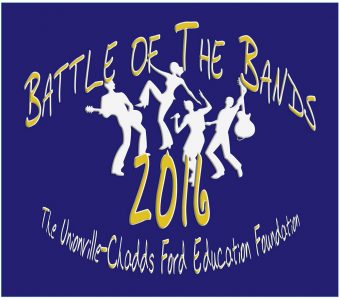 The rock-n-roll event of the year will take place at the Unionville High School auditorium, with show time at 7 p.m. Proceeds from the event will benefit the Unionville-Chadds Ford Education Foundation, helping to fund educational grants, scholarships and more to enhance the educational experience for the UCF district's students.
The winner of the prestigious Millard J. Filibuster Memorial Trophy — handcrafted by the students of Unionville High School's Tech Ed. department — will be decided by the audience, so come out and cheer for your favorite teachers and their rock and roll bands. District teachers and staff have been working hard to make sure they win bragging rights — and it will be up to the audience to decide the winner.
Tickets are an incredibly affordable $5 — so come out and bring the whole family!
Reserve your tickets now! 
https://www.showtix4u.com/index.php?submit=Search+for+Events&current_client=0548401412092189