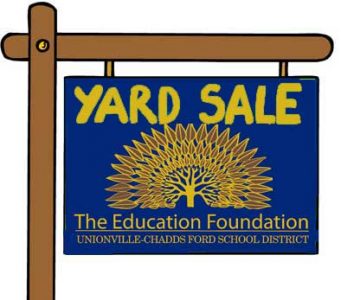 EAST MARLBOROUGH — The Unionville-Chadds Ford Education Foundation's annual Yard Sale is Saturday, May 7 at Unionville Elementary School.
Whether you are looking for a bargain – or ready for a little Spring cleaning (donations are still being accepted, with drop offs on May 4 & 6 from 3: 30 p.m. to 5:30 p.m. at Unionville Elementary School). 
The annual Yard Sale benefits the Education Foundation, which in turn uses funds raised to enhance the educational experience at Unionville-Chadds Ford schools by funding programs, technologies and scholarships for local students and teachers.
Although the items for sale varies from year to year — depending on donations — expect to find bargains on household items, antiques, sports equipment, furniture, good condition toys, and outdoor items.
The sale will take place on May 7 from 8:30 a.m. to 12:30.
For more information or to make special donation arrangements, email unionvilleyardsale@gmail.com or go to the Education Foundation's website.