Art on The Square, Student Art Show in Kennett
By Lele Galer, Columnist, The Times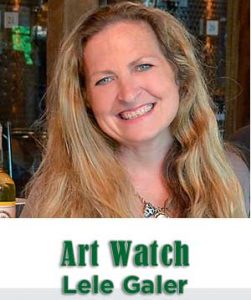 The big news for art events this week is happening in Kennett Square with two community art shows this weekend that will delight the whole family. Art on the Square is a large annual outdoor art show and sale with over 35 participating artists and craftspeople exhibiting their work this Saturday April 30 from 10am-5pm.
A portion of Broad Street will be closed to traffic, to allow for leisurely access to the art event, but remember that you still have to pay for parking in Kennett on Saturday, so bring your quarters! Two of the featured sculptors are John Rush and Jeff Bell, both of whom exhibited recently at The Delaware Museum of Natural History, and Jeff Bell will be a juried artist at Stan Smokler's studio in The Chester County Studio Tour this May 21-22. There will be painters, ceramics artists, jewelry artists and much more. What a perfect way to enjoy a Kennett Square Spring Saturday!
When you are visiting the Art on the Square, make sure to check out the American Legion Building (at Broad and State Street), which houses The Student Art Show. The student exhibition is all weekend long, Friday through Sunday from 11am -5pm. The Student Art Show showcases artworks from four area high schools: Kennett Consolidated School District, Unionville-Chadds Ford School District, Oxford School District and The Sanford School.
Art teachers from each of the schools picked artworks from students K-12 to represent their art curriculums in a variety of mediums. What a wonderful way to highlight the creativity of students of all ages! Linda Thies is the coordinator of the Student Art Show, and she explains that this art show is really a passion of hers because it is so important to encourage children in the arts, and "it is really such a big deal for the kids." Linda asks everyone to "come out in support of our kids and show your community spirit!"
While you are in Kennett Square, make sure to stop into Mala Galleria and The Longwood Art Gallery on State Street before their respective shows close for April. Each gallery presents a curated mix of local artists at reasonable prices, in many mediums. The botanical paintings at Mala this month are particularly captivating. Next Friday, both galleries start new shows for "First Friday", so stay tuned!
This weekend at Galer Estate Winery in Kennett Square, there is an exhibit and sale of Chinese Ink Brush Painting this Friday 3-7pm, by Jennifer Yuan and the Guanghua Art Group.

On Sunday, May 1st, painter Cheryl Schlenker shows and sells her vibrant paintings at Galer Estate from 3:00 -7pm, in conjunction with the Brandywine Artisan Wine Trail's celebration of the artists of The Chester County Studio Tour in May. Ten Gallon Hat Winery has teamed up with The Visual Expansion Gallery to be a new gallery site for the exhibition of fine local art. To see what other wineries are showcasing Chester County artists in May, check out www.brandywineartisanwinetrail.com.
The Chester County Art Association is exhibiting student art throughout this weekend at their main building on Bradford Street in West Chester. The Chester County High School Art Show will be on display in both the Allison and Huston Galleries through April 30. Admission is free, and the art work is inspiring. While you are at the Art Association make sure to check out their lists of summer classes, and consider becoming a member so you can get the scoop on gallery exhibitions and events throughout the year as well as discounts on classes and art purchases.
While you are in West Chester, go in town on Friday to see the last day of the "For Real" exhibit at The Art Trust Gallery at Meridian Bank, 16 West Market Street. "For Real" shows the unique work of Trompe l'Oeil artists, who artistically depict objects so that they appear real. The show is fun and engaging, and will be gone after Friday! Around the corner on Church Street, The Church Street Gallery shows clay sculptor Rhoda Kahler's "Tactiles" exhibit through Saturday. A terrific feast for the eyes, if you haven't seen this show yet, you should really stop in.
In Chadds Ford, "First Sundays" are celebrated at The Brandywine River Museum of Art this Sunday May 1st with free admission to the museum and wonderful family programming from 11am -2pm. Check out the stunning "The Poetry of Nature: The Golden Age of American Landscape Painting", listen to a live musical performance by Dana Lyons, go on a Garden Tour or participate in an arts and crafts project. This is a great way to introduce your family to the rich heritage of art and nature at The Brandywine River Museum of Art. To commemorate the museum's Board Chairman and Founder, an exhibition of the artwork of George A. "Frolic" Weymouth will be on display at the museum April 29 – June 5. If you have not joined the museum as a member, consider becoming a member this weekend, in honor of this great man, whose passion and vision helped preserve our area's natural and artistic beauty for generations to come.