To The Editor,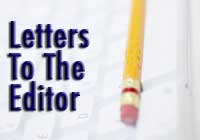 There has been a lot of misinformation going around about the contested primary election to replace retiring Representative Chris Ross in the 158th District. Endorsed candidate Lenny Rivera withdrew from the race on March 26 due to a dispute over the procedure to collect petition signatures. Lenny was a good candidate but he wanted to avoid the distraction this issue would cause and asked to be taken off the ballot.
Since the endorsed candidate dropped out so close to the election, the Republican ballot for this seat will be blank. There are two Republicans who will be running in the primary as write-in candidates, Businessman Perry Bentley and Eric Roe. Republican voters will have the opportunity to write-in the candidate of their choice on April 26th. Bentley, whose private sector experience and deeper roots in the district make him a stronger candidate against Rzucidlo in November, has my vote.
I understand that Democrat Susan Rzucidlo is waging a campaign to also be a write-in candidate on the Republican primary ballot. Her campaign has reportedly been contacting Republican voters claiming that she shares Republican values – what Rzucidlo fails to mention is that she is a life-long liberal Democrat who would be a reliable vote in the state house for Governor Tom Wolf's tax and spend policies.
The Democrats will have a chance to try and elect their candidate in November, they shouldn't try to trick the voters into supporting their candidate in the Republican primary on April 26th.
Bruce Murray
East Marlborough