A one-night event in Kennett Sq., Friday
By Lele Galer, Columnist, The Times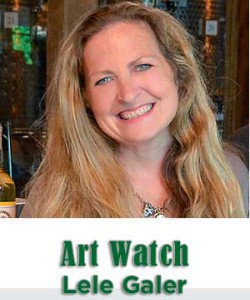 April brings a host of wonderful new art shows to Chester County, with many openings this Friday. Openings are exciting art events full of that fresh energy that comes with the unveiling of newly orchestrated show. Artists and customers mingle and chat, and there is food, refreshments and often music to heighten the spectacle of an opening reception.
This weekend highlights include "Evening of the Arts" in Kennett Square, Mala Galleria and The Art Trust openings, and an Encaustic artist and book signing event on Sunday.
In Kennett Square, the annual one night only "Evening of the Arts" opens this Friday from 5-8:30 in the Genesis Heathcare Building. Twenty-three local artists show artworks, juried by artist John Baker, in two floors of exhibition space. Artists include Diane Cannon, Jeremy McGirl, Carol Lesher and featured artist Matthew Reinhert. Matthew's contemporary impressionist paintings are sold in galleries to collectors throughout the country; full of light and quick, strong brushwork, his painting evoke his subject matter through minimal details, and broad strokes. Diane Cannon mixes her brightly torn collage pieces with painting to create intimate, magical artworks, that are also widely collected. This is a terrific show, with complimentary food and wine, that benefits Historic Kennett Square.
Before you head to "Evening of the Arts", check out the opening at Mala Galleria for "Wonders of Nature" from 6-9pm. A generous selection of contemporary botanical artists, including Judith Simon, Diana Heitzman and Margaret Saylor, wow us with their detailed depictions of flora and fungi. One block up, check out the latest gallery show at The Longwood Art Gallery, that exhibits an array of contemporary and traditional paintings and jewelry made by established local artists.
In West Chester, stop into The Art Trust at the Meridian Bank, for the opening of "For Real?" this Friday from 5 – 8:30. The Art Trust invites the audience to "Come play with us!" as the "Trompe l'Oeil" exhibition toys with the idea of mimicking what is real. Trompe l'oeil is literally a "trick of the eye" . The trick is delightful, and often provokes interesting discussions about representationalism, choice of subject matter, and the position of the still life in contemporary art. This is serious painting, that has a clever, witty side, and I am looking forward to playing along.
Three blocks away at Church Street Gallery, this is the last weekend of the Valerie Craig exhibition. The artist's gallery talk is on Thursday, March 31 at 7pm, and the public is invited to attend this interesting discussion, and enjoy these wonderful works of art before it leaves the gallery.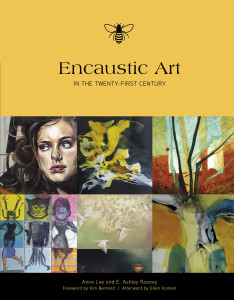 This Sunday, April 3, at Galer Estate Winery in Kennett Square, Schiffer Publishing house will unveil its new book "Encaustic Art in the Twenty-First Century", and celebrate the publication with 5 renown encaustic artists that are featured in the book: Jeff Schaller, Alan Soffer , Karen Freedman, Lorraine Glessner, and Marcie Wolf-Hubbard. Each of the artists will be present to sign books as well as show artworks for sale during this reception, 3-5pm at Galer Estate Winery. This promises to be a one of a kind art event for Chester County, and is a much overdue acknowledgement of the contemporary reinterpretation of this age old wax paint medium.
Further afield in Wilmington, local clay artist Rhoda Kahler is opening her group show "Abstraction" at Blue Streak Gallery on Friday April 1st, from 5-8pm. Her clay sculptural works will be paired with wall pieces by artists Robyn Burckhardt and Wes Memeger. Before you go to Blue Streak, check out The Delaware Museum of Art (remember though, it closes at 4pm on Fridays) and wander through "Our America: The Latino Presence in American Art" and the latest installation in their ever popular contemporary Outlooks exhibition space. Regional artists Carol Tippit Woolworth, Catherine Drabkin, Pahl Alexander Hluchan, Colleen Randall and Daniel Jackson make up the new Outlooks show entitled "Inside Out", which explores the concept of space from different points of view, in different mediums. Stay tuned for next week's Art Watch that offers an in depth view of the artist of the month, Rhoda Kahler.