New landscape exhibit opens at Brandywine River Museum
By Lele Galer, Columnist, The Times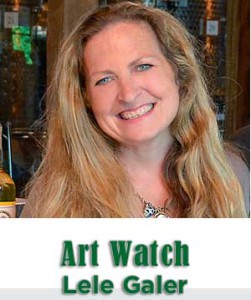 Spring has sprung with terrific art shows to enjoy this weekend.
The highlight of the weekend is The Radley Run Art Show on Friday March 18 6-10pm and Saturday March 19 from 10am-3pm. This show is hosted by Radley Run Country Club, located at 1100 Country Club Road in West Chester.
Friday night's opening is a lively cocktail party with complimentary appetizers ; always a lot of fun to mingle with the guests and artists and browse through the selection of wonderful local art in this gorgeous location. Radley is also a great place to have dinner, so you might want to make reservations in their grill at 610-793-1660 for after the show.
Proceeds from the show benefit Safe Harbor of West Chester and Chester County Art Association.
In Oxford, The Chester County Camera Club Photo Exhibition opens at the Oxford Arts Alliance this Friday March 18th, with a reception from 5-8pm. The show runs through April 8th, and features 11 outstanding local photographers, offering new ways of looking at our beautiful Chester County surroundings. Chris Grove, Executive Director, writes, "We are so pleased to spotlight the work of the local photographers involved in the Chester County Camera Club.  There are some incredible photographs in this show.  It is definitely a must see as the viewer gets a glimpse of the world through the photographer's eye". If you are in Oxford on Friday's "Third on Third" you might also check out Susan Melrath's art studio, and the artist shows at Outback Trading Company and J&K Slightly Touched. There is also live music across the street at Flickerwood Wine Cellars and wine and cheese at Odds and Ends. Sounds like a wonderful evening on Third Street in Oxford this Friday!
In Kennett Square, Mala Galleria's "Moving Paint" art show features the work of fabulous watercolorist Sarah Yeoman throughout the month of March. Sarah Yeoman is an award-wining American watercolor artist and a signature member of the Philadelphia Water Color Society. Owner Stella Scott writes, that Sarah's "mastery of reflections, unique surface layers, and unusual perspective clearly sets her apart from the crowd…. Her mastery of watercolor deepens the story and intimacy of her work, as the resulting texture, color shifts, and granulation reveal the warm feeling of light as well as the whispers of light air. …" A block up from Mala, The Longwood Art Gallery is featuring the delightful work of painter MaryAnn Weselyk. MaryAnn showed last weekend at the very successful 2016 Chadds Ford Art Show and Sale. Her work is colorful and quirky and adds a happy touch to any home.
Also in Kennett Square, this Sunday from 3-6pm, famed local photographer Antelo Devereux has a popup art show at Galer Estate Vineyard and Winery. Known best for his site-specific photography books on Maine, Philadelphia and Chester County, his gallery images are also beautiful and usually have an endearing, whimsical side to them, which makes you smile. For a fun start to your day, you might try following him on Instagram, where he posts something new almost every day.
In West Chester, the artist Valerie Craig has a solo show at Church Street Gallery, which ends April 2. Valerie is captivated by landscapes and tries to paint outside as much as possible. She has received many awards throughout her career, and her work is collected in corporate, private and museum collections across the country.
At the Brandywine River Museum of Art the new exhibit "The Poetry of Nature: A Golden Age of American Landscape Painting" starts this week, March 19th and runs through June 12. The show promises to be a stunning exhibition, including works by many of the masters of the Hudson River School. The New-York Historical Society curated this exhibit from its vast holdings of works by selecting over 40 paintings created between 1818 and 1886. The Hudson River School was a period of painting that offered America breathtaking views of its natural landscapes, often in large scale, painted with an awe and wonder that we can still feel today.