Sources say stop-gap budget likely to be sent to Gov. Wolf Tuesday
By Mike McGann, Editor, The Times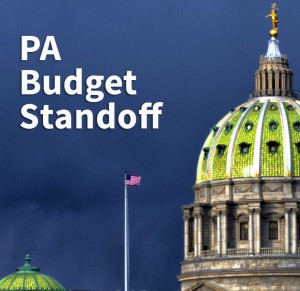 "Frustration." "Confusion."
Those two words, which repeatedly came up when speaking with local legislators about the ongoing state budget standoff, seem to best describe where things stand in the current six-month state budget standoff.
The standoff looked to come to an end this past weekend, but a deal collapsed when the State House voted 149-52 Saturday against a pension bill that was seen as key to the overall structure of the proposed state budget.
Legislators took a breather Monday, while high-level discussions continued. Sources suggested that the House and State Senate will likely approve a stop-gap measure Tuesday that would restore funding to schools, social services and most governmental operations. Whether Gov. Tom Wolf signs the bill, or vetoes parts or all of it remains to be seen, legislative sources said.
This budget standoff mirrors one from 2003 when then-Gov. Ed Rendell and a GOP legislature wrangled over school funding. Rendell vetoed parts of the budget and it took until Dec. 23, 2003 to reach a deal with legislators.
This time, Wolf vetoed the entire budget — meaning nothing is funded on a state level. A number of school districts have taken out loans to stay in operation, while many social services have been unfunded. Chester County opted earlier this month to withhold payments on permits and other items to the state in lieu of payments it should be getting from the state to fund essential services.
Local legislators were divided on the matter — of nine state representatives in Chester County, five voted for the pension reform plan, while four voted no. Statewide, Republicans were divided, while Democrats as a block voted no, scuttling the fragile budget agreement hammered out by house and senate leaders with the governor. Republicans in the state Senate had made a pension reform bill a condition of their approval of the budget framework. The House's no vote stopped the process in its tracks.
Information, even for legislators, was at times fractured and confused, and a number of them saying they were unsure of the next steps.
Even among House members there appear to be some communications disconnect, as Majority Leader Dave Reed and Speaker of the House Mike Turzai appeared to have different agendas and messages for the rank and file. Wolf's administration also seemed to be in confusion, with last-minute changes between proposed sales tax and income take increases, as appeared to have happened late Thursday night when it became apparent Wolf couldn't get the votes for a sales tax hike.
All agreed that the bill as presented, which would have created a hybrid pension/401K retirement system for new public and school employees, was flawed, but the decision on voting came down to the ability to hold their nose and vote for deal that would end the budget standoff versus concerns about the constitutionality of the measure.
The yes votes were Reps. Becky Corbin (R-155), Chris Ross (R-158), Tim Hennessey (R-26), Warren Kampf (R-157) and John Lawrence (R-13). The no votes were Reps. Dan Truit (R-156), Steve Barrar (R-160), Harry Lewis Jr. (R-74) and Duane Milne (R-167). 
Corbin acknowledged that the pension bill as presented wasn't everything she was hoping for, but saw it as an opportunity to make progress.
"When trying to reform something as complex as our state's pension systems, change will only happen incrementally," she said. "While I would have preferred a broader pension bill than the one we were presented with Saturday, the legislation was moving us in the right direction. Was it enough? No. Was is it a good start? Yes."
Truitt, though, said he was both dissatisfied with how little impact the bill would have in the short term as well as expressed concerns that the entire measure would ultimately be thrown out as it could potentially impact the pension benefits of current and retired employees, specifically precluded by the Pennsylvania State Constitution.
"They kept watering it down," Truitt said. "I've had concerns about the constitutionality with the provisions for current employees." Truitt said he had gone as far as to ask party leadership to strip those provisions out of the bill and put them in a separate bill, so that basic framework of the pension plan could be preserved if the courts tossed out the provisions for current employees.
Truitt also noted that without some sort of funding to close the estimated $60 billion shortfall in the state pension fund, he'd be concerned that the legislature would see pensions as dealt with and move on, while one serious economic downturn could put the state in deep financial peril.
Barrar said he had many of the same concerns and felt the pension didn't do enough in the near term to help cut costs.
"There's no savings for 15 years," he said.
Barrar suggested he'd still favor an entirely 401K-based system for new hires, he acknowledged that there is conflicting data on the long-term financial impact — without money going into the current pension system, it could leave the state and school districts on the hook for future pension payments. At minimum, he said, he'd like to see a cap — noting that some school superintendents and other senior public employees have retired with pensions amounting to more than $200,000 a year. He said he'd like to see that amount capped at about $100,000 with other funds going into a 401K-style account.