Showings and art sales just time for the holidays
By Lele Galer, Columnist, The Times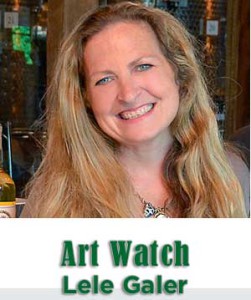 One of my favorite local sculptors is Jill Beech, and she will be having her annual studio sale this Saturday December 12th 10am-4:30pm. While she is still not keen on creating a website, Jill has a large loyal following of collectors, including me, who wait for her studio sale announcement every year. I already bought 6 of her pieces last weekend, but she has plenty of gorgeous art left for this weekend! Her studio is about 25 minutes from Kennett Square, at 6 Park Avenue in East Fallowfield. Weaving artist Eva Stossel will be showing at the Beech studio as well. I stopped by to interview her and to get a sneak peak of what she will be selling at her show.
Born in Kent England, and raised in Panama, Jill Beech always knew that she wanted to be a veterinarian ( the art bug came later). Though few universities in the 60s and 70s would accept female veterinary students, Jill graduated from The University of Pennsylvania with a degree in veterinary medicine and was a Professor of Medicine at New Bolton until she retired in 2011. When not working with horses, she worked independently and also enrolled in art classes, mainly at the famous Penland School of Crafts in North Carolina, to learn various aspects of ceramics, enameling, metal work, blacksmithing, and paper sculpture.
For decades, Jill Beech has travelled the world and found natural and aesthetic inspiration for her creative works in the stone carving and the stone formations in Baffin Island, wild life and wood carvings in Tanzania, frescoes in many European countries,  aboriginal art including cave paintings in isolated caves in the Grampian mountains of Australia, the shrines and colors of Bali, the rock carvings, caves and statuary in India..to name only a small sample of her creative journeys.
Jill Beech's work is very organic, and resembles  forms in nature. She is inspired to evoke the spirit of a natural form or animal, "the spirit of something as opposed to making a copy…I have no desire to make a perfect horse but to evoke the feeling of the animal, that would be the ideal" she states. She is intrigued by the mystery and layers of natural forms, "the shadows" of the thing. The abstraction of a natural resemblance is what "holds" her while she creates. And, with the enormous amount of hours that each artwork takes, she needs to be held in that point of inspiration for a very long time. Her recent coral-like sculptural forms in stoneware and porcelain are heavy, large forms that seem  almost ethereal with their thousands of small hand carved holes and curves. Each takes many weeks to create. After completing a piece and firing it for the first time to about 1800F, she then sandblasts it prior to the final higher temperature firing to take away the sharpness and create a weathered, nature-worn effect that is just exquisite. Her most recent series is of paper-like pods, some of which, rather incredibly, she creates from the Kozo plant. She cooks the Kozo in soda ash, layers it and hammers it into very fine sheets, which she then rips into small bits, carefully burns each edge, and then applies to large wire frames. As Jill humbly reports, this is all "pretty labor intensive"!
Jill Beech's personal aesthetic is driven by her curiosity, wonder and  admiration for the primordial natural world. Her art works are fascinatingly contemporary, monochrome in pallet, but have a rich, ancient echo to them.  The forms tap in to a palpable connection with the natural world, and, whether it is the hard work that it takes to produce them, the worldly journeys that inspire them, or simply the passion of the artist that creates them, there is something transcendent about each of her works.  Do not kid yourself into thinking that you will buy anything here for gifts, because you will want to keep them all! Come visit her studio in the last weekend of her open studio… and walk into the mesmerizing otherworld of Jill Beech.
The Church Street Gallery in West Chester has its opening reception this Friday December 11 5-8pm for the artist, and gallery co-owner, John Supplee. Openings at Church Street are always lively events, packed with art lovers and artists, chatting, connecting and wrestling for works on the walls. This Friday, there should be quite a lot of wrestling, as John Supplee is a well-known, well-liked artist in the community who will be displaying a broad array of his artwork that have not been seen before. Next week's Art Watch will have an interview with this fascinating artist, so stay tuned, and in the meantime, check out the opening on Friday!
At Galer Estate Winery, in Kennett Square, paintings by Torrey Kist and Abigail Patterson as well as artisanal crafts by jewelry artist Susan Heaver, wood turned bowls by Paul Koch, and ceramics by Deanna Haldeman, will be for sale Sunday December 13th from 1-7pm. Ten Gallon Hat Winery in Chadds Ford is doing a Pop up Holiday Gift Show this Sunday 1-4pm featuring the work of 10 local artists, including Bob Deane ceramics, Marinella's Jewelry, Mommacat Creations and Bridge Street Chocolates…yum. Wilson Winery will be showcasing the beautiful paintings by Sally Wilson. Chadds Ford Winery, Ten Gallon Hat Winery, Flickerwood Winery, Kreutz Creek Winery, Grace Winery and Penns Woods Winery all have artisan shows and sales throughout the December Month. Check out the Brandywine Artisan Wine Trail web site for the best information on winery art shows in December.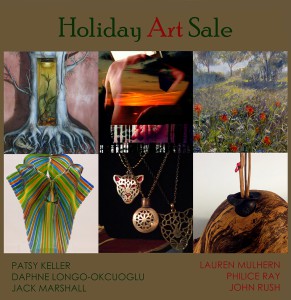 At The Gables restaurant in Chadds Ford, Sunday December 13th, 6 Chester County artists have a Holiday Art Sale from 11:30am-5:30pm, including wood carver John Rush, glass artist Patsy Keller, and artworks from Daphne Longo-Okcuoglu, Jack Marshall, Lauren Mulhern and Philice Ray. The Gables is always so generous to local non-profits with the use of their large open space – a perfect place for artists to show, and for customers to shop, eat and enjoy.
The Delaware Art Museum is having a Winter Arts Festival Friday December 11th 5pm-8pm and Saturday December 12 10am- 4pm with 16 regional artists selling their art wares, to the accompaniment of local choirs, surrounded by floral displays by local flower arrangement artisans, and even special Winter treats to eat at the Museum's Café. Sounds like a terrific experience for all the family, for all the senses.