If rain holds off, full slate of fun early Fall outdoor events
By Denny Dyroff, Staff Writer, The Times
This is the time of year that people like to participate in outdoor activities — to take advantage of temperate weather before the winter arrives with its "let's stay inside" weather. With predictions of a very damp weekend in the weather reports, some of the area's outdoor events might get postponed, canceled or moved indoors. A good move would be to check an event's website for updates before heading out.
The annual Unionville Community Fair (Routes 926 and 82, Unionville, http://www.ucfairinc.org) is a real down-home country fair with a cow milking contest, "Kiddie Pedal Tractor Pulls", farm equipment displays, cow pie bingo and a farm market. It serves as both a fund-raising carnival and a full-scale community event`.
The 2015 edition of the fair, which is running October 2-4 at the fairgrounds behind the Landhope Farms store at the intersection of routes 926 and 82, is the 91st annual staging of the fair. The theme this year is "Harvest the Fun."
This year's Unionville Community Fair will have all its traditional activities including popular attractions such as livestock displays, live entertainment, cooking and baking competitions, carnival games, the Fair Queen Pageant and the colorful annual parade.
There will be an array of family-oriented attractions at the free festival include a beekeeper, a storytelling area, a magician,  arts and crafts vendors, a live auction, "Cow Pie Bingo," a full slate of live music performances and a wide variety of demonstrations including applesauce making and cooking by Cooking For Real.
As always, one of the most popular attractions is the Sixth Annual Willowdale Pro Rodeo, which will be held October 3 at 6 p.m. Tickets are $15 for adults and $10 for children ages 4-12. Admission is free for kids three and under.
There will also be a number of contests, including a "Cow Milking Contest," a "Scarecrow Making Contest", a "Blue Ribbon Apple Pie Contest," "PA Preferred Products Baking Contest," a "Dance Contest" and a "Lip Sync Contest."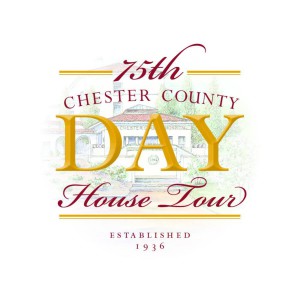 Chester County Day (locations in the northeast region of Chester County, 610-431-5301, www.chestercountyhospital.org) is one of the oldest annual events in the Brandywine Valley. On October 3, the 2015 Chester County Day, which will be held in and around West Chester, is celebrating its 75th anniversary.
As always, the event, bills itself as the nation's oldest house tour, has the Chester County Hospital as its beneficiary. Tickets are $40.
The annual celebration of Chester County's landscapes, art and architecture will get underway at 10 a.m. and run until 5 p.m. Participants will be able to visit old and interesting houses, gardens and historic landmarks around Chester County — specifically the Borough of West Chester where the tour began in 1936.
Chester County Day has a few ground rules which must be honored — no pets, no children under age 12, no "babes in arms" and no backpacks. Visitors may take photos outside the houses. No photography or use of cell phones is permitted inside the houses.
Fortunately, the "pets not allowed" policy isn't universal.
Dog owners and their pets can a fun event together this Saturday at one of Chester County's colorful parks.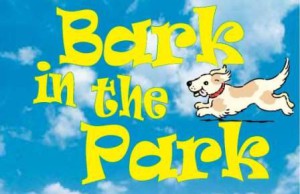 From 11 a.m.-3 p.m. on October 4, Nottingham County Park (150 Park Road, Nottingham, 610- 932-2589, http://www.chesco.org/ccparks) is hosting "Bark in the Park" — an event that is billed as "a fun, family and dog-oriented day promoting responsible dog ownership."
Editors Note: 11:30 a.m., Oct. 2: Due to weather concerns, this event has been postponed. As soon as we get info on if/when it has been rescheduled, we'll publish it.
"Bark in the Park" promotes responsible dog ownership and brings together a number of local and regional services and recreational opportunities for families and dog enthusiasts to enjoy.
There will be a wide array of vendors and a variety of pet-oriented exhibitions on such topics as breed information, grooming, animal rescue, adoption and foster care, pet therapy and boarding.
Featured attractions include a "Doggie Photo Booth," the "Ask the Vet! Station," dog health and well-being lectures, "Watering Hole," face painting and SPCA Micro-chipping and companion tracking.
All dogs must be on a 6-foot leash and have current rabies vaccinations. All dog waste must be properly disposed of. Mutt mitts will be distributed at the entrance gate. Water stations will be available throughout the event area.
The event is free and there is a parking fee of $5.
This is the time of year when the event calendar is loaded with harvest-themed festivals. Three of them are scheduled for October 3 — the Fall Harvest Festival at the Newlin Grist Mill, the Maize and Snitz Fest at the Hans Herr House and the Harvest Moon Festival (which will be held October4 and 5) at Coverdale Farm Preserve.
Unfortunately, this Saturday's Fall Harvest Festival at the Newlin Grist Mill (Cheyney Road and Route 1, Concordville, 610-459-2359, www.newlingristmill.org)has been cancelled because of weather concerns. There is no rain date for Fall Harvest Festival.
One of the most traditional autumn festivals in Pennsylvania Dutch country is the annual Snitz Fest at the 1719 Hans Herr House and Museum (1849 Hans Herr Drive, Willow Street, 717-464-4438, www.hansherr.org). This year, the event will be held on October 3 from 10 a.m.-3 p.m. Tickets are $10 for adults and $5 for children (ages 7-12).
"Maize" is the variety of corn grown by the indigenous Native Americans in Lancaster. "Snitz" in German literally means "slice." For the Pennsylvania German immigrants who first settled in Lancaster County, "snitz" referred especially to sliced, dried apples.
The family festival on the grounds of Lancaster County's oldest home celebrates the importance of apples for the early Pennsylvania German settlers. Apples provided food for the settlers and their livestock, fuel for heating and cooking, and cider (which was the most popular beverage of the colonial Pennsylvania-German community).
Visitors to the Maize and Snitz Fest can watch apples being pressed into cider, observe sausage being smoked over an applewood fire, taste a variety of authentic heirloom apples and see apples being cut into pieces to be dried as "snitz."
Other activities include interpreters in traditional dress, hands-on activities and demonstrations of colonial-era arts, crafts and farm life — threshing, quilting, loom weaving, heckling flax, churning butter, cooking over a fire, and making shingles, shoes, candles and corn husk dolls.
The Delaware Nature Society's Harvest Moon Festival was scheduled to be held October 3 and 4 at Coverdale Farm Preserve (543 Way Road, Greenville, Delaware, 302-239-2334, www.delawarenaturesociety.org) but now will take place only on October 4. Admission is $7.
The Society posted the following message on its website — "Due to the heavy rains predicted, strong winds and impending storm, we have determined it will best to hold the festival on Sunday, Oct 4 ONLY.
We still have great activities planned!"
The festival features live music, bird watching, its famous "International Turtle Race", a farmers' market, children's crafts and activities, farm competitions, live animals and tractor rides. The list of activities includes chrysanthemum and pumpkin sales, a marketplace, a vintage tractor display, a raptor program and pony rides.
Live entertainment will be performed by Hobo Pie, Harrisburg Mandolin Ensemble, Dave Fry, Driven Women and Acoustic Turnpike.
Delaware also provides a good destination for activity should the weather get really nasty outside.
Enjoying a dinner and a show is a great way to get rid of the "rainy day blues" and a great way to enjoy dinner and a show is provided by the Candlelight Theater (2208 Millers Road, Arden, Delaware, 302- 475-2313, www.candlelighttheatredelaware.org).
Now through November 1, the Candlelight Theater is presenting "Sweeney Todd," a musical with the full title "Sweeney Todd, The Demon Barber of Fleet Street." The show's program cover touts the show as "A musical like no other — a love story and the darkest of comedies wrapped in a tale of murderous revenge."
The show's run coincides with the Halloween season and offers theater-goers a macabre experience that fits in with Halloween's celebration of death. The musical, which made its debut in 1979, features music and lyrics by Stephen Sondheim and book by Hugh Wheeler. The musical is based on the 1973 play "Sweeney Todd, the Demon Barber of Fleet Street" by Christopher Bond.
Set in 19th-century England, the musical tells the story of Benjamin Barker, alias Sweeney Todd, who returns to London after 15 years of being banished to Australia on trumped-up charges. He comes back to London to extract revenge on the judge who banished him.
The two main characters are Mrs. Lovett, who runs an unsuccessful meat pie shop, and Todd, who resumes work as a barber when he gets back to London. In the Candlelight production, Patrick O'Hara plays the title role and Catherine Ard plays Mrs. Lovett.
"I've been a great fan of this show as far back as I can go," said O'Hara, during a phone interview this week. "I first saw it at the Players Club of Swarthmore a long time ago. I watched all the versions on PBS and also the movie with Johnny Depp.
"It's a strong ensemble piece although the movie had a lack of ensemble. It's a multiple love story but it's also really a tragedy. It's an actor's dream to play these intentions. The play is so beautifully crafted the way it was written. It's chilling. It has a haunted feel. There is a melancholy.
"Sweeney Todd is so depressed and he can get very sour very quickly. Playing Todd, I didn't want to get too dark or too sullen. The role of Mrs. Lovett is to inject levity. She manipulates Todd to do her bidding so he is as much a victim as anyone else.  What's great about the stage version is the tension — the suspense of wondering what is going to happen."
O'Hara is a Drexel Hill native and a Syracuse University graduate who studied theater and theater design. He has starred in a number of shows at the Candleight Theater, including "Annie" (Daddy Warbucks), "Chicago" (Amos) and "Damn Yankees" (Mr. Applegate).
"There are definitely some challenges playing the role of Sweeney Todd," said O'Hara. "Vocally, it's very demanding. There is the physical business — fast songs with slow movement and slow songs with fast movement. And, it's almost all sung."
Video link for "Sweeney Todd" — https://youtu.be/DPOBOQIIeVY.
Performances are Friday and Saturday evenings (doors 6 p.m./show, 8 p.m.) and Sunday afternoons (doors, 1 p.m./show, 3 p.m.). Tickets, which include dinner and show, are $59 for adults and $33 for children (ages 4-12).
The 2015 Delaware Auto Show, which is being held October 3-5 from 10 a.m.-6 p.m. each day at the Chase Center on the Riverfront (815 Justison Street, Wilmington, Delaware, 302-324-2558,www.delawareautoshow.com), will feature displays by auto manufacturers. More than 14 manufacturers will display close to 150 different 2016 models.
The show will feature three of the best — and most expensive — cars in the world. Visitors will have the opportunity to drive (at an added cost) an elite sports car — a Ferrari F430 or a Lamborghini LP560-4. There will also be a rare 2000 Aston Martin DB7 on display in the lobby.
Also featured will be a "Kids Fun Zone" presented by the Delaware Children's Museum, appearances by Spiderman and Ant-Man and an impressive exotic car lineup, including Rolls Royce, Maserati, Bentley, Aston Martin and McLaren and more. And, for the first time ever, the auto show will feature motorcycles.
The Ninth Annual Delaware Auto Show will have a pair of special guests this weekend — former Philadelphia Flyer Bob "The Hound" Kelly and Miss Delaware 2015 Brooke Mitchell.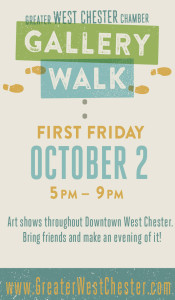 West Chester's Gallery Walk (Downtown West Chester, http://greaterwestchester.com/events/featured-events ) had its start in 1990 and has grown impressively ever since. On October 2 from 5-9 p.m., the Fall Gallery Walk will be held as part of West Chester's First Friday activities. And, the event will be held rain or shine.
The event will be an eclectic mix of gallery receptions with more than 20 artists displaying their work at galleries, shops, banks, and restaurants throughout downtown West Chester. Five prominent galleries will combine with more than twenty additional "one night only" show hosts throughout the downtown business area.
Brochures with walking maps will direct visitors to show locations. Look for signs that designate official Gallery Walk hosts and their status as Chamber of Commerce members.
Visitors will be able to enjoy the work of local, national and international artists whose work covers styles from traditional to contemporary including paintings in watercolor, acrylic and oil as well as sculpture, photography, jewelry, ceramics and textiles.
On October 4, the Uwchlan Township Historical Commission (21 North Village Avenue, Lionville, 610-524-9396, http://www.uwchlan.com), will host a pair of Open Houses at local historic sites — the John Cadwalader House (circa 1711) and the Edith P. Moore School House.
Both of the historic structures are located on North Village Avenue off of Route 113 in the Lionville National Historic District. The Lionville National Historic District encompasses areas along both North and South Village Avenues.
Additionally, the 1756 Uwchlan Meeting House, which is located at 5 North Village Avenue in Lionville, will be open to the public from 2-4 p.m.
A new self-guided tour of the area has been published by UTHC and is available at the Uwchlan Township Administration Building at 715 North Ship Road or during the visiting hours at the Cadwalader House or E.P. Moore Schoolhouse. Located in the Cadwalader House is the Frances Matthews Library, where historical documents from the Township's past are archived.
Uwchlan Township Historical Commission was founded in 1975 to promote historic preservation within the township and in conjunction with the National Bicentennial celebration.
The Paoli Blues Fest Paoli Village Shoppes, Paoli Shopping Center, 41 Paoli Plaza, Paoli, http://www.paolibluesfest.com) has firmly established itself as one of Chester County's premier annual music events. The festival, which will be held on October 3 from noon-6 p.m., will take place on an outdoor stage in the heart Paoli on Lancaster Avenue across from the Paoli train station.
The free music festival, which will be held rain or shine, also includes a street festival with food and beverage vendors, outdoor dancing and a variety of family-oriented activities. Live blues music will get underway at noon with a set by the Jesse Loewy Band.
Blue Reign will perform at 1 p.m. followed by the Tommy Forelich Trio at 2 p.m. and  The Little Red Rooster Blues Band at 3 p.m. The Billy Pierce Band will play a set at 4 p.m. and Lisa Chavous & the Philadelphia Blues Messenger will close the show with a set starting at 5 p.m.
The event is held as a benefit for the Chester County Food Bank. Entry Fee to the Paoli Blues Fest is a donation of non-perishable food for the benefit of the Chester County Food Bank (with the goal of filling a van with food for needy families).
Winterthur Museum, Garden & Library (5105 Kennett Pike, Route 52, Wilmington, Delaware, 800-448-3883, http://www.winterthur.org) is hosting its Fourth Annual Truck and Tractor Day on October 3 from 10 a.m.-4 p.m.
Children of all ages will have the opportunity to climb on and explore more than 30 farm vehicles and trucks from the Winterthur Fire Department and interact with Winterthur's firefighters; play "dress up" with firefighter gear and helmets and put out a "fire" with the pumper truck; take a hayride; learn how to climb a tree from Winterhur's arborists; explore farm equipment and learn how a modern backhoe and crane work; and even milk a mechanical cow.
There will also be farm and tractor-related crafts in the Brown Horticulture Learning Center. Activities are included with general admission — $20 adults; $18 for students and seniors; $5 for ages 2-1 101. Proceeds from the event will be used to support the Winterthur Fire Company.
This weekend, it's time for the semi-annual staging of "Craft Philadelphia — Liberty Bell" (Sixth Street between Chestnut and Market streets, Philadelphia, 267- 679-3121, http://www.craftphila.org). On October 3 and 4, a number of America's top independent artists will have sales/demonstration booths set up on Independence Mall.
More than 70 local and national crafters will be presenting their handcrafted wearable, functional and decorative items. Shoppers will be able to talk with the artists directly. There will be items for sale in a wide range of categories including ceramics, fiber, leather, glass, jewelry, mixed media, metal, wood, photography, paper and book art, soaps and candles.
The free show will be open from 10 a.m.-7 p.m. on October 3 and from 10 a.m.-5 p.m. on October 4.  The juried weekend shows also feature live music, fun activities, and the City's best food trucks.
On October 4, the Railroad Museum of Pennsylvania (300 Gap Road, Strasburg, 717-687-8628, www.rrmuseumpa.org) is presenting its annual Garden Railway Tour — also known as "Trains in the Garden."
The tour, which runs from 1-5 p.m., is a self-guided tour of Lancaster County private homes that feature impressive displays of operating model trains that have been built in landscaped gardens as well as homes with operating layouts and special model train collections.
The Garden Railway Tour, which is celebrating its ninth anniversary this year, is held as a benefit for the Railroad Museum of Pennsylvania's education and preservation programs. Tickets are $10 and can be purchased at the Railroad Museum of Pennsylvania's ticket office.
One of the best ways for everyone involved to appreciate the beauty of autumn's annual color explosion is to ride a special excursion on an area tourist railroad.
The West Chester Railroad (Market Street Station, West Chester, 610-430-2233, www.westchesterrr.net) is running its special "Fall Foliage Express" trains on October 4 and 11, and 13 and November 1, 8, 15 and 22 with departures at noon and 2 p.m.
The round trip train ride travels to the village of Glen Mills and back and lasts for 90 minutes. During the brief layover in Glen Mills, riders can explore the historic Pennsylvania Railroad station and have a snack in the railroad's picnic grove along the Chester Creek. Tickets are $15 for adults, $13 for children ages 2-12 and free for kids under two.
The Wilmington & Western Railroad (2201 Newport Gap Pike, Wilmington, DE, 302-998-1930, www.wwrr.com) is running its "Autumn Leaf Special" with trains on October 10, 11, 17, 18, 21, 24, 25 and 28 and November 1, 7 and 8. Trips are either a one-and-one-half hour roundtrips to the Mt. Cuba Picnic Grove or two-and-one-half hour roundtrips to Hockessin.
The W&WRR also is running its "Hayride Express" on October 30 at 7 p.m. Visitors can experience a one-hour evening ride through the Red Clay Valley on an original railroad flatcar converted especially for hayrides. The special excursion train is powered by a steam locomotive or one of the railroad's historic diesel locomotives.
Tickets are $14 for adults, $13 for seniors and $12 for children for the "Hayride Express" trains and the "Autumn Leaf Special" excursions to Mt. Cuba. Tickets for the "Autumn Leaf Special" Hockessin trips are $18 for adults, $17 for seniors and $16 for children.
The New Hope & Ivyland Railroad (32 West Bridge St, New Hope, 215- 862-2332, www.newhoperailroad.com) offers a two-and-one-half hour, 35-mile roundtrip ride on its "Fall Foliage Trains" from October 3-November 1. Every weekend, the rail line in Bucks County will operate regularly scheduled round trip trains out of New Hope Station and SEPTA's Warminster station.
Passengers can enjoy the sights of the beautiful fall scenery while riding aboard the rail line's "First Class Bar Car," "Antique Seat Coach" or "Open Air Car." Coach tickets are $42.95 for adults, $40.95 for children (ages 2-11) and $7.95 for toddlers.
The Middletown and Hummelstown Railroad (136 Brown St., Middletown, 717-944-4435, www.mhrailroad.com) is running its "Pumpkin Patch Train Ride" on October 17, 18, 24 and 25 with departure each day scheduled for 3:30 p.m.
The 90-minute ride stops at a farmer's field for the children to pick out their pumpkins  and have pictures taken with the scarecrows — and with Raggedy Ann. Tickets are $17 for adults, $11 for children (ages 2-11) and $3 for infants (under age 2).