By Denny Dyroff, Entertainment Editor, The Times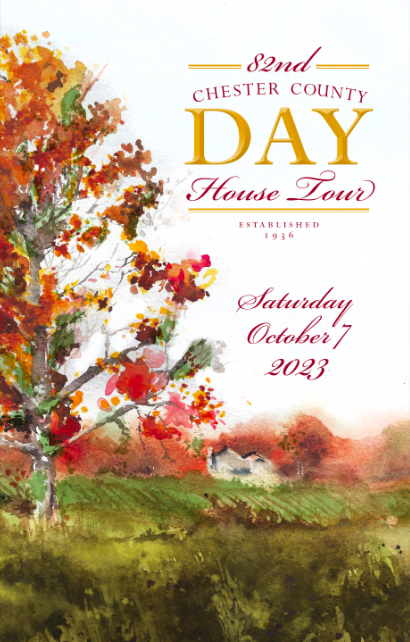 Chester County Day (locations around Chester County, 610-431-5301, www.chestercountyday.com) is one of the oldest annual events in the Brandywine Valley.
On October 7, the 2023 Chester County Day, which will be held in and around West Chester, is celebrating its 82nd anniversary and is honoring the 130th anniversary of Chester County Hospital.
Chester County Day will be held on Saturday from 10 am-5 pm. As the longest-running historic home tour in the country, Chester County Day has so much to offer by way of history, architecture, landscape, and interior design.
A project of the Women's Auxiliary to Chester County Hospital, "The Day," as it is affectionately called, has raised more than five million dollars for the hospital. This year's tour proceeds will benefit the Women's Auxiliary's pledge toward a state-of-the-art Women's Breast Center at Chester County Hospital.
The 2023 tour will feature Chester County's most beautiful homes and restored barns in the Northeast quadrant, including a walking tour in the Borough of Phoenixville.
The tour route features three segments of the Northeast – Malvern to Chester Springs, Chester Springs to Phoenixville, and a walking tour in the Borough of Phoenixville. We suggest that you choose what area interests you most and use our map to plan your day.   Rest stops, picnicking opportunities, and boxed lunch pick-up locations are available along the tour route.
The first segment of the tour begins with a tour of a historic fieldstone home on a farm that dates to the 1740s and has served as a tavern, general store, hospital, private residence, and now as a professional office.
Nestled within 1.9 acres of wooded land in Malvern, the c. 1814 Schoolhouse Residence honors its early history as a place for learning while fulfilling its new role as a place for family.
Two historic barns are open, each with a different look and purpose. Enjoy visiting Pickering Equine's gorgeous barn and stop by Sycamore and Stone Farm to visit their barn and historic home that has been restored to its original style and has been highlighted on the Magnolia Network.
The village of Historic Yellow Springs will host this year's early morning fox hunt.
The Kimberton Hunt Club will gather in the west meadow to start their day of foxhunting. Be parked by 8:30 a.m. to enjoy coffee and baked goods while enjoying the pageantry of the horses, hounds, and riders. Private homes and public landmarks open at 10. A.m.
If you are attending the hunt, the Rosato House in the village could be your first stop of the "Day."
The Mill at Anselma is nestled along Pickering Creek and is an extraordinary historic site demonstrating more than 250 years of Chester County's industrial history. Rest facilities and picnic tables are available here.
In historic Kimberton Village, visit the historic Kimberton Railroad Station, a stop on the Pickering Railroad dating back to 1871. It will be a rest and refreshment stop on our tour. Public restrooms are available in the park.
The route continues to the Phoenixville area to visit four unique homes and a beautifully restored stable for picnicking.
The walking tour in the Borough of Phoenixville will begin along Bridge Street. The street will be closed to traffic as part of Phoenixville's "Inside Out Open-Air Experience." Main and Gay Streets will be open.
Stroll through the downtown area and explore the unique stops including a historic theatre, a studio art gallery, and a unique bookstore and walk down South Main Street to visit the Historical Society of Phoenixville, a unique toy store, and a lovely private home.
The Phoenixville Area Senior Center on Church Street will be a pickup location for our boxed lunches provided by Arianna's Gourmet Café from 10:30 a.m.-2:30 p.m. Public restrooms are available in the park.
This year Chester County Day will offer only one ticket option, a regular-priced $55 ticket, allowing you to visit every home and historic site on the Tour.
The annual Dressage at Devon (Devon Horse Show grounds, Lancaster Avenue, Devon, 484-358-5510, http://dressageatdevon.org), is running now through October 1.
The popular annual event combines world class dressage competition and the world's largest open breed show. The six-day event attracts hundreds of horses from around the world and thousands of spectators.
The event also includes the Fall Festival at Dressage at Devon, which features a large selection of vendors and an equally large number of specialty boutiques where visitors can shop for arts and crafts, clothing, horse-related items and gourmet food.
Tickets are $20 for adults and $10 for children (ages 3-12).
October has arrived (almost) and that means the weekly calendars are beginning to fill up with Halloween events.
There are many "spooky" and "not so spooky" events already underway with a slew to follow in the next four weeks.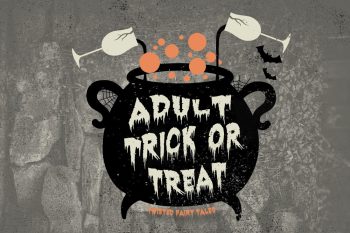 Chaddsford Winery (Route 1, Chadds Ford, 610-388-6221, www.chaddsford.com) is presenting its "Adult Trick or Treat" event every Saturday and Sunday through October 29 from noon-7 p.m.
Visitors will be able to "Trick or Treat" for wine and seasonal snacks at Chaddsford's wildly popular, adults-only Halloween program as they visit a variety of Halloween-themed pairing stations located throughout the Winery grounds.
The "Pairing Menu" features Greeting Wine: 2022 Sparkling White; Station 1 Cinderella: The White Standard Kernel Clark's Garlic, Rosemary and Parmesan Popcorn; Station 2 Red Riding Hood: The Red Standard Éclat Dark Caramel Truffle; Station 3 Goldilocks and the 3 Beers: Victory Prima Pils, OsoSweet Bakery Cafe German-style Scone; Station 4 Rumplspritzen: Sangria Spritzer,
Asher's Dark Chocolate Orange Peel; and Station 5 Snow White: Spiced Apple, Caramel Stroopwafel.
Tickets are $40.
On September 30 and October 1, "Derby at the Vineyard" will be hosted by Penns Woods Winery (124 Beaver Valley Rd, Chadds Ford, 610-459-0808, www.pennswoodswinery.com).
Visitors can experience a hunter derby horse show like no other — enjoying this spectacular horse jumping event in the vineyard with wine, local beer & cider, live music all day long, food trucks, artisan vendors.
Additionally, kids will have the opportunity to get up close to the stars of the show at the meet & greet station.
Participants can kick off the morning with brunchy bites from food trucks along with bottomless mimosas from 10 a.m.-noon. Attendees are encouraged to put on their best derby day attire — big hats and bright colors — for a chance to win prizes for "Best Dressed."
General admission is $15 per person with children (five and under) admitted free.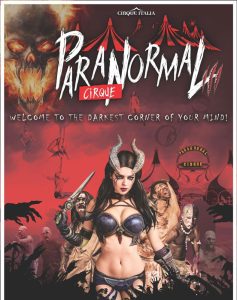 The intriguing new production Paranormal Cirque (https://paranormalcirque.com), which is intended for a mature audience, is running now through September 28 at Neshaminy Mall (707 Neshaminy Mall Boulevard, Bensalem).
Paranormal Cirque will expose audiences to a unique creation of combined theatre, circus, and cabaret with a new European style flare.
This innovative horror story, which is presented in true circus style under a Big Top tent, features different shades of sexy and an incomparable storyline. Audiences likely will find it difficult to separate reality from illusion at this show as they fall into a parallel world and end up surrounded by monstrous creatures with hidden talents.
Currently, Paranormal Cirque has four tours running – Silver Tour, Gold Tour, Black Tour and Silver Tour. The tour visiting our area is the Black Tour.
Paranormal Cirque's "Clown Castle" (also known as the Big Top) presents a mesmerizing effect while hosting a two-hour hypnotizing and enchanted show.
A careful casting selection has united the best artists from all over the world.
Under this Clown Castle, the black and red big top tent, there are aerial acrobats, illusionists, freaks, mysterious creatures and all the elements that make one think of a "normal" circus – but this one is not "normal."
A new show with breathtaking implications always poised between fun and the most uninhibited fear that will transport you to a dark world inhabited by creatures with incredible circus art abilities.
A crazy yet fun fusion between circus, theatre, and cabaret in perfect harmony with the evolution of a show that brings you back to when we dream … and when we had nightmares and fantasies.
Scare, encompass, amuse and surprise are the ingredients for a mixture of emotions impossible to forget.
This is truly a Paranormal experience like no other.
Video link for Paranormal Cirque — https://youtu.be/locxFnh5UR8.
Ticket prices start at $20.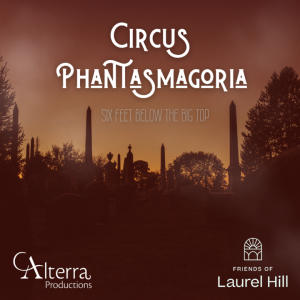 On September 30, Laurel Hill Cemetery (3822 Ridge Avenue, Philadelphia, 215-228-8200, www.thelaurelhillcemetery.org) will present "Circus Phantasmagoria" from 7-10 p.m.
What transpires in the human mind during the final seconds of life?
Step into Circus Phantasmagoria, an odyssey into the profound mysteries of life, death, and the boundless universe of the mind. This immersive and interactive experience is an invitation to wander the labyrinthine corridors of the human mind via the physical pathways of Laurel Hill East Cemetery.
YOUR HOST INSIDE THIS EXTRAORDINARY REALM IS THE LIMINIAL INITIATIVE, A VISIONARY COMPANY AT THE CROSSROADS OF TECHNOLOGY AND HUMAN CONSCIOUSNESS. THROUGH THE REVOLUTIONARY CONCEPT OF PHYSIOTOURISM–WHICH UTILIZES OUR CUTTING-EDGE, PROPRIETARY TECHNOLOGY TO BRIDGE SENSORIAL PERCEPTION AND THE METAPHYSICAL. YOU WILL BE GRANTED OPEN ACCESS TO A PSYCHE ON ITS JOURNEY INTO THE AFTERLIFE. DON'T MISS YOUR CHANCE TO EMBARK ON THIS UNPARALLELED ADVENTURE WHERE MIND AND SPIRIT CONVERGE.
As you roam the cemetery's illuminated paths and hidden corners, you'll meet a captivating cast of acrobatic entities and otherworldly beings who sketch the boundaries of altered consciousness at the brink of death. Prepare to make your way toward the bridge to the other side, and relish a cirque-tacular conclusion of high-flying feats while seated amidst the tombstones of Laurel Hill's permanent residents.
Your personal narrative of the afterlife will be shaped by the stories you hear, the creatures you encounter, and the choices you make during your exploration. Whether you take in as much as you can in one night or return for a new journey, your experience will be uniquely yours.
Tickets are $45 General Admission.
Winterthur Museum, Garden & Library (5105 Kennett Pike, Wilmington, Delaware, 800-448-3883, www.winterthur.org) is presenting a special exhibition "Ann Lowe: American Couturier" now through January 7, 2024
In 1964, The Saturday Evening Post referred to fashion designer Ann Lowe as "Society's Best-Kept Secret." Although Lowe had been designing couture-quality gowns for America's most prominent debutantes, heiresses, actresses, and society brides—including Jacqueline Kennedy, Olivia de Havilland, and Marjorie Merriweather Post—for decades, she remained virtually unknown to the wider public. Since then, too little recognition has been given to her influence on American fashion.
Ann Lowe's recently emerging visibility as a designer stands in contrast to much of her career and the countless unrecognized Black dressmakers and designers who have contributed to American fashion for generations, including her own grandmother and mother. She blazed a path for others to follow and her legacy is still felt in fashion culture.
This is the largest exhibition of Ann Lowe's work to date, featuring 40 iconic gowns, many that have never been on public display, and it will illuminate her evolution as a designer from the 1920s to the 1960s. The exhibition will also feature the work of contemporary couturiers and fashion designers whose current design practices, perspectives, and career paths reflect the trajectory of American fashion emanating from Lowe's foundation. These include B Michael, Tracy Reese, Amsale Aberra, and Bishme Cromartie. Elizabeth Way, associate curator at The Museum at the Fashion Institute of Technology, is guest curator of the exhibition.
Born in Clayton, Alabama, into a family of African American dressmakers, Ann Lowe (ca. 1898–1981) learned the skill of dressmaking from her mother and grandmother. She developed not only expert technical skills by the time she was a teenager but also her distinctive style—feminine, elegant, and often incorporating her signature hand-made floral elements. Her extraordinary career took her through the Jim Crow South, from Montgomery, Alabama, to Tampa, Florida, and in 1928 to New York City. Lowe's work made her an asset to wealthy society women around the country, yet she also experienced the tumultuous hardships of the fashion business and segregated America in a period of dramatic change.
Ann Lowe's workplaces her among America's significant fashion designers, and her life illustrates a legacy of Black women's knowledge and skills that began as enslaved labor. Lowe modernized this legacy and expanded it to international visibility, positioning herself as a creative designer, a fashion insider, and a vital contributor to American culture.
Admission to Winterthur is $25 for adults, $23 for seniors and students and $8 for children.
Each September, "Pumpkinland" returns to Linvilla Orchards (137 West Knowlton Road, Media, 610-876-7116, www.linvilla.com). "Pumpkinland," which runs through November 5, features fairy tale characters from nursery rhymes along with a huge scarecrow and a really tall storybook.
Other activities include train rides, a straw bale maze, hayrides, pick-your-own apples and pony rides.
There will also be "Harvest Hayrides" and "Autumn Moon Hayrides" starting later in September along with "Straw Bale Maze," "Train Rides," "Corn Maze" and "Pony Rides."
Pumpkinland is open from mid-September through early November and takes center stage at Linvilla Orchards. Larger-than-life figures and scarecrows illustrate the legends and lore of the harvest season, featuring local history and some of the many stories of pumpkins and apples.
See our piles of pumpkins in all colors, shapes and sizes – more than 100 tons on display.
"Elmwood Park Zoo" (1661 Harding Boulevard, Norristown, www.elmwoodparkzoo.org) is presenting several of its ultra-popular "Dog Days" over the next week.
The Zoo's "Dog Days" event will be held on September 29 and October 1, 4 and 6 from noon-4 p.m. each day.
All guests visiting the zoo with a furry friend must complete an online waiver and submit required documents before visiting the zoo. You must upload a copy of your most recent veterinary visit, including proof of vaccine and heartworm test here. All items will be required for you to attend "Dog Days."
Pricing is $10.95 per dog with each additional dog at $9.95. Regular zoo admission is required for all humans.
Additionally, the Zoo will host a "Harvest Fest" on Saturdays and Sundays through November 5.
The Philadelphia Zoo (3400 West Girard Avenue, Philadelphia, www.philadelphiazoo.org) is featuring a "Giraffe Feeding Encounter."
Now guests can get up close to the zoo's giraffe trio in this feeding experience. "Giraffe Encounter" is scheduled from 10:00 a.m. to noon and 1-4 p.m. daily.
General admission for the Giraffe Encounter is $6; Individual, Dual, Family, and Family Plus members is $5; and Family Deluxe and above is $4. Each guest gets one piece of browse to feed. Browse is vegetation, such as twigs and young shoots, eaten by animals. Depending on the day, guests can feed our giraffes acacia browse (which is what giraffes eat in the wild) or another variety like mulberry or honeysuckle.
Considered the tallest land animals in the world, male giraffes can reach up to 18 feet tall and weigh close to 3,000 lbs. Listed as "vulnerable" by the International Union for Conservation of Nature (IUCN), with scientists estimating there are fewer than 100,000 surviving in the wild, giraffe are affected by poaching and habitat destruction, with populations decreasing more than 40 per cent over the last three decades.
On September 30, visitors to the Brandywine Zoo (1001 North Park Drive, Brandywine Park, Wilmington, Delaware, 302-571-7747, www.brandywinezoo.org) are invited to come dressed in back and orange attire as the Zoo celebrates "Mighty Monarch Day."
The colorful butterflies have spent their summer in the Brandywine Valley and are now fluttering their way to Mexico.
Visitors to the Zoo can learn about the journey and other interesting facts of this amazing insect that is now officially endangered.
The event, which runs from 10 a.m.-3 p.m., will feature Master Naturalists and Gardeners, story book readings, BBQ and ice cream.
As an added attraction, members of the Lenape Tribe of Delaware will be at the Zoo to teach guests how monarch butterflies and all aspects of nature should be a notable part of our daily lives.
Admission is $9 for adults, $7 for youth and seniors and free for under 3.
Another popular event just outside the Philadelphia Metro area is the Pennsylvania Renaissance Faire (Mount Hope Estate and Winery grounds, Route 72, Cornwall, www.parenfaire.com).
This year's 44th annual staging of the event, which bills itself as "the most wondrous event in all the Knowne World", is running now through October 29. The festive annual event features authentic Elizabethan food and drink, traditional crafts from the guildsmen of yore and old-time games of skill — and a cast of hundreds of colorfully costumed re-enactors.
Every summer, the Faire, which takes place at Mount Hope Estate and Winery's authentic 35-acre recreation of a 16th-century village in Olde England, features a new story from a different year of England's past. This year's Faire will take you back in time to the year 1558.
More than 70 shows are scheduled throughout each day on the Faire's numerous stages.
Without a doubt, the most popular attraction is the Jousting Arena. Visitors to the Faire flock to Bosworth Field whenever it's time for the Ultimate Joust. Peasants lead cheers for their favorite knights while musicians pound out a heart-thumping beat. The Master of the List announces the combatants and soon an encounter of royal proportions ensues.
The Faire offers a wide variety of activities for visitors, including listening to bagpipe music, checking out handsome Lords in their colorful silks, watching a jester's acrobatics, learning how to juggle, being the recipient of a gypsy woman's flirtations and watching the march of Beefeater Guards.
Guildsmen's Way is the area that features a large variety of merchants and artisans, including jewelers, candle makers, potters, herbalists, leather smiths, clothiers, and pewter makers — all offering for sale and demonstrating their ancient wares.
And there are more than 20 Royal Kitchens located around the faire with menus featuring a wide variety of food and beverage.
Single-day tickets are available at the gate for $32.95. For children (age 5-11) single-day tickets are available at the gate and online for $16.95.
The Brandywine Valley has quite a few museums and tourist sites that provide residents and tourists ideal opportunities to spend leisure time — and you can maximize your effort if you take advantage of the 2023 Brandywine Treasure Trail Passport.
The cost is $49 for an individual pass and $99 for a family pass (for up to five family members).
The Brandywine Treasure Trail Passport is good for one-time admission to Wilmington and the Brandywine Valley's top attractions now through October 31.
A family pass, which includes one-day admission to each of 12 sites, can bring a savings of over $200 for the holders — especially since many of the participating institutions have regular admission fees in double figures.
The list of locations covered by the Brandywine Treasure Trail Passport includes Longwood Gardens, Delaware Museum of Nature and Science, Brandywine River Museum, Delaware Art Museum, Delaware History Museum, Hagley Museum and Library, Delaware Center for Contemporary Arts, Nemours Mansion & Gardens, Read House and Garden, Mt. Cuba Center, Rockwood Museum and Winterthur Museum, Garden & Library.
For more information, call (800) 489-6664 or visit www.visitwilmingtonde.com/bmga/.
Nemours Estate (1600 Rockland Road, Wilmington, Delaware, nemoursestate.org) has come alive with its magnificent gardens.
Originally constructed in 1910, Nemours Mansion is one of Delaware's grandest buildings and includes the largest formal French garden in North America.
Nemours Estate comprises an exquisite, 77-room Mansion, the largest formal French gardens in North America, a Chauffeur's Garage housing a collection of vintage automobiles, and 200 acres of scenic woodlands, meadows and lawns.
Nemours was the estate of Alfred I. duPont. Alfred Irénée du Pont was an American industrialist, financier, philanthropist and a member of the influential Du Pont family.
He named the estate Nemours, after the French town that his great-great-grandfather represented in the French Estates General. While looking to the past and his ancestors for inspiration, duPont also ensured that his new home was thoroughly modern by incorporating the latest technology and many of his own inventions.
The Gardens are one of the estate's prime attractions.
The two elk at the top of the Vista are the work of French sculptor Prosper Lecourtier (1855–1924), a specialist in animal figures. Lined with Japanese cryptomeria, pink flowering horse chestnuts and pin oaks, the Long Walk extends from the Mansion to the Reflecting Pool.
The 157 jets at the center of the one-acre pool shoot water 12 feet into the air; when they are turned off, the entire "Long Walk" is reflected in the pool. The pool, five and a half feet deep in its deepest section, holds 800,000 gallons of water and takes three days to fill. The Art Nouveau-style, classical mythology-based "Four Seasons" around the pool are by French-born American sculptor Henri Crenier (1873–1948).
The entrance is located on the campus of Nemours Children's Health, follow signs for Nemours Estate.
Admission to Nemours is $20 for adults, $18 for seniors and $10 for children.
Historic Odessa (Main Street, Odessa, Delaware, 302-378-4119, www.historicodessa.org) is both a scenic and an historic site in Delaware.
Odessa is one of Delaware's most historic sites.
Known in the 18th-century as Cantwell's Bridge, Odessa played a vital role in commercial life along the Delaware River as a busy grain shipping port.
Today, visitors can stroll along tree-lined streets and admire examples of 18th- and 19th-century architecture in one of the best-preserved towns in Delaware. They can also tour a remarkable collection of antiques and Americana preserved in period room settings and quaint exhibits.
Historic Odessa is open to the public from March through December, Tuesday through Saturday from 10 a.m.4:30 p.m. and Sunday from 1-4 p.m.  The site is also open Monday by reservation. General Admission: Adults, $10; Groups, Seniors, Students, $8; and Children under six are free.
Chanticleer (786 Church Street, Wayne, www.chanticleergarden.org), which just opened its 2023 season, is one of them.
The Chanticleer estate dates from the early 20th-century, when land along the Main Line of the Pennsylvania Railroad was developed for summer homes to escape the heat of Philadelphia. Adolph Rosengarten, Sr., and his wife Christine chose the Wayne-St. David's area to build their country retreat. The family's pharmaceutical firm eventually became part of Merck & Company in the 1920s.
The garden has evolved greatly since the death of the owner in 1990. As the home of the Rosengartens, Chanticleer was beautiful and green with impressive trees and lawns. Most of the floral and garden development you see today has occurred since 1990 — designed by Chanticleer staff and consultants.
There are seven horticulturists, each responsible for the design, planting, and maintenance of an area. The areas are continually evolving, each with its own feel, yet joined together as one complete unit.
The Teacup Garden and Chanticleer Terraces feature seasonal plants and bold-textured tropical and subtropical plants.
The Tennis Court, Ruin, Gravel Garden, and Pond Garden focus on hardy perennials, both woody and herbaceous.
Asian Woods and Bell's Woodland are shady areas. The Serpentine celebrates the beauty of agricultural crops.
Admission to Chanticleer is $12 for adults and free for pre-teen children (12 years and under).
Andalusia Historic House, Gardens and Arboretum (1237 State Road, Andalusia, www.andalusia house.org) opened its gates for the 2023 season at the beginning of April.
Located on a wooded promontory overlooking the Delaware River, Andalusia has been a stately presence on this stretch of water, just north of Philadelphia, for more than 200 years. The ancestral home of the Biddle family, Andalusia is also a natural paradise of native woodlands and spectacular gardens that have evolved over time.
Placed on the National Register of Historic Landmarks in 1966, the Big House is one of the finest examples of Greek Revival architecture in the United States.
Its surrounding gardens delight the senses all through the year, from the tumbling, brightly colored leaves of fall to the floral extravaganza of spring and the abundance and scent of summer.
Self-Guided Garden Tours will be available Mondays through Wednesdays from April 4-November 2 (excluding holidays) at 10 a.m. or 1 p.m. Picnics are allowed on the grounds (with have a "carry-in, carry-out" policy).
Access to the Big House is not included with this tour, which is $20 per person. There is no charge for children 12 and under.
Big House Tours with Garden Access will be available Mondays through Wednesdays from April 4-November 2 (excluding holidays) at 10 a.m. or 1 p.m. Tickets are $30 per person. There is no charge for children 12 and under.
Stoneleigh: A Natural Garden (1829 East County Line Road, Villanova, stoneleighgarden.org/garden/home/) will present a "Home and Garden Tour" on August 26 from 10:30 a.m.-noon.
Formerly a Main Line country estate, Stoneleigh: A Natural Garden opened to the public in 2018.
Dazzling displays of native plants, ancient trees, landscape designs by the Olmsted Brothers, and myriad habitats are highlighted on this guided exploration of Stoneleigh. The spectacular Tudor Revival Main House—which is usually only open for special events—is also included in the tour.
This tour will highlight the transition from beloved family home to public garden through a guided exploration of breathtaking historical landscapes, majestic trees, and the more than 2,000 varieties of native plants.
Guests can learn how the staff created gardens that are beautiful, biodiverse, and beneficial to wildlife.
Tickets for the tour are $15.
A popular event in Delaware this weekend is "Steamin' Days" at Auburn Heights Preserve (3000 Creek Road, Yorklyn, Delaware, 302-239-2385, http://auburnheights.org) on October 1.
"Steamin' Days," which is held on the first Sunday of the month through November, focuses on steam power.
During "Steamin' Days at Auburn Heights," the site is bustling with activity. Visitors are encouraged to climb into an antique automobile or board one of the trains and experience what it was like to travel at the turn of the 20th century. They can also tour the magnificent 1897 mansion that was home to three generations of the Marshall family.
Also included is entry to the Marshall Steam Museum, which features the world's largest operating collection of Stanley steam cars along with a 1930s working Lionel electric train display, a hands-on engine display, kids' activities and exhibits and the Museum Gift Shop.
Activities run from 12:30-4:30 p.m. each time. Combo Tickets, which cover all rides and building tours, are $20 (13 and older) and $14 (age 12 and under).
India will be celebrated at a special festival on September 30 — "India Fest 2023" (www.iaadelaware.org). The festive annual event is scheduled to run from noon until 8 p.m. at Christiana High School (190 Salem Church Road, Newark, Delaware).
It will feature classical and modern Indian dance performances, cultural exhibitions, vendors with a large array of Indian items and mouth-watering Indian food items such as tandoori chicken, nan (bread) and an assortment of curry dishes.
Special workshops will be presented throughout the day featuring a variety of topics. Other activities include a beauty pageant, karaoke singing, a special evening cultural program, demonstrations on the use of spices, and live music throughout the day.
Admission to the festival, which is presented by the Indo American Association of Delaware, is $5 with children (6 and under) admitted free.
One of the best ways for everyone involved to appreciate the beauty of autumn's annual color explosion is to ride a special excursion on an area tourist railroad.
The West Chester Railroad (Market Street Station, West Chester, 610-430-2233, www.westchesterrr.net) is running its special "Fall Foliage Express" trains onOctober 1, 8, 15, 21, 22 and November 5. Trains depart at noon and 2 p.m.
The round-trip train ride travels to the village of Glen Mills and back and lasts for 90 minutes. During the brief layover in Glen Mills, riders can explore the historic Pennsylvania Railroad station and have a snack in the railroad's picnic grove along the Chester Creek.
Tickets are $22 for adults, $18 for children ages 2-12 and free for kids under two.
Wilmington and Western Railroad (Greenbank Station, 2201 Newport-Gap Pike, Wilmington, Delaware, www.wwrr.com) is running its "Yorklyn Limited" on September 30 at 12:30 and 2:30 p.m.
Riders can take a leisurely 1.5-hour round-trip ride up the Red Clay Valley to the Mt. Cuba Picnic Grove, where they can de-train to enjoy a half-hour layover along the banks of the Red Clay Creek to have a picnic or simply admire the natural surroundings.
For those who don't want to get off the train at Mt. Cuba, they can remain onboard and travel further up the line through the communities of Ashland and Yorklyn. On the return trip, there will be a brief stop at Mt. Cuba to pick up the picnic passengers.
The "Yorklyn Limited" excursion is the re-branded name of the "Mt. Cuba Meteor" excursion.
These trips are powered by one of Wilmington and Western Railroad's historic first-generation diesel locomotives.
Tickets are $18 for adults, $17 for seniors and $16 for children (ages 2-12).
The Reading Blue Mountain and Northern Railroad (Reading Outer Station, Reading, www.rbmnrr-passenger.com) is running its 2022 Autumn Leaf Train Excursions on September 30 and October 1.
Passengers can enjoy a train ride to experience the fantastic fall colors that Pennsylvania has to offer.
They will travel over the rails to Historic Jim Thorpe for the town's annual fall festival after boarding the train at Reading Outer Station or Port Clinton Station.
Passengers will have time to explore historic Downtown Jim Thorpe during the layover.
Tickets for the all-day excursion are $49.
The New Hope Railroad (32 Bridge Street, New Hope, www.newhoperailroad.com) is running its "Grapevine Express," which features "Wine & Cheese Tasting" on September 29 and 30 and October 1 at 5 p.m. each night.
Riders are invited to take part in a romantic "Wine and Cheese Excursion" and enjoy fine gourmet cheese, artisan crackers, meats, fruit, and our featured local wines. Additional Alcoholic and Non-Alcoholic beverages are also available onboard.
Wine and cheese will be served to passengers as they travel along the same railroad line passengers did when it was built in 1891 connecting New Hope with Philadelphia. The journey travels through the beautiful hills and valleys of Bucks County, along once vital waterways and streams and across numerous trestle bridges.
The excursions will take place aboard one of the railroads lavishly appointed early 1900's first-class parlor cars.
Tickets are $102.58 (ages 21 and older only).
The Strasburg Railroad (Route 741, Strasburg, www.strasburgrailroad.com) is running its "Wine & Cheese Train" on September 29 and 30 and October 1 at 7 p.m.
Passengers can enjoy the luxurious, climate-controlled first-class accommodations and a tasting of select wine, cheese, and crackers as they travel in style down the tracks from Strasburg to Paradise and back. The train departs at 7 p.m. and the total trip time is 45 minutes.
"Wine & Cheese Train" boarding is 30 minutes before the scheduled departure. Riders must be 21 or older and have their photo ID ready when they board.
Featured wines are carefully selected from Waltz Vineyards, and cheeses are paired accordingly. Beer and select non-alcoholic beverages are also available for purchase upon request. Riders can purchase a souvenir wine glass on board the train if desired. Glasses are $7 each.
In accordance with Pennsylvania law, alcohol is only served during the train ride. The rail line is not permitted to serve alcoholic beverages while the train is berthed in the station.
This popular train is available on select Friday and Saturday evenings throughout the season. Tickets are $65.
This weekend, it's time once again for the Annual Scarecrow Festival at Peddler's Village (Routes 202 and 263, Lahaska, 215-794-4000, www.peddlersvillage.com). The festival, which is celebrating its 44th anniversary this year, will run now through October 29.
It is the perfect time to visit and take in the bright, brilliant hues of fall and admire the more than 100 spectacular scarecrows on display. These larger-than-life, colorful, creative scarecrows will line the red brick paths throughout the village's 42 picturesque acres.
Visitors can vote for their favorites in seven categories: Traditional 1960s Style, Quite the Character, Once Upon a Time, Fright Night, Funny Bones and Kids Only! Ballots can be cast through the Peddler's Village Mobile app.
Peddler's Village's Scarecrow Making Workshops on the Street Road Green have been a family favorite for decades. The workshop fee of $35 (maximum group of four people) includes step-by-step instructions and building materials.
Participants can choose from a variety of clothing decorations and use plenty of straw to construct their very own life-size scarecrow to take home.
It's time to welcome autumn and one of the best ways to do this is by checking out the corn mazes at Ramsey's Farm (Ramsey Road, Wilmington, Delaware, 302-477-1499, www.ramseysfarm.com).
Corn mazes, along with hayrides, a pumpkin patch and scarecrows, will be featured at Ramsey's Farm, which is located in northern Delaware on Route 92 just south of the Pennsylvania-Delaware state line. The new season runs on weekends now through October.
Ramsey's "Pumpkin Patch" has been in operation since 1995 and the farm's varied mazes have been delighting and baffling visitors who return each year for the popular annual event. The owners of Ramsey's Farm raise pumpkins, gourds, ornamental corn, popcorn, feed corn and hay.
The farm's pumpkin field stretches over 12 acres and yields approximately 20,000 pumpkins each season. Hayrides around the farm will be offered from 11 a.m.-5 p.m. each day. Visitors will be able to shop for pumpkins and other items at the farm store. There will also be hot food and beverages available for purchase.
Tickets are $8 for the corn maze, $5 for the sorghum maze, $3 for the hay maze, $3 for pumpkin painting and $3 for a hayride.
This is the time of the year when farms in the area become a bustle activity — a time for harvest. But it is not harvest matters that are causing a bustle of activity at Cherry Crest Adventure Farm in Ronks (150 Cherry Hill Road, Ronks, 717-687-6843,www.cherrycrestfarm.com).
The farm's popular annual "Flashlight Maze" is now underway and will continue every Friday and Saturday night through November 4. Cherry Crest Adventure Farm has reserved several weekends during the autumn months for Flashlight Maze.
This special activity allows visitors to experience the Amazing Maize Maze in total darkness. All you need are flashlights and a few friends.
The Flashlight Maze is a nice, non-scary, Halloween alternative that has appeal for people of all ages. The Flashlight Maze, which has a $12 admission fee, is open from 6:30-10 p.m. with the last entrance into the Maze at 9 p.m.
The main attraction is Cherry Crest's "Amazing Maize Maze," which is billed as "the world's most dynamic and interactive corn maze." It is a five-acre corn maze with over two-and-one-half miles of paths, scenic bridges, and clues.
Participants can walk at their own pace as they encounter the "Kernels of Knowledge" along with a variety of clues, tunnel slides, and watering stations. They can also check out a bird's eye view from the two bridges and watch everyone's flags waving high above the corn.
The average time to complete the "Amazing Maize Maze" course is one hour. Ticket prices start at $19.
For "Count's Halloween Spooktacular at Sesame Place" (100 Sesame Place, Langhorne, 215-752-7070, www.sesameplace.com), which runs now through November 5, the popular amusement park has been converted into a Halloween-themed safe venue for kids with trick or treating, pumpkin decorating, hayrides and a hay maze.
Guests will enjoy trick-or-treating around the park, Halloween-themed shows, participating in our interactive Scarecrow Scavenger Hunt, and unique photo opportunities with everyone's favorite furry friends dressed up in costume on their Halloween-themed floats!
Featured attractions, which will continue for the next six weeks, are "Neighborhood Street Party Halloween Parade," "Halloween Light Show," and "The Not-Too-Spooky Howl-O-ween Radio Show."
Admission to the park starts at $44.99.
On weekends now through October 21, the Kalmar Nyckel will be offering public sails from the Kalmar Nyckel Shipyard (Copeland Maritime Center, 1124 E. 7th St. Wilmington, Delaware, http://kalmarnyckel.org).
For two decades, the Kalmar Nyckel, which has its home base in Wilmington, has been hosting riders all over the world – especially in Delaware.
A ride on the Kalmar Nyckel is a totally different from most tourist water rides.
The ship is a beautiful recreation of the original Kalmar Nyckel, which was built in Holland in the 1620s. Her mainmast is taller than a 10-story building and she carries 7,600 square feet of sail area and six miles of rigging.
The original Kalmar Nyckel was a Swedish-owned, three-masted armed pinnace that sailed from Goteborg, Sweden in November of 1637 and brought the first permanent European settlers to the Delaware Valley.
Carrying 24 settlers from four countries (Sweden, Finland, Holland, and Germany), she landed on the banks of the Christina River. The site, which became known as "The Rocks", can be visited at Fort Christina Park off Wilmington's East Seventh Street.
The Kalmar Nyckel made four documented round-trip crossings of the Atlantic, more than any other "settlers' ship" of the era. The original ship was lost in the late 1600s.
In 1986 a group of citizens established the Kalmar Nyckel Foundation to design, build and launch a replica of the Kalmar Nyckel at a shipyard adjacent to the original landing site.
The new Kalmar Nyckel was constructed there and was launched on September 28, 1997. She was commissioned on May 9, 1998, and now serves as Delaware's sea-going Ambassador of Good Will. She is a fully functional sail training vessel and has represented Delaware all over the country.
Tickets are $40 for adults and $25 for youth (ages 17 and under).
Hope Lodge (553 South Bethlehem Pike, Fort Washington, 215-343-0965, http://www.ushistory.org/hope/) will be presenting a "Guided Mansion Tours" on August 28.
Hope Lodge was built between 1743 and 1748 by Samuel Morris, a prosperous Quaker entrepreneur. Morris acted as a farmer, shipowner, miller, iron master, shop owner, and owner of the mill now known as Mather Mill. Hope Lodge is an excellent example of early Georgian architecture, and it is possible that Edmund Woolley, architect of Independence Hall, offered advice in building. Samuel Morris owned the estate until his death in 1770.
The site opens at 12:30 p.m. with self-guided tours starting at 1 and 2:30 p.m. The closes at 4 p.m.
Tour admission is $8 for adults, $5 for seniors (age 65+) and for youth ages 6-17, and free for children under 5.
Schuylkill Banks Riverboat Tour (www.schuylkillbanks.org/events/riverboat-tours-1) presents "Secrets of the Schuylkill" now through October.
The boat ride is a one-hour family-friendly tour of Philly's second biggest river featuring sights such as Bartram's Garden and Fairmount Water Works.
Riders can discover the Hidden River on a fun and educational riverboat tour while seeing spectacular views of Philadelphia.
They can also learn about the past, present, and future of the tidal Schuylkill River and its impact on Philadelphia on a one-hour Secrets of the Schuylkill tour which costs $25 for adults and $15 for children (age 12 and under).
Tours depart from the Walnut Street Dock, under the Walnut Street Bridge, east bank of the Schuylkill River.
Wonderspaces at the Fashion District (27 North 11th Street, Philadelphia, philadelphia.wonderspaces.com) is an experiential, interactive arts venue.
Building on the success of annual pop-up shows in San Diego, and its first permanent location in Scottsdale, Arizona, Wonderspaces opened a 24,000 square foot gallery space in Philly a year ago.
Wonderspaces features 14 art installations that all play with the idea of perspective.  The artwork ranges from award-winning virtual reality short film about a dinner party-turned-alien abduction, to a room where visitors digitally paint the walls with the movement of their bodies.
New artworks rotate in every few months, creating an ever-evolving, year-round show.
Tickets are for entry at a specific date and time. Visitors are welcome to stay as long as they please during operating hours. The average time spent experiencing the show is 90 minutes.
A few installations contain flashing lights, images, and patterns that may trigger seizures for people with photosensitive epilepsy. All visitors must sign a waiver prior to being admitted into the space. Adult supervision is required for visitors under 16.