After growing up in passionate, turbulent Belgrade, gallery owner finds home in Kennett Sq. 
By Lele Galer, Columnist, The Times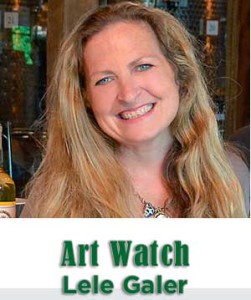 Lots of local art abounds in the streets of Chester County this week, but Art Watch this week will be spending some quality time getting to know the fascinating and inspiring gallery owner of Mala Galleria in Kennett Square.
Mala Galleria in Kennett Square is a wonderful small gallery located on East State Street, two blocks shy of the center on town. Zvezdana Stojanovic Scott, known to us as Stella, opened the gallery three years ago in October of 2012.
Every month, Mala Galleria exhibits a new artist show in the main front room, and shows a collection of interesting new artists in the back room. The artists are a mixture of contemporary local artists and artists with different internationals backgrounds including Brazil, Ukraine, Mexico, Serbia, Israel, China, Armenia, Germany, England, and the Czech Republic. The main gallery art is always beautifully displayed, and the back room is full to the brim with delightful smaller works of art that spur the imagination and urge you to pick them up and cherish them at home. This is a small gallery that packs a huge impression. In fact, "Mala" means small.. Stella explains that she named her gallery Mala "because it really is a small space, but I also wanted it to be my small corner; a space that will be welcoming and that will be cozy and inviting."
A native of Serbia, Stella grew up in a Belgrade, a bustling city where art galleries, exhibition spaces and street artists are ever-present. Stella says that, "In my home country art is everywhere…Homes are made into tiny museums, and you get to experience the scenes from the paintings and their reflection on the canvas."
"My country's history is very rich and turbulent, built on emotions, our ancestors fought till the last breath,  while singing…Those emotions create the best works of art one can imagine."
In the villages surrounding Belgrade, artists congregate for weekend workshops, paint traditional folk art, or contemporary works. Art is part of Serbian everyday life, and tied in with the cultural and political history of their past and present. She explains that her parents were not artists, but accountants, "but it always felt I was surrounded by the books, poetry, art. I was awarded many times for my writing in Serbia, for my poems – that will always be deep in my heart. Love for art came a bit later. There was a small gallery  that I admired since I was in my teens, in downtown Belgrade, my home city. It was a space with magical works of many artists. I stopped by it every time I was passing by. I admired the beautiful architecture of the building, the lighting and the spectacular window that always had something new and exciting. This was the place that sparked the idea, somehow I always thought of that space, throughout my young life, and later, when I moved to the other side of the world."
After moving from Washington DC, where she and her family had lived for eight years, the first time she walked through Kennett Square, I knew I found the place for my gallery." She says that Kennett Square reminds her of a small charming European town. She loved the building, the large window and the owners from the American Legion that made her feel so welcome, including Mario, a veteran at the Legion, who helped her fix up the space and transform it into the gallery. Stella fondly calls Mario her "adopted grandpa".
She loves Kennett because "Kennett Square has a soul. It is beautiful, it has lots of character. People are very friendly, I see and know many people, I see the mailman, the boy on the skateboard, babies in strollers, neighboring artists, town officials, restaurant owners, people sit and eat ice cream in front of the gallery (and that Mexican ice cream is GOOD!), people that work in town stop by for a chat on their way to lunch…I love my new friend John from Kenya. He stops by often, we talk  about politics, books, art…He always has the best smile and a funny thing to share. My family, my husband Dan,  daughter Tia and I love exploring the area, we love our Longwood Gardens, Brandywine museum, long walks, beautiful homes, farms, organic food, great restaurants, wineries, rich history, and of course, mushrooms…"
"I get to see some of the best art created, as soon as it is finished. I consider myself very lucky. I absolutely love what I do."
I asked her what she would say to encourage people to come into the gallery and not be afraid to look at art. Stella answered, "I wish some people would not be afraid of art and galleries. There is so much of imagination and beauty, too much to miss!… I talk to everyone that comes in…I want them to feel comfortable, to take their time and browse..I love finding art for people that are not quite sure what they would like – I help them find that right piece that they will cherish."  She says that her secret to hanging her art shows comes from hanging the work in her own home where she only collects art pieces that "mean something to me…they are parts of my past, travels, home country…they come from friends, artists and they bring memories." She explains very simply, "When I hang paintings, I feel them. "
People should welcome art into their lives because "Trends are replaced often. Art is a captured moment, a history of a time and a place. Everyone should have art….and books." She adds.
What does she look for when she is considering a new artist for her gallery? She says that she looks for "unique, striking, bold…lots of color! People respond to beautiful, bold colors." Her favorite colors happen to be passionate red and deep blue. Occasionally she will exhibit artists that are completely new to the gallery world. She participates in many town events, goes to all the local art shows and museums, and is always on the lookout for interesting new artists to be a part the gallery. The bright fanciful paintings of David Katz are currently showing at Mala Galleria for the month of July, and Jeff Schaller, Lynette Shelley and Corien Siepelinga will exhibit together for the month of August.
Stella selected the chosen images to accompany this article.
They include, her portrait was painted by Jie Deng, from the "people of Kennett Square" Mala exhibition, a lithograph by Momo Kapor and White Angel one of the most well-known frescoes in Serbian culture in the  Mileseva Monastery. A picture of the White Angel of Mileševa was sent as a message in the first satellite broadcast signal from Europe to America after the Cuban Missile Crisis, as a symbol of peace and civilization, and an image of the current front window at Mala Galleria for July
Lele Galer is a local artist who has chaired numerous art shows, taught art history and studio art, public art and has chaired, written and taught the Art in Action Art Appreciation series for the UCFD schools for the past 12 years. She worked at the Metropolitan Museum of Art, and wrote for the Associated Press in Rome. She has been dedicated to Art History and art education for most of her adult life. Lele and her husband Brad own Galer Estate Winery in Kennett Square and she is on the Board of the Chester County Art Association and The Delaware Valley Art League.