Also, Rockstar Energy Drink Mayhem Festival tops bill for local events
By Denny Dyroff, Staff Writer, The Times
Over the years, I've seen many memorable concerts including the Who playing "Tommy" at Woodstock with the sun rising behind the stage and Jimi Hendrix almost blowing the roof off the original Electric Factory with a wall of Marshall amps blaring out "Are You Experienced."
Then, there were other memorable concerts that were special for another reason — not just for the stellar music but for the glimpse of potential greatness they presented.
Some of the shows in this category were the Doors, a little-known band from L.A., performing "Light My Fire at Philadelphia's Town Hall in 1967; a young rocker named Bruce Springsteen playing "Spirits in the Night" at the Main Point in Bryn Mawr in 1973; and a new Irish band named U2 treating a handful of fans to a spirited rendition of "I Will Follow" at The Ripley in Philadelphia in 1981.
You've probably had similar experiences when you saw a relatively unknown act perform — maybe as an opening act for one of your favorites — and came away thinking "I just saw greatness in the making. I just saw an act that is destined to hit the big time."
Lately, music fans in the area have been getting those thoughts after watching Nalani & Sarina perform. There is no guarantee for fame but the twin sisters have it all — great musicianship, talented songwriting, amazing vocals and an abundance of charisma.
If you want to hear Nalani & Sarina play in a small, comfortable setting where their performance is upfront and accessible, you can do it on July 16 when they will be one of the featured performers at the Fourth Annual Ladybug Music Festival (theladybugfestival.com).
The free event, which will be held in the 2nd & LoMa neighborhood along Market Street downtown Wilmington on July 17, is a block party that will run from 5-10 p.m. and feature 40 talented music acts — all female.
This year, Third Street and the outdoor courtyard of Del Tech will also have vendors and live music. The music will begin around 5 p.m. and will be nonstop on multiple stages until 10 p.m.
Nalani & Sarina — twin sisters Nalani and Sarina Bolton — are seasoned musicians even though they just turned 21. They are vocalists, songwriters, multi-instrumentalists who know how to rock, write insightful melodic songs and how to get their funk on.
The sisters just released a new EP tiles "Scattered World."
"We did a lot of pre-production at Julian Herzfeld's studio in Wayne," said Nalani, during a recent phone interview. "After we released our last album — 'Lessons Learned' — we just continued to write. We started making demos with Julian last summer.
"Then, we worked on demos ourselves and also with Greg Drew. Greg started off as our vocal coach when we were 16 and just getting started. He's always looked out for us and has been our manager for the last three years."
Sarina said, "We tested all the new songs before we recorded them. We've learned that the best way to test a song is by the audience's reaction. Another test is the way it feels to us as we're playing it.
"If a song works out well live then we know it's a good song to record. We go with the mentality that you have to have 10 songs to get one good one. We're really hard on ourselves.
"We just go and see where a song will take us. We want the song to direct the production. The band that we used in the studio really helped with how the songs sound on the album. We are huge fans of groove and funk and it shows on the new record."
Nalani added,  "They're all new songs — all of them written in the last six months. We had a new approach this time. The songs on our last album were based on personal experiences. This time, it's other people's stories — more of a world-wide approach."
With roots based in rhythm-and-blues, soul and rock, the sisters create vocal harmonies that only twins can make.
"We're sonically alike and there is this telepathy," said Sarina. "We'll be singing a new song and when one of us gravitates to a harmony, the other knows exactly where to go. We've been singing together ever since we were three. Being twin sisters, there was nothing else to do. We started singing professionally when we were 15.
 "We've definitely become more comfortable in the studio. We've gotten used to the studio environment and gotten better with how to handle vocals. We try to recreate how they're done live. We really emphasized on making vocals different so they can relate to the stories.
Nalani & Sarina have been making music together for a long time.
"We're identical twins," said Nalani. "We graduated early from Hunterdon Central High a few years ago and we've been doing music ever since. Actually, we both started playing classical piano when were six and then studied operatic vocals when we were in sixth grade.
"Classical music and opera provided good basics for us. Our mom was a folkie so we listened to a lot of folk music when we were young — great songwriters like Leonard Cohen and Bob Dylan. And, we've listened to a lot of classic rock."
Nalani & Sarina, who perform mainly as a duo, list acoustic guitar, piano and ukulele as their main instruments. In their live shows, they even do a ukulele duet of AC/DC's "Highway to Hell."
"We really love playing live," said Nalani. "We'd play eight days a week if we could. We've been doing a lot more full band shows lately. Playing with a band brings it up to a whole new level — a lot more energy."
Video link for Nalani & Sarina —
https://www.youtube.com/watch?feature=player_profilepage&v=brxtDnPxes4.
Some of the other featured acts slated to play the 2015 Ladybug Festival are West Chester's Nicole Zell, Maggie Gabbard, Jenny Leigh, Angela Sheik, Mary Arden Collins, Joy Ike, Chaquis Maliq, Michelle Ley, Sirsy, Christine Havrilla, Dirty Dollhouse, Jessica Graae, Ava Awitan, No Good Sister and Lauren Kuhne.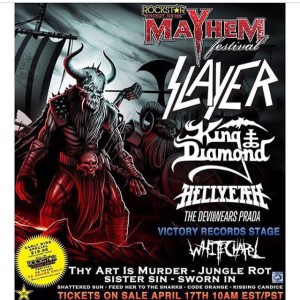 When the Rockstar Energy Drink Mayhem Festival touches down at the Susquehanna Bank Center (Waterfront Drive, Camden, New Jersey, 856-365-1300, http://www.susquehannabankcenter.org) on July 17, one of the younger bands to be showcased will be Sworn In.
The hard-rocking metalcore band from Illinois has gone through a number of line-up changes in its four-year existence with drummer Chris George as the only constant. Fortunately for the band's fans, four of the original five are back in the fold — Tyler Dennen (vocals), Eugene Kamlyuk (guitar, backing vocals), Zakary Gibson (guitar, backing vocals) and George. Derek Bolman is the current bass player.
"Sworn In got started in 2011," said Dennen, during a recent phone interview from a tour stop in Milwaukee. "We all were in school together in Illinois."
The band got its start while the members were still attending high school and played its first show in March 2011. The following month, Sworn In released its first EP "Catharsis." Then, Dennen left the band and Kamlyuk fronted the band and recorded vocals for Sworn In's second EP "Start/End," which was released in 2012.
"Our first tour was in 2012," said Dennen. "From then on, it's been relentless touring. We signed with our manager Jeff in 2013 and that's when it became full-time. The signing of a record deal with Razor & Tie came later. We made our first album 'The Death Card' totally on our own and then shopped it around.
"We made the album in Nashville at 456 Recordings with producer Brian Hood. Zak was into his mixes and knew he was a good producer. Brian had a good handle on what we wanted. We made the money to record the album through touring and our merch (merchandise) table. We've always been a good merch band so that was what we used."
"The Death Card" was released on Razor & Tie in August 2013.  Sworn In's sophomore album "The Lovers/The Devil" came out on Razor & Tie on April 7, 2015.
"We made the second album with producer Will Putney at The Machine Shop Studio in North Jersey," said Dennen. "Zak picked this one too. He has pretty good insight into studios' sounds and producers. We always trust what he says.
"We didn't do much pre-production for the album. We worked a lot of the songs on the computer using Guitar Pro. Then, we went into the studio for a month. After that, we went on our first headlining tour. We started in Las Vegas and went east, north, west and south before we came home."
Now, Sworn In is on tour with an all-star line-up that includes Slayer, King Diamond, Hellyeah, Devil Wears Prada, Jungle Rot, Sister Sin, Shattered Sun, Thy Art Is Murder, Feed Her to the Sharks, Code Orange and Kissing Candice.
"We only get to play a 25-minute set," said Dennen. "It's tough. But, it's kind of relieving because there is less pressure. We do the same set list every night — a good mix of old and new.
"We brainstormed a lot. We wanted to make sure that we had enough material to appease our fans and appeal to a metal (music) crowd. It did take us a few shows to get the 25-minute set together and going right."
Video link for Sworn In — https://www.youtube.com/watch?feature=player_embedded&v=4tBf2gyYkQM.
The Rockstar Energy Drink Mayhem Festival in Camden will start at 1 p.m. Ticket prices range from $25-$66.66.
Neon Trees, which visits the Theatre of the Living Arts (334 South Street, Philadelphia, 215-222-1011, http://www.lnphilly.com), http://www.lnphilly.com) on July 21, is a four-piece rock band from Provo, Utah that has been together since 2008.
Formed initially by neighbors Tyler Glenn (vocals, keyboards) and Chris Allen (guitar, vocals), who both grew up in Murrieta, California, the band made its first home in Provo, after Chris and Tyler moved there from southern California. The group eventually added Branden Campbell (bass guitar, vocals) and Elaine Bradley (drums, percussion, vocals) to form its current lineup.
Neon Treees has released three albums in the last four years — "Habits" in 2010, "Picture Show" in 2012 and "Pop Psychology" in 2014.
"We did one tour for 'Pop Psychology' right after it came out last April," said Campbell, during a recent phone interview from a tour stop in San Francisco. "We were going to do another one last fall. But, I got sick and we had to cancel the tour."
Saying that he got sick is putting it mildly.
"I had open heart surgery," said Campbell. "Then, I went back to work too soon and there were complications. I was born with an aortic valve that was messed-up — a bicuspid valve."
A bicuspid aortic valve is an aortic valve that only has two leaflets, instead of three. The aortic valve regulates blood flow from the heart into the aorta, the major blood vessel that brings blood to the body.
"Everything is fine now," said Campbell. "So, we're going out on a tour featuring fan-friendly venues. We bill it as "an intimate evening with Neon Trees.' We're going back to the rooms we played in 2011.
"We recorded 'Pop Psychology' in summer 2013 — a lot of it in Provo and a bit in North Hollywood. We have our own rehearsal studio where we do some of our recording. In North Hollywood, we recorded with Tim Pagnotta. He produced our first album and wrote 'Animal' with us."
The "Habit" album's lead single "Animal" was featured in several commercials, including those for Camp Vegas. The single reached Number 13 on the Billboard Hot 100  and Number 1 on the Alternative Rock chart.
"With 'Pop Psychology,' a lot of it is about Tyler's 'coming out' — coming to grips with his identity as a gay man and dealing with that in a modern age. At first, he wasn't sure that he wanted to share that with the world. Eventually, he realized that he had to be honest with himself and live carefree.
"There is a lot of musical influence from the early 80s and what was being played on MTV at the time. It's fun. But, having fun doesn't mean we're not taking it seriously."
Video link for Neon Trees — https://www.youtube.com/watch?feature=player_embedded&v=DvOhxCK52pg.
The July 21 show at the TLA will start at 8 p.m. and also feature Coin and Fictionist. Tickets are $25.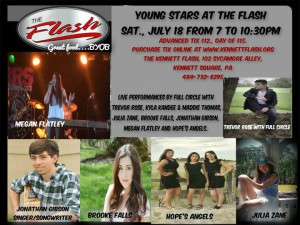 The Flash (102 Sycamore Alley, Kennett Square, 484-732-8295, http://www.kennettflash.org) will present the Vine Brothers on July 16 and then host "Young Stars at the Flash" on July 18 with a varied line-up that includes Julia Zane, Megan Flatley, Kyla Kandee & Maddie Thomas, Hope's Angels, Brooke Falls , Jonathan Gibson and Full Circle with Trevor Rose. Tickets are $12 in advance for either show.
Doc Watson's Public House (150 North Pottstown Pike, Exton, 610-524-2424, docwatsonspublichouse.com) is presenting Duke Maroon, Revolution I Love You, the Separators, and Vague Advice on July 16; Vilebred, Andorra and Spitune on July 17 and Doc Watson's Open Mic featuring Community Center on July 22.
Valley Forge Casino (1160 First Avenue, King Of Prussia, 610-354-8118, https://www.vfcasino.com) will present comedian Jim Breuer on July 24 at the Valley Forge Casino Music Fair.
The Steel City Coffee House (203 Bridge Street, Phoenixville, 610-933-4043, www.steelcitycoffeehouse.com) will present B.J. Sarkissian & Jasmine Richardson's Third Eye Telegraph on July 18.
Chaplin's (66 North Main Street, Spring City, 610-792-4110, http://chaplinslive.com) will host Anthony Piergiovanni, Chris Waters, Van Wolf and Aaron David and the Wise Owls on July 17 and Pushing Static, Bryan Freedman and Paul Jamain on July 18.
Ardmore Music Hall (23 East Lancaster Avenue, Ardmore, 610-649-8389, www.ardmoremusic.com) will have McLovins with BlendMode on July 17; Break Science with Mister F & Mr. Sampson on July 18; and an outdoor concert on July 19 featuring Dr. John and Bustle In Your Hedgerow (Russo, Benevento, Dreiwitz and Metzger play Zeppelin).
Burlap & Bean Coffeehouse (204 South Newtown Street Road, Newtown Square, 484-427-4547, www.burlapandbean.com) will present Tin Bird Choir, Ginger Coyle
and Elspeth Tremblay on July 17 and Jason Myles Goss and The Cowards Choir on July 18.
Melodies Café (2 East Ardmore Avenue, Ardmore, 610-645-5269, www.melodiescafe.com) will host Lucas Carpenter, Jake Ohlbaum and Sylvia Coopersmith on July 17 and The White Cheddar Boys, Upstate Rubdown and Matt Sharayko on July 18.
World Café Live at the Queen (500 North Market Street, Wilmington, 302- 994-1400, www.queen.worldcafelive.com) will have the Ed Palermo Big Band on July 16, Montana Wildaxe on July 16, Cracker on July 17 and Adam Travis & the Soul along with Steppin' Razor on July  18.
The Candlelight Theater (2208 Millers Road, Arden, Delaware, 302- 475-2313, www.nctstage.org) is presenting "Nunsense" now through August 23. Tickets, which include a tasty buffet dinner, are $59 for adults and $33 for children (ages 4-12).
The Keswick Theater (291 N. Keswick Avenue, Glenside, 215-572-7650, www.keswicktheatre.com) will present Jonny Lang along with special guest Ginger Coyle on July 19.
The Sellersville Theater (24 West Temple Avenue, Sellersville, 215-257-5808, www.st94.com) will have Wild Adriatic and Ceramic Animal on July 16; Devon Allman Band and Stolen Rhodes on July 17; Simon Kirke (of Bad Company & Free) and Jim George on July 18; and Jim Kweskin Jug Band Featuring Geoff Muldaur & Maria Muldaur on July 19.
The American Music Theatre (2425 Lincoln Highway East, Lancaster, 800-0 648-4102, www.AMTshows.com) will present Kenny Rogers on July 16 and Bobby Vinton and Jimmy Sturr on July 19.
Tellus 360 (24 East King Street, Lancaster, 717-393-1660, www.tellus360.com) will host Stolen Rhodes and Hip Pocket on July 16, Nikki Talley on July 17, Close to Consideration with The Mellowells on July 18, New Orleans Jazz Session with Andy Mowatt on July 19, Great Caesar on July 20 and Jackie Daly & Matt Cranitch on July 21.
Chameleon Club (223 North Water Street, Lancaster, 717-299-9684, http://www.chameleonclub.net) will have Daikaiju, Trio Agave, El Flyin' and The Heathen Troubadours and Break City Drowwners on July 16; Crobot, Wilson, Mothership, Anthrophobia and MINSHARA on July 17; Superjoint, king parrot and Child Bite on July 18; Bobby Bare Jr., Mike McMonagle and Kenny Cotich on July 21 and The Gaslight Anthem, and Matthew Ryan & The Northern Wires on July 22.
Reverb (1402 North Ninth Street, Reading, 610-743-3069, www.reverbconcerts.com) will have Vitruvia, Score For Seven Years, Just Like Gentlemen, I Am The Witness and Limbs on July 16; The Lacs, E Hall & Murph, Forsaken, J Wayne and Frayze on July 17 and DMX on July 18.