By Denny Dyroff, Entertainment Editor, The Times
The name "Nile" is associated with superlatives.
The Nile River is the longest river in the world at 4,130 miles and has a drainage basin that covers 11 countries.
Willie Nile is an internationally acclaimed rocker whose career spans 40 years.
His debut album, "Willie Nile," was released by Arista Records in early 1980 to critical praise. The album immediately created a buzz among critics and quickly drew the attention of other rock stars such as Pete Townshend and The Who, who invited Nile to join them on their 1980 stateside tour.
Now, almost 40 years later, Nile is still going strong – and still rocking hard. He is on tour in support of his most recent album "Children of Paradise" —  a tour that will bring him to the area on August 15 for a show at the Sellersville Theater (24 West Temple Avenue, Sellersville, 215-257-5808, www.st94.com).
"I'm always writing," said Nile, during a phone interview Monday while visiting friends in Wilmington, Delaware. "I write as I go. I just write songs as they come – whatever is on my mind. When I have a collection of songs that work together, I'll do an album.
"The songs on 'Children of Paradise' were pretty recent. I had two tracks – 'Seeds of Revolution' and 'Children of Paradise' — that were older, but they stood the test of time. They fit and they work together with the new songs. And, they're relative to today's world.
"I put songs that fit together in a cohesive way. I have another record already written. I just keep writing songs. I'm at the top of my game."
The album's topical leanings are reflective of today's society.
Co-produced by Nile and Grammy-winner and longtime collaborator Stewart Lerman (Elvis Costello/Patti Smith/Norah Jones), the album features such timely compositions as "Seeds of a Revolution," "All Dressed Up and No Place to Go," "Don't," "Earth Blues," and "Gettin' Ugly Out There."
According to Nile. "I made this album because I needed a pick-me-up from the blues that's all around us. The music always lifts my spirits, and that's what these songs do for me and it's why I wrote them. Hopefully they can lift others' spirits as well.
"I thought from the time I started putting this album together that it was going to be something special. It's full of fire and passion and spirit, and it feels like real life to me. The songs come out of the box roaring and rocking, yet there are also songs of intimacy and tenderness.
"It's got all the power and promise of what I love best about rock and roll. It's heartfelt, pissed off, in love, on fire and out of its mind all at the same time. A perfect recipe for a good party and a great album. It's one of my personal favorites for sure."
Along with Nile on acoustic and electric guitars and piano, the record features Nile's longstanding live band.
"This band I have on the road for my shows is on fire," said Nile. "I've got Matt Hogan on guitar. Joe Webber is the drummer and Johnny Pisano plays bass. Anything they play is pretty much torched. It's nice to be able to go onstage with players you know and love."
Video link for Willie Nile – https://youtu.be/jZuV6L428NA.
The show at the Sellersville Theater, which has Greg Farley as the opener, will start at 8 p.m. Tickets are $21.50 and $29.50.
Nile's show looks at a career that goes back a long way into the past. On August 16, the Sellersville Theater hosts a show that goes back an even longer way into the past. The name of the show is "With Love, Marilyn."
"With Love, Marilyn" stars Erin Sullivan in a special tribute to one of America's most iconic romantic ingenues. This intimate behind-the-scenes evening transports audiences back in time to that "what if" dress rehearsal as Monroe prepares to entertain with songs such as "I Wanna Be Loved By You," "My Heart Belongs To Daddy," and "Diamonds Are A Girl's Best Friend."
For this production, Sullivan is accompanied by a three-piece band with arrangements by Henry Aronson, who is one of Broadway's finest musical directors with a CV that includes "Rock of Ages," and "Tommy."
"I was a theater brat as a child," said Sullivan, during a phone interview last week from her home in New York. "I started when I was six. I auditioned for my first Broadway show when I was 10.
"I was born in Connecticut and grew up in Wilmington, North Carolina. When my family moved to Wilmington, there was a great arts scene there. There are non-stop theater shows in North Carolina. I was able to be brought up in an arts community.
"As I got older and was doing summer stock and regional theater, I fit a type – dumb blondes and sex bombs. In Christmas shows, they always wanted me to do 'Santa Baby.'"
Sullivan's journey with Monroe began with her originating the Monroe role in a new play — Mark Medoff's "Marilee and Baby Lamb: The Assassination of an American Goddess."
"I got involved in the reading for 'Marilee and Baby Lamb: The Assassination of an American Goddess' and it was life-changing," said Sullivan.
"I did a trial run in Las Cruces, New Mexico that went really well. Then, when they took the show to New York, they wanted a celebrity in the role. So, they bumped me. It was hard to take."
Sullivan wasn't about to let her relationship with Marilyn Monroe come to a halt.
"I started researching Marilyn's life," said Sullivan. "I really became well-versed in the deep hidden secrets of Marilyn Monroe's life and wanted to develop my own piece.
"Fortunately, some producers believed in me. I spent two years developing the show. Mark's piece was a darker piece. I wanted to make my show lighter and more upbeat, so I incorporated music. I took 11 songs and threaded them into a storyline. The show is a tribute to Marilyn Monroe – an homage."
There are many acts and shows that are tribute acts to performers such as Elvis, Frank Sinatra, Billie Holliday and Barbra Streisand. Sullivan's piece is not a "tribute act" show.
"This is a play with music," said Sullivan. "I'm not an impersonator. I'm an actor."
Video link for "With Love, Marilyn" – https://vimeo.com/280018182.
The show at Sellersville Theater will start at 8 p.m. Tickets are $25 and $39.50.
Other upcoming shows at the venue are Clap Your Hands Say Yeah on August 17, Mipso on August 18, John Mayall and Rory Block on August 20 and Ten Years After on August 21.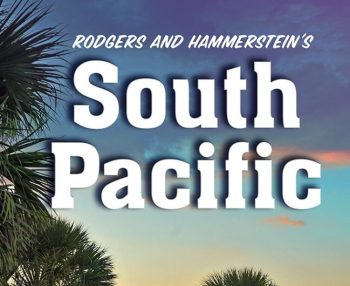 Another show in the area that goes back in time even more is the top-flight production of "South Pacific" by the Candlelight Theater (2208 Millers Road, Arden, Delaware, 302- 475-2313, www.candlelighttheatredelaware.org). The comfortable dinner theater in northern Delaware is presenting the classic musical now through August 25
"South Pacific" is a musical composed by Richard Rodgers, with lyrics by Oscar Hammerstein II and book by Hammerstein and Joshua Logan. The work premiered in 1949 on Broadway and was an immediate hit, running for 1,925 performances.
The story is based on James A. Michener's Pulitzer Prize-winning 1947 book "Tales of the South Pacific" and combines elements of several of those stories. Rodgers and Hammerstein believed they could write a musical based on Michener's work that would be financially successful and, at the same time, send a strong progressive message on racism.
The plot centers on an American nurse stationed on a South Pacific island during World War II, who falls in love with a middle-aged expatriate French plantation owner but struggles to accept his mixed-race children. A secondary romance, between a U.S. lieutenant and a young Tonkinese woman, explores his fears of the social consequences should he marry his Asian sweetheart.
The issue of racial prejudice is candidly explored throughout the musical, most controversially in the lieutenant's song, "You've Got to Be Carefully Taught." Supporting characters, including a comic petty officer and the Tonkinese girl's mother, help to tie the stories together. Because he lacked military knowledge, Hammerstein had difficulty writing that part of the script. The director of the original production, Logan, assisted him and received credit as co-writer of the book.
The original Broadway production enjoyed immense critical and box-office success. It became the second-longest running Broadway musical to that point (behind Rodgers and Hammerstein's "Oklahoma!" in 1943) and has remained popular ever since. The piece won the Pulitzer Prize for Drama in 1950. Especially in the Southern U.S., its racial theme provoked controversy, for which its authors were unapologetic.
The show is well-known for its timeless music. Several of its songs, including "Bali Ha'I," "I'm Gonna Wash That Man Right Outa My Hair," "Some Enchanted Evening," "There Is Nothing Like a Dame," "Happy Talk," "Younger Than Springtime," and "I'm in Love with a Wonderful Guy," have become popular standards.
The show won 10 Tony Awards, including Best Musical, Best Score, and Best Libretto, and it is the only musical production to win Tony Awards in all four acting categories. Its original cast album was the bestselling record of the 1940s
"South Pacific" has enjoyed many successful revivals and tours as well as a 1958 film and television adaptations. The 2008 Broadway revival was a critical success. It ran for 996 performances and won seven Tony Awards, including Best Musical Revival.
The production at the Candlelight Theatre features Colleen Clancy in the pivotal role of Ensign Nellie Forbush and Jared Calhoun in the role of petty officer Luther Billis. Renee Dobson is the Director and the Music Director is Douglass Lutz.
Clancy, a versatile actor from Ellicott City, Maryland who is now based in Newtown Square, turns in a sparkling performance as the USN Ensign who falls in love with the French ex-pat Emile de Becque (played by Peter Campbell).
"This is my first Candlelight show," said Clancy, during a phone interview Monday evening. "I had friends who worked there before ands they all loved it. I respected the work of the directors and choreographers. So, I answered an audition call a few months ago.
"I was somewhat familiar with 'South Pacific' because my mom was in the show in the 70s. But, I had only seen it once when the Walnut Street Theatre did it. I've always loved the music.
"When I got the role at Candlelight, I started watching the movie and then stopped after 'A Cockeyed Optimist' in the first scene. I didn't watch the whole thing because I tend to like going into things fresh."
Clancy graduated with a degree in musical theater from DeSales University, a school in the Lehigh Valley known for its Shakespeare program.
"After DeSales, I spent two years in New York," said Clancy. "I did the usual things actors do – taught dance classes and waited tables. Then, in 2016 and 2017, I spent six months in the National Tour of 'Amazing Grace.' After that, I came to Phillly – to Newtown Square where I'm managing a spa."
Now, Clancy is playing the role of Nellie Forbush and singing iconic songs such as "I'm Gonna Wash That Man Right Outa My Hair" and "I'm in Love with a Wonderful Guy."
"One thing I love about Nellie is her positive spirit and outlook," said Clancy. "I can't imagine bandaging soldiers every day and remaining positive like she does. She's a bright spirit in a dark time. She has such a strong moral presence.
"One challenge in playing Nellie is not getting too melodramatic. It's a fun role to play. She's very free. The favorite song I sing is '"I'm in Love with a Wonderful Guy' but my overall favorite is 'There Is Nothing Like a Dame.'
"Audiences are drawn to this show because I think people crave the classics. We do cater to an older audience and they have a true connection to this wartime era."
The Candlelight Theatre's production of the classic musical "South Pacific" is running now through August 25. Performances are Friday and Saturday evenings (doors 6 p.m./show, 8 p.m.) and Sunday afternoons (doors, 1 p.m./show, 3 p.m.). Tickets, which include dinner and show, are $63 for adults and $33 for children (ages 4-12).
On August 15, it's time for Candlelight Comedy Club at the Candlelight Theatre. The headliner will be veteran comic Joey Callahan.
From the first time Callahan saw Dick Van Dyke trip, he knew he wanted to work in comedy. As a comedy writer, Callahan has worked for Jay Leno, Jimmie "J.J." Walker, Harry Anderson and the national bestseller "If Women Ran Things." Callahan has also won the Cable Ace Award.
As an entertainer for corporate events, Callahan views the corporation or group he is performing for as part of his writing staff. He includes every aspect of the group's personality as well as everyone in attendance he can. His humor is clean, energetic, friendly and funny.
As a standup comic, Callahan has been seen on Comedy Central, and ESPN's "Lighter Side of Sports" and Fox TV. He has headlined comedy clubs and comedy festivals all over the world.
Video link for Joey Callahan — https://youtu.be/hemV227rRa0.
Callahan's show at the Candlelight Theatre also features Joe Fernandes as the opener and Josh Ryan as the MC. Doors open at 6:30 p.m. Tickets are $30 and include complimentary light fare buffet, cash bar, and free parking.
On August 19, the venue will present "Candlelight Quizzo," which is hosted by Dan Healy.
Doors open at 6:30 p.m. and games get underway at 7 p.m. The $5 admission fee includes entrance to the event and snacks. Participants can bring food or order in.
Another good reason to visit Delaware on August 15 will be to check out this month's edition of the "Music on Market Series," which is presented by the Delaware History Museum (504 North Market Street, Wilmington, Delaware, dehistory.org).
The show on Thursday evening features Nalani & Sarina. Already this season, the talented twins from central New Jersey have made the trek to Delaware to headline the prestigious Ladybug Festival and the Delaware Art Museum's Backyard Bash.
Nalani & Sarina are no strangers to Chester County audiences having headlined shows at Kennett Flash and the Eagleview Concert Series in Exton. The rocking sisters, who are in their early 20s, have already established themselves as top-flight vocalists, songwriters, and multi-instrumentalists.
They have self-released several well-crafted albums and singles. Their latest album is called "The Circle."
"The album was released a year ago on our own label – Telepathy Records," said Nalani Bolton, during a recent phone interview from her home in central New Jersey.
"It took about two years to complete the album. We've been getting great responses. It's great to actually hear people respond after waiting so long to get the album out. We just kept writing songs – songs that kept changing."
The album was recorded at their engineer Julian Herzfeld's studio in Wayne and also at Carriage House Studio in Stamford, Connecticut.
Sarina Bolton said, "We've been recording a lot. We've taken a pretty relaxed approach — doing it piece-by-piece…song-by-song. With the songwriting, we had a new approach this time. It is observational writing geared to people our age. It's a combination of first person and third person.
"We're writing about people our age – observing other people's stories. It's like a story about kids' lives from their early to late 20s – love, first relationships, work. But, people of all ages can relate to these songs. We've had older people tell us that they can identify with these songs."
Nalani said, "The vibe of the album is very mature. We think the sound and the material has matured. Our early stuff was all about relationships. Now, we are more worldly. We look at the world the way it is today – especially for people our age. We always like to challenge ourselves."
The sisters graduated from high school with honors but never looked to continuing their education on in college.
"We graduated early from Hunterdon Central High a few years ago and we've been doing music ever since," said Nalani.
With roots based in rhythm-and-blues, soul, rock and especially funk, the sisters create vocal harmonies that only twins can make.
"We're identical twins," said Nalani. "We both started playing classical piano when were six and then studied operatic vocals when we were in sixth grade. Classical music and opera provided good basics for us.
"Our mom was a folkie, so we listened to a lot of folk music when we were young — great songwriters like Leonard Cohen and Bob Dylan. And, we've listened to a lot of classic rock.
"When we play shows with just the two of us, it always sounds more singer-songwriter. When we do shows with our band, it gets funkier. We've been finding ways to combine all our styles. With this record, we've meshed the styles."
Tonight, Nalani & Sarina will perform at Music on Market Series with their band.
Video link for Nalani & Sarina – https://youtu.be/Xvryc5W3JpY.
The concert will run from 5:15-6:45 p.m. in Willington Square, the courtyard across Market Street from the Delaware History Museum. The show is open to the public and admission is free.
Kennett Flash (102 Sycamore Alley, Kennett Square, 484-732-8295, http://www.kennettflash.org) will present D Corridori Band on August 15, "Shenanigans & Sorcery – Magic, Mentalism, Comedy & More!" with Chris Fabiano on August 16, Lower Wolves and Unloveable on  August 17, Open Mic with guest host Angelee on August 18, and Ben Arnold on August 20.
Chaplin's (66 North Main Street, Spring City, 610-792-4110, http://chaplinslive.com) will present R. Douglass Davey, The Narrows and Canyon Flower on August 17.
The Ardmore Music Hall (23 East Lancaster Avenue, Ardmore, 610-649-8389, www.ardmoremusic.com) will host Woodstock 50th Anniversary Celebration: Roosevelt Collier plays Jimi Hendrix, Kensington Clearwater Revival plays CCR, Chelsea ViaCava & Friends play Janis Joplin on August 15, Davy Knowles on August 16, Splintered Sunlight on August 17, and Jazz is PHSH (All-Star instrumental tribute to Phish ft. Bob Lanzetti of Snarky Puppy) on August 21.
The Keswick Theater (291 N. Keswick Avenue, Glenside, 215-572-7650, www.keswicktheatre.com) presents Little River Band on August 15 and Extreme on August 16.