Warmer weather embraces themes of flight, bicycles and garden parties
By Lele Galer, Columnist, The Times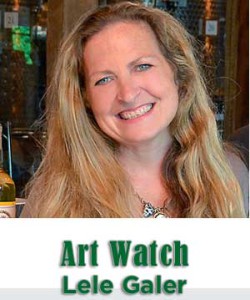 With Summer art themes of bicycles, planes, and garden parties, this Summer is shaping up to be quite idyllic.  Mala Galleria's June Exhibit gives back 10% of the sales proceeds to the Urban Bike Project which supports Wilmington communities by providing access to bicycles as a healthy, affordable transportation option. The new exhibit is entitled "Pedal" with oil paintings by David Dziemian, all with a bicycle theme!  The opening for this fun show is First Friday June 5th from 6-9pm. If you are cycling to the show, stop by across the street for refreshing handmade ice cream from La Michoacana.
Also in Kennett Square,  the fabulous Oxford Art Alliance will be having its annual Membership fundraiser and show at Galer Estate Vineyard and Winery for a two day art extravaganza June 13 and 14th. On Saturday the 13th, they celebrate their member's artistic talents with "Art in the Vineyard" and on Sunday they have their big fun gala fundraiser "Garden Party in the Vineyard" which is a ticketed event. Swing by on Saturday or Sunday check out the art, and become a member! Thursday Pop up art shows are back at the Galer Winery, featuring artist Greg Jaskot on June 18, and painter Mamie Duff on June 25th from 5-8pm.
Pop ups are great ways to highlight an artist's work in a non-gallery setting for an evening of art and wine.  The Longwood Art Gallery, which just celebrated 30 years in Kennett Square, is exhibiting the award winning work of watercolor artist Jack Giangiulio for the month of June. Jack's painting was chosen as the poster of this year's Historic Yellow Springs Art Show, a highly competitive and coveted honor.  The reception is Friday June 5th from 6-9pm, with music from the Ladeens and wine, cheese and conversation with the artist.
The Art Trust at Meridian Bank opens its new show entitled "Patterns" which celebrates the "designs composed of repeated motifs that shape the world around us." Artists include Ron Geibel, Lorraine Glessner, Lyndsay Scypta and Amy Stevens who will all be there for the opening Friday June 5th from 5-8pm. Gemelli is the art partner for the exhibit and they will be donating delicious samples of their handmade gelato at the opening!  The Chester County Art Association will be exhibiting the work of Marcia Gasser and her husband Jeff Simmons at the West Goshen Township Building, and the gorgeous watercolors of artist Doris Davis-Glakin in their Huston Gallery.
The Church Street Gallery in West Chester is currently exhibiting "Magic Light" featuring the paintings of Lithuanian born artist Serge Krupnov. Since coming to the United States in 1991, Serge has discovered a love of painting. Gallery owner, Carol Giblin writes "His natural talent gives his work a level of quality that one would not expect to see in such a short time. The works vary greatly in size and subject matter but each demonstrates a fresh and sincere thought." This month of June marks the 1st year Anniversary for Church Street Gallery, so pop in to wish them congratulations and check out their window display which showcases the posters for their past 12 shows! Congratulations!
In Phoenixville, The Art Gallery at Franklin Commons is showing "Flight" which is a themed exhibition which takes inspiration from the soaring 19 foot sky-lit ceilings of the gallery's exhibition space.  Curator Katie Naber chooses themed exhibits to encourage "artists to think and push their work in different directions (vertically in this case!)".  Flight artists are from many mediums including photography by John Griggs, paintings by Lynette Shelley and sculptural creations by Madeline Rile Smith. I am sorry to miss the show's opening reception Saturday June 6 from 1-4pm.  Also in Phoenixville, the Phoenix Village Art Center will exhibit the works of textile and clay sculptural artworks by artists Nell Hazinski and Kathryn Keegan. Join them for the first Friday June 5th opening from 6-9pm when you can also check out the work of the  Upstairs/Downstairs artist Robert Libby.  Accompanying every month's artist show, the Phoenix Village Art Center hosts a "Coffee Talk" with the artists about their exhibition; it is always full, so please register ahead! Lastly, if you are in town check out the newly revamped Steel Works which is a music and food venue under new management that has a great selection of local contemporary artwork.
In Cochranville, The Street Road Artist's Space, located in an industrial building on the intersection of routes 41 and 926, is exhibiting an eclectic group of contemporary artists throughout the summer. They are  open Fridays and Saturdays 10am-4pm and by appointment. This Summer they feature "Suburban Landscapes" by Brian Richmond who painstakingly recreates life size "throw-away objects" that pollute our roadways and landscapes, thus drawing attention to our consumer culture, and pushing us to also see the design and invention inherent in a simple paper coffee cup. There is certainly a "wow" factor in the artist's ability to perfectly recreate an everyday item in an artistic medium, which is then followed by a "why would he go to all that trouble?" ..and therein lies the interesting point of conversation and reflection. Also showing is "Crisis Farm: Seed to Table" by artists Maryann Worrell and Doug Mott, which is described as " an installation of a portable garden and gallery exhibition examining the plight of our natural food resources".  Check them out and start a conversation as this place is all about communicating contemporary issues and ideas through art!
Farther afield, 24 selected artists from The Delaware Valley Art League (DVAL) are participating in a plein air week of "Painting in the Park" in the historic Valley Forge park June 1st-June5th, which will culminate in an artist reception on June 19th in the Valley Forge Visitor Center from 6:30-8:30, after which the paintings will be exhibited in the Center's gallery through September 12th. Such a beautiful place is bound to inspire some wonderful works of art from this talented group! If you would like to learn more about DVAL shows or become a member, go to http://www.delawarevalleyartleague.com.
Lele Galer is a local artist who has chaired numerous art shows, taught art history and studio art, public art and has chaired, written and taught the Art in Action Art Appreciation series for the UCFD schools for the past 12 years. She worked at the Metropolitan Museum of Art, and wrote for the Associated Press in Rome.  She has been dedicated to Art History and art education for most of her adult life. Lele and her husband Brad own Galer Estate Winery in Kennett Square and she is on the Board of the Chester County Art Association and The Delaware Valley Art League.