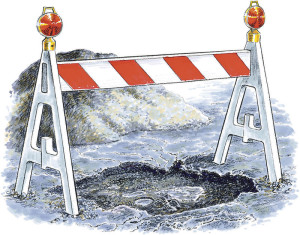 WEST CHESTER – Anyone driving the region's roadways knows that the Pennsylvania Department of Transportation (PennDOT) is struggling with keeping up with potholes on the roadways of Chester County. But now a state senator announced Thursday that the beleaguered agency will be brining in outside helpto smooth the ride.
State Sen, Andy Dinniman (D-19) issued a statement saying that PennDOT is using general contractors to help repair state roads and patch potholes in Chester County. Under an emergency authorization, general contractors are being used to support regular PennDOT crews in fixing pavement damage on state highways in the five-county Philadelphia region. 
Roadways — especially state routes have been plagued with potholes across Chester County and PennDOT has not been able to keep up with repairs — much to the chagrin of motorists, a number of whom have suffered damage to their vehicles because of the road craters. Some local municipalities have offered to fix roads, only to be told it would violate labor contracts with PennDOT employees.
Dinniman said Thursday he was pleased to see the move to bring in outside contractors as the result of his communicating with PennDOT officials, and his ongoing efforts to get the department the support it needs to fix area roadways as soon as possible.
"We've already made some significant progress in repairing our roads and patching potholes, but there is much more work to be done," Dinniman said. "The addition of private contractors will help ensure that it gets done sooner and that our region's state roadways are safe for all who use them."
Contractors are already working to support the more than eight PennDOT crews exclusively tasked with filling and fixing potholes in the Chester County area each day. They will continue to work the next several weeks to repair deteriorated pavement on nearly 100 state highways in the region. Crews will work Mondays through Saturdays, weather permitting, with operations taking place during daytime and overnight hour.
State crews have already placed 5,600 tons of patching material on state roads in the Philadelphia region since December 1, 2014, including 3,900 tons since March 9, 2015.
Dinniman also reminded motorists that they can report potholes and other state road maintenance issues in Chester County to PennDOT directly by dialing 484-340-3201.
When calling to report a pothole, motorists should be as specific as possible and include the state route number, county, municipality and street name along with familiar landmarks.
Outside Chester County, the statewide hotline to report potholes to PennDOT is 800-FIX-ROAD (800-349-77623). Motorists can use the toll-free number to report other road maintenance issues including washouts, missing signs, dead wildlife or high shoulder drop-offs.(Do not, however, use the telephone number for potholes to report a crash.)
According to PennDOT, this year's severe outbreak of potholes resulted from snow, ice and rain seeping into pavements and temperature swings above and below the freezing mark.