Art Parties! The Annual Chester County Art Association Invitational and the 42nd Annual Yellow Springs Art Show
By Lele Galer, Columnist, The Times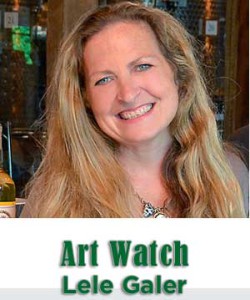 Two important art events open on the same night this week, Friday April 24th, so you will probably have to make a choice to go to either the Chester County Art Association Invitational dance party in West Chester, or the opening Gala for the Yellow Spring Art Show in Chester Springs.  These are both ticketed events that raise money for their respective art programs, and give lucky visitors a first glimpse at galleries brimming with juried fine art. The Chester County Art Association will have food and dance music, games and lots of mingle opportunities for artists and art lovers, as will the party at Yellow Springs.  There will be plenty of time to visit the actual art shows during the month, daily 10am-4pm at Yellow Springs and Tuesday -Saturday 9:30am -4pm for CCAA. Both of these fine member-based art organizations have a very long history of commitment to their communities and to the arts, both as teaching facilities and as places for artistic collaboration and exhibition.
If you are strolling through downtown Kennett Square, this may be the perfect time to pick up a special piece of art from The Longwood Art Gallery. For the remainder of the month of April, in honor of their Tenth anniversary, there is a 15% discount off all gallery owned framed art, as well as other discounts throughout the gallery. Mala Gallerie has changed it up for the month as well, with a mix of interesting paintings and sculptures, all at very affordable prices. My favorite works at Mala are by sculptor Jill Beech. There are two white porcelain abstract horses in the window, as well as lyrical copper mobile, also by Jill Beech. I own about ten pieces by Jill, but I can never have enough. She is a perfect example of the thinking artist, who thoughtfully works through an artistically intriguing concept in a variety of ways, and then moves on to another fascinating challenge. Each piece is beautiful and perfect. I am glad that she is finally showing her work to the public!
"Horace Pippin: The Way I See It ", opens April 25th at  The Brandywine River Museum of Art and runs through July 19th. It will include 60 artworks on loan from museums around the word.  Pippin's unique life experience and point of view as an African American veteran of World War I, constantly challenges the contemporary viewer to see our shared history in new ways.  His artwork is fresh and bold, and this is an very important show that everyone should see. To add depth and clarity to the viewing of his work, the curator Audrey Lewis has scheduled gallery talks throughout the month.
The artist had an amazing life: as an African American World War I soldier who survived terrible injuries that left him partially paralyzed, he nevertheless dedicated himself to painting, and against all odds became incredibly famous as a painter in his own lifetime.  That sound-bite hardly does him or his work justice, so you should definitely go to the lecture on Sunday April 26th at 1pm by Horace Pippin biographer Celeste-Marie Bernier to learn more about this incredible artist who lived and worked right here in West Chester. There will be more events and lectures during the life of the show, for adults and children.
Lele Galer is a local artist who has chaired numerous art shows, taught art history and studio art, public art and has chaired, written and taught the Art in Action Art Appreciation series for the UCFD schools for the past 12 years. She worked at the Metropolitan Museum of Art, and wrote for the Associated Press in Rome.  She has been dedicated to Art History and art education for most of her adult life. Lele and her husband Brad own Galer Estate Winery in Kennett Square and she is on the Board of The Chester County Art Association and The Delaware Valley Art League.