By Lele Galer, Columnist, The Times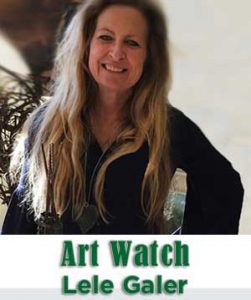 "Reconstructed Materials" is an exciting all-steel sculpture show opening at the Oxford Arts Alliance this Friday March 17th, with a reception from 5-8pm.
Curated by nationally renowned steel sculptor Stan Smokler, this show features selected sculptural works from 12 steel artists, including Dave Beck, Rob Sigafoos, Lele Galer, Lisa Fedon, Katee Boyle and Stan Smokler. With a broad variety of techniques and subject matter, from a steel feathered rooster by Bill Spiker to an abstracted steel construction entitled "Caged Botany", this is an interesting and exciting show for anyone interested in contemporary sculpture, and specifically the art of employing steel to express an artistic vision.
Stan Smokler will be my guest on Living History/Art Watch Radio WCHE 1520 AM on Wednesday April 5th, where he will be talking about his long career as a metal artist, art teacher, and mentor to hundreds of current steel artists around the country.
Stan Smokler's artistic life got a nudge early on when he was about 13 years old. His drawing teacher took him aside and recognized his talents for capturing line and form.
He says that "to this day I think of that moment in junior high school and what that meant to me at the time."
Small wonder that he instills that same sense of encouragement and mentorship to the thousands of sculpture students that he has taught over the years. His early career was spent as a metal sculpture restorer all over the country for many of the greatest sculptors of the 20th century, including Picasso, Calder, Gonzalez, and Henry Moore. What an incredible hands-on breadth of experience with modern sculpture!
Stan Smokler's own sculptures are assemblages of found steel materials, that are re-used for their shape, texture or bulk to create completely unique abstracted artworks. Unlike "brutalist" metal sculpture which often combines ripped, jagged metal with a raw, heavy feel, Stan's work maintains a strong linear, often lyrical sense of form.
Stan's sculptures are often displayed outdoors, and bring a whimsical, fresh vitality to a natural environment. Usually his work has large open areas, in mesh or clean geometric lines that let his work breath and work with the area that they are placed.
In "Reconstructed Materials", Stan Smokler has three works that represent different genres of his work: "Caged Botany" which is a steel cube encasing myriad found steel fragments that spiral together, reaching out beyond their cage; also "Statuette" which is a small angular wall piece with a large concentration of spikes and textures that combine to create dynamic shadows against the wall ; and "Landscape", which is a heavy, large circular wall piece that contains a mini-universe ,rhythmical compilation of circles and textures that seem to play independently from one another in a whimsical kind of chaos that is unified by the outer circular edge.
Stan is also a much beloved university sculpture teacher and has a very popular "Marshall Bridge Workshop" for steel art students of any age, that he runs every summer from his riverside studio in Kennett Square. Of the 12 exhibiting artists, 7 are former student's from Stan's workshop. I attended his workshop three years ago and, without a doubt, it was the most fun, thrilling camp I have ever been to in my life; and I have been addicted to the pleasure of working with steel ever since!
Another very exciting new show this week is "Points of View" at Chester County Art Association, which opens with a Thursday night reception from 5-8pm on March 16th.
While "Points of View" opens in the Allinson Gallery, CCAA's Huston Gallery opens a juried exhibition entitled "Body Language" where chosen artists explore the expressive qualities for the figure in art. "Points of View" presents works by three artists John Baker, Gus Sermas and Richard Blake, all of whom have worked together as professors of art at West Chester University. Artist Gus Sermas is well known for his fresh, brightly colored paintings that explore the shape of a still life, flowers, and the human body, in terms of color and line. John Baker is known for his large ceramic and multi-medium abstract constructions that balance between sculpture and painting.
With interesting new twists on the classic square and circle, he reshapes, textures, paints or prints to breathe life and a calm beauty to his artist forms. Sculptor Richard Blake focuses his art on the human figure, creating naturalistic sculptures of the human form that, regardless of actual size, seem massive and almost mythic in their proportion, sensual twists and engaging expression. Richard Blake's pieces, like "Luna", might feel just as comfortable atop a classical building pediment, as here on the gallery floor.
John Baker says "It feel great to be able to show with my colleagues after a two year hiatus. I think the three of us really complement each other, even though we come from very different disciplines we all have a similar rhythm … figurative contours, lines, and balance of symmetry coming from different points of view." Three unique points of view, by three fascinating, expressive artists, have created a wonderful show at Chester County Art Association, opening this Thursday.