If all township residents must pay, all should benefit, not just a few
By Mike McGann, Editor, UnionvilleTimes.com
EAST MARLBOROUGH — A bright sun was shining, a light breeze blew through the local trees just starting to show a hint of buds. And my foot sank in about ankle deep right in front of home plate.
Such is April at Abby Miller Field, the only dedicated softball field operated by the Unionville Recreation Association. Thanks to the kindness of neighbors to the URA complex, the organization was able to build this extra field some years back and give softball — and hundreds of Unionville-area girls — a permanent home.
The field was built on top of a swamp and so each year, it's a dance we go through hoping the spring rains aren't too plentiful and we'll be able to get most of our games in — even on a bright sunny day like last Saturday, we had to cancel opening day because the field was too muddy.
As a group, we make due, juggle and mostly get it done. Sadly, we still have to turn kids away from our sports programs because we don't have enough fields for games and practices — a frustrating fact at a time when we should be doing everything we can to get out kids out and active. We would love nothing more than to be able to build more fields, but despite some public perception otherwise, URA lacks the financial resources to do so. We depend on the Unionville-Chadds Ford School District for fields, and at least one public park, in Pocopson.
Like many others involved in local youth sports, I hoped that the proposed Unionville Park would include a ball field. That now seems destined not to be, which is certainly disappointing, but I suppose somewhat understandable. However, the prospect that Unionville Park wouldn't contain, well, a park of any kind if some local residents have their way, boggles the mind. That could come to pass tonight if the board of township supervisors gives in to a few, loud local voices and kills or delays the park plan.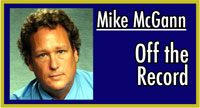 Here's hoping that the supervisors speak tonight for the many thousands of taxpayers who will benefit and not the few dozen loud opposing voices. If you look at the design — even without a playing field — it's hard to argue that it would not offer countless opportunities for recreation, walking, running, bike riding, play grounds and a natural gathering place, while much of the property would remain in a naturally wooded state.
The expectation of this angry gaggle of residents seems to be this: that all of the township's taxpayers should foot the bill for the original purchase of the property — not cheap, as you might recall — and yet only the local residents should benefit from having it undisturbed. The local neighbors win and the rest of the township's residents? So what if their tax money prevented 80 townhouses or a trailer park — and let's not forget, that was the plan — from being built on the property.
If someone wanted to build a park in my neighborhood, I'd be doing handsprings, not just because it would be great for my kids, but because it would enhance my property value. And to be honest, long after my kids are grown and out of the house, I'll have the same attitude. Anything that helps the greater community ultimately makes all of our lives better.
And yet, there are those who have this "hey, you kids, get off of my lawn" mentality, Not In My Back Yard.
The same thinking stopped a harmless cell tower from being built at the Po-Mar-Lin Fire Station — which would have netted the fire company $18,000 a year, most of which must now be made up by the township. Ironically, in future years if such a subsidy means a local tax hike, it's not hard to envision those same people screaming bloody murder about irresponsible government.
Where would we be if we all had that attitude? And before you ask, let me tell you what's practically in my backyard: Chester County Prison. And while none of us here were thrilled about being strong armed by the county into an expansion and a new juvenile center a few years back, the prison has been a good neighbor.
Just because someone is noisy doesn't make them right. In my experience, it is often the loudest voices that are the most misguided. I think that Unionville Park could benefit thousands of township residents without doing any meaningful damage to anyone.
If you agree, you need to let the supervisors know and attend tonight's meeting.