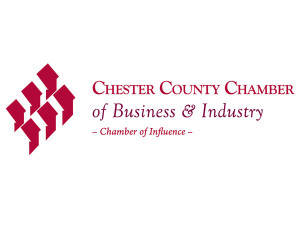 MALVERN — The Chester County Chamber continues with a special tradition in 2015: The Small Business Dinner- A Salute to the Spirit of Free Enterprise. This event is designed to spotlight the very important role that small businesses have in Chester County's economy. Two awards are being presented: the Small Business of the Year and the Nonprofit of the Year.
The Small Business of the Year Award honors a business that epitomizes entrepreneurship, leadership, and civic responsibility. CCCBI's Small Business Advisory Committee reviewed the many nominations. The company that best exemplified all these characteristics is: Brumbaugh Wealth Management.

Kimberly J. Brumbaugh founded Brumbaugh Wealth Management in 2004. The firm is one of the few women-owned financial planning firms in Chester County with a team of professionals that all reside in the county and are encouraged to grow professionally and personally and to live and serve with purpose.
Currently, the firm serves clients coast to coast, including business owners, corporate executives, and retirees who are concerned with a variety of challenges like business succession planning, retirement planning, and the eventual transfer of wealth. The average client tenure is over twelve years. Members of the Small Business Advisory Committee appreciated the dedicated community service put forth by Brumbaugh Wealth Management. Some of the recipients of charitable works include: United Way of Chester County, Southern Pennsylvania Autism Resource Center, West Chester University, Chester County Bar Association, The Rotary Club of West Chester, and the Chester County Chamber of Business and Industry.
The Nonprofit Organization of the Year award recognizes exceptional achievements in building the community and enhancing the quality of those in its care; and, therefore, our County. We are excited to announce our inaugural recipient: Maternal and Child Health Consortium of Chester County
In 1991, MCHC was created to ensure that all pregnant and parenting women in Chester County have access to high-quality health care. In 1995, their dedicated staff began to provide home-visiting to disadvantaged pregnant women. Funding through the federal Healthy Start program allowed us to expand our reach and reduce disparities in birth outcomes for African-American and Hispanic infants in our community. MCHC has become a leading voice for Chester County's women, children, and families, and has expanded our services to meet emerging needs.
The event's keynote speaker is WPHT's Chris Stigall. Stigall will discuss the very important role that small business plays in our region, and our nation. He hosts the morning show, 6:00 am – 9:00 am on Talk Radio 1210 WPHT Philadelphia. Stigall brings a contemporary brand of opinionated talk and humor to his show, and is a resident of Chester County.