Art is the best gift, give from your heart

By Lele Galer, Columnist, The Times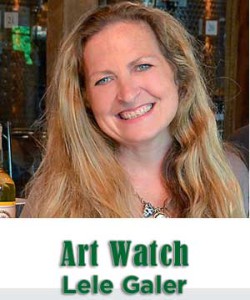 Though you may prefer to invest in a large new work of art for your home from a local gallery (a really great idea!), this is a unique time of year to find the more portable and affordable works of art available at holiday shows. Zvezdana Scott, owner of downtown Kennett Square's  Mala Galleria said, " A new TV will quickly lose it's luster, and the new iPad will be out of date next year, but the gift of art is something that will transcend the decades of ownership, providing joy to its owner many years after the TV has been discarded by the curb. " For all of this month, Mala Galleria is donating a turkey to the Kennett Food Cupboard for every art purchase – what a thoughtful way of giving back and encouraging the arts.
In downtown West Chester, at the Meridian Bank, The Art Trust is showing "Gifted" through January 23rd. 16 local artists are exhibiting reasonably priced art. The reception is this Wednesday the 10th from 5-8:30 and Carlino's is catering so what could be better?!  Opening reception for the uber-talented Luo Hong at the Chester County Art Association is Friday, December 11th from 5-8pm. She has a solo show in the Huston Gallery at the art center. Her realist works are full of beauty and light, and having competed with her in plein air shows, let's just face it, she almost always wins. It is just ridiculous she is so good at what she does. Check it out and leave humbled, or better yet own one of her marvelous paintings, which gives back a percentage to support the good works at Chester County Art Association.
In Kennett Square, The Woodlands at Phillips Mushroom Farm (1020 Kaolin Road in Kennett) has started to do Pop up Art Shows (such a great idea!)and this month is featuring the glass fused art work of local artist Patsy Keller and the opening is this Friday from 11am -4pm. Patsy's work makes great gifts, especially her pendants and bowls.
Friday through Sunday Susan Bankert's  pottery is for sale at Barking Tree Pottery's Annual Holiday Open House. Friday from 3-10pm she is serving homemade soup, Victory Beer and beautiful ceramics works that are perfect gifts. She is located at 2991 Lincoln Highway in Sadsburyville. Worth the trip. You could get all your holiday shopping done here. Also this Friday, in Wilmington, Art is After Dark at the Delaware Museum of Art is showcasing its Winter Arts Festival from 6-10pm with food, music and art for 16 local artisans. The show continues Saturday, just without the party.
On Saturday is an "Artful Event" from 1-7pm at 27 Dillworthtown Road in Thornton- artworks from Diane Cirafesi, Ellie Byrom-Haley and the one and only Kim Z (I have so many of her necklaces it is an addiction). These three women artists are absolutely unique, passionate and fun. Make time to go to this one…and then go to Four Dogs for lunch.
Also Saturday from 2-7pm jewelry artist Lenora Dame (www.lenoradame.com), famous all over the country as well as in Anthropologie, will have a trunk sale at Galer Estate Winery in Kennett Square (I am so excited!!). Come and buy jewelry at a humongous discount, sip wine and have fun. I have too many of her necklaces to count and they make terrific gifts. I remember accosting ceramic artist Rhoda Kahler (http://www.rhodakahler.com) so many times -asking her where did she get that necklace?! And it was always, "Lenora Dame". Now that I have wrestled the big secret, I am happy to share the news.
Saturday the 13th and the 20th from 11am -5pm there is a Christmas Artist Open House with photographer Timlyn Vaughn (www.timlynvaughanphotos.com)and other artists who will be showing and selling art at the Vaughn's studio in his 1850 Farm House at 235 Blue Rock Road in West Chester. There will be a roaring fireplace, food and wine and art of course. Sounds lovely!  Also this Saturday, The Beauty Art Gallery has the reception from 5-8pm for its 2014 Small Treasures Exhibit which has beautiful artworks all priced at $300 and under. If you bring in a new unwrapped donation for Toys for Tots then $10 will be deducted from your purchase price. Beauty is located at 3857 Providence Road in Newtown Square.
Saturday the 13th is the last day of sculptor Jill Beech's open studio from 10am -4:30pm. Jill is located at 6 Park Avenue in Coatesville. I am mad about her work! But to be honest, I would have a hard time giving it away as a gift. Check it out and be inspired.  Jill carefully works each wonderful sculptural piece and only makes enough work for two shows a year – and this is one of them. Check out the Whip after you have been t o her studio for a deliciously inspiring Saturday.
Finally -this  Sunday. If you are not exhausted from holiday art shopping , or even if you are, no excuse, come to Galer Estate Winery this  Sunday from 3pm -6pm and meet artist Robert C. Jackson and be there for the signing of his most recent book. I am a crazy art book person, and I am over the moon about his new book. But, even if you are just marginally a book lover, check out this book. It is beautiful. It is the perfect art book in homage to 20 contemporary artists that this artist is inspired by. I cannot think of a better, more moving reason to create a book. In fact, the Delaware Art Museum was so moved that it is creating an entire exhibition around Bob's new book! This is the ONLY book signing in our area of Robert Jackson's "Behind The Easel" The Unique Voices of 20 Contemporary Representational Painters. This is the true gift of art. Robert Jackson is one of the most renown artists of our time, and he is local and will be signing his new book at the winery this Sunday.
http://www.thewoodlandsatphillips.com/
http://www.dianecannonart.com/
http://www.chestercountyarts.org
http://www.robertcjackson.com/pages/book.html