Art Gallery transformations and art that is out of this world!
Editor's Note: For quite some time, Lele has been highlighting the work of countless artists in and around Chester County, but she herself is an accomplished artist — and this week has a major gallery showing in Kennett Square. Even though she was reticent about writing about her own work, we insisted, as we think her fine work and she herself deserves time in the spotlight.
By Lele Galer, Columnist, The Times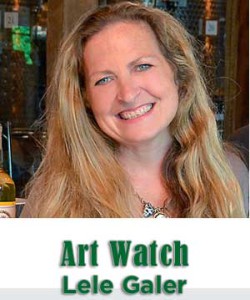 This Friday, Mala Galleria in Kennett Square has its artist reception from 6-9 pm for their November exhibition "Steeling the Show" with a Chester County artist you may know: me. Yes, it's true. When I'm not writing, making wine or organizing various community events or organizations, I am at heart, an artist, whether on canvas with a brush or in designing and building steel sculptures.
As Mike McGann, Editor of The Times is fond of pointing out, it seems like every time I speak with him lately, I've either just been welding something or need to get back to welding something — and this gallery show is representative of my work in that genre.  This week's showing is a transformed gallery environment of welded steel structures and oil paintings inside and outside the gallery space on State Street.
I tried to create the same feeling with the steel that I have in my paintings with strong vertical structures in an environment of textures and light.
I'm hoping to see many of you, Friday.
This past weekend the Unionville Art Gala also created a semi-miraculous transformation of the Unionville High School hallways into a wonderful professional and student art show. The show brought in about $10,000 to the Unionville High School PTO, which awards grant monies to classroom projects and programs at the high school. The student show, chaired by Geri Argo, was truly a show-stopper, and an amazing display of the enormous talents of the high school students. The professional artist part of the show was also a wonderful exhibit and sale, with a terrific silent auction arranged by Carol Apicella, and live music performed by Skip Barthold and his jazz ensemble friends on Friday.
At the Delaware Art Museum, the magical and wonderful world of artist Brian Selznick is exhibited in "From Houdini to Hugo".  On Friday November 14th 6-10pm, tour the exhibition and experience sleight of hand magic tricks followed by a screening of the movie "Hugo." There will be food and a cash bar, but this event is also for children. If you can't make the show opening event on Friday, you can see it anytime this Winter through January 11th.  What a perfect destination spot for your entire family during the holidays!
This week's Pop up Art Show at Galer Estate also features an artist with a background in illustration and a sense of magic – Lynnette Shelley. Pop up art shows at Galer Estate Winery have moved to Fridays for the Winter months, and this new round of art shows starts this Friday from 4-8pm with local artist Lynnette Shelley.  Shelley creates contemporary animal art and modern myth paintings in mixed media.   She writes, "My artwork takes a closer look at this archetypal animal kingdom. Reinterpreted through art, abstraction, decorative element and contemporary vision, these creatures speak to our collective unconscious." Her mythical images are beautiful and finely drawn and painted; terrific gifts.
Renowned artist Bill Ewing will be having a solo fine arts show at Chadds Ford Gallery "Subjects Matter" through the month of November. His mesmerizing realist portraits and still lifes in oil are timeless and beautifully realized. Meet the artist and enjoy an artist reception at Chadds Ford Gallery on Friday November 21 from 5-8pm. The following day, November 22 from 6-9pm there will be an opening reception for "VITRA5 & Friends – celebrating wood fired ceramics" in the Lincoln Galleries at Historic Yellow Springs. Twelve local ceramic artists will be exhibiting and selling their wood fired art pieces that they have created in the massive wood kiln at Yellow Springs. This week will be the last week of the Yellow Springs Craft show – so you might check that out too sometime this weekend!
Farther afield, if you happen to be heading to the Main Line this weekend there is a really interesting show in the Lawrence Gallery at  Rosemont College called "Latina's Legacy: A Memorial Exhibition honoring William J. Latina". This is an exhibit of art students of former Harriton High School teacher William Latina, as well as a show of the teacher's work.  There are 20 professional artists in this mighty group, including local painters Mamie Duff, and Kurt Solmssen, as well as jewelry artist John Wind, and absolutely incredible sculptor Steve Tobin.
http://www.malagalleria.com/
http://www.lelegaler.com
http://www.galerestate.com
http://www.lynnetteshelley.com
http://www.awyethgallery.com/
http://yellowsprings.org/events/
http://www.rosemont.edu/about-us/newsevents/lawrence-gallery/
http://www.Stevetobin.com
http://www. kurtsolmssen.net
http://www.maximalart.com/
http://www.flyingmare.com/
Lele Galer is an artist who has chaired numerous art shows, taught art history and studio art, public art and has chaired, written and taught the Art in Action Art Appreciation series for the UCFD schools for the past 12 years. She worked at the Metropolitan Museum of Art, and wrote for the Asociated Press in Rome.  She has been dedicated to Art History and art education for most of her adult life. Lele and her husband Brad own Galer Estate Winery in Kennett Square.