To The Editor,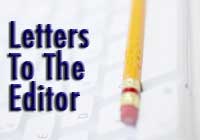 I am a Democratic Committee person for East Marlborough East (Precinct 355) and the Chair of the Kennett Area Democrats.  About two years ago, while representing the Democratic Party at my polling place, a man rushed by, without ever looking me in the eye, saying, "You are a Democrat.  You should be ashamed of yourself."  Actually, I am not.  I am proud to be a Democrat.  I stated my reasons publicly at the time.  Those reasons are even more valid today.
Now it is my turn and I can look every Republican in Chester County in the eye when I say this: "You are a Republican?  You should be ashamed of yourself."
Chris Ross announced his retirement in 2013.  After a brief skirmish in the 2014 primary, Cyler Walker was anointed as Ross' successor.  Walker appeared to be a formidable candidate.  A video of his Christian/family values circulated.  He had been on the East Marlborough Board of Supervisors for 18 years.  But suddenly, in a cloud of rumor, Walker withdrew from the race on Sept. 26, nearly six weeks past the withdrawal date set by the state's election statutes.  Then, the Republican hierarchy quickly retreated to pull Ross out of retirement and petitioned the courts to put his name on the ballot.  This request was made nearly two weeks after the Federally mandated date for sending out absentee ballots to our service men and women and despite the fact that Voter Services had already mailed numerous absentee ballots with Walker's name on them.  So now we have Chris Ross' name on the ballot.  Apparently rules don't matter if you are a Republican.
I am sure Chris Ross is a good man but he is a pawn.  He is a pawn to the Republican establishment that is both unethical and guilty of total disregard for established election statutes.
Luckily, voters in the 158th Legislative District have an outstanding alternative to this mess.  Susan Rzucidlo is a lifelong resident of Chester County.  She is a wife, mother of four, mother of a young man who has special needs, a small business owner and a passionate community activist.  She will be a strong voice in Harrisburg for strengthening our schools, protecting our environment, rehabilitating our infrastructure and putting a common sense tax on natural gas production in place to help pay for these essential needs.
Susan Rzucidlo is the smart vote, the ethical vote, the common sense vote in the 158th Legislative District.
Richard Bingham
East Marlborough