Possible buyer found for township-owned Birmingham Road property
By Kris Fiery-Poling, Correspondent, The Times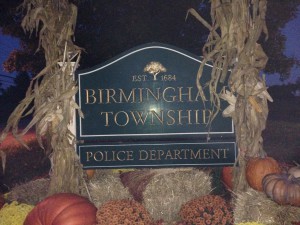 BIRMINGHAM — Secretary/Treasurer Quina Nelling recommended the accounting firm of BBD for Township Auditor at Monday night's Township Board of Supervisors Meeting.
According to Nelling, "BBD charges $5,000, has excellent references, and can retain this cost for two additional years."
The township received 17 proposals for Auditor, with six being considered, at a price range of $5,000 to $7,500 per year.  Supervisors agreed to go through the process of hiring BBD for one year. 
The next step is to advertise this decision.  Final approval will take place at the December meeting.
The township received a request to build from a potential buyer for the 1301 Birmingham Road property.
According to Chairman John Conklin, the Brandywine Conservancy has restrictions and easements on this land, which includes an historic structure and is located in the HARB (Historic Architectural Review Board) district.
Vice-Chairman William Kirkpatrick reinforced that, "the buyer must follow all processes, including stormwater management.  The next step for us is to respond to a plan."
The supervisors approved HARB's recommendation to allow a gravel driveway and brick paver walkway to be installed on the 1025 Meetinghouse Road property.  Stafford Dean, of Dean's Landscaping, confirmed that they will be completing the work.
Resident Christy Mobile described how several trees from the Holiday Inn Express property are impacting her fence and yard.  Letters and calls to the hotel staff have been ignored.  Conklin will have Building Code Officer Rich Jensen investigate to find answers.
Chief Nelling's September police report included 1,138 calls, 8,490 patrol miles logged, and two criminal arrests.
Announcements of Township Activities:
October 15th at 7:00 p.m.  – Budget Meeting
October 16th at 8:00 a.m. – Fall Road Inspection
October 22nd at 6:30 p.m. – The Tupp signs/Stillman Volvo Zoning Hearing Board
November 3rd at 6:30 p.m. – Infiniti Conditional Use Hearing