Rumors are just that, and no one benefits from rushing to judgment
By Mike McGann, Editor, The Times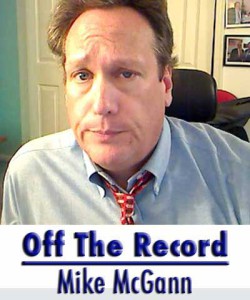 This has been one of the tougher weeks in recent memory in Unionville — with questions, rumors, speculation, assumptions and just flat-out bewilderment across the community.
What we know in the wake of Cuyler Walker's sudden departure from the State Representative race Monday amounts to whole lot less than the sum total of the things we don't know. Hopefully, the filings from his petition to the Commonwealth Court to be removed from the ballot will shed some light on this and clarify matters that have so many asking about what happened and why.
I'll discuss the political aspects — which is a much less emotionally charged issue — in my Saturday politics column. This is more about the human side of the story.
I won't deny that there are some pretty unsavory and distressing stories going around and we continue to look into whether they have merit — if only because of the complicated nature of some of the accounts and who or what might be involved. At the same time, we aren't and have never been in the business of rushing to judgment or letting supposition run beyond the facts.
Put bluntly, if we report something, I'm going to go to bed that night very sure that we got it right. If I can't feel that way, you won't see it here. There are too many awful consequences if we get it wrong, especially for those who might be wrongly tarred.
What I'm asking for here is a collective deep breath. Let's not feed a frenzy, let's not jump to conclusions. If the story is bad, it will come out. It will. We won't be party to a coverup. But we also won't be party to a digital lynching, either.
I ask that you keep that in mind when you comment on this site. If you have concrete information, or even just an opinion, I'm happy to listen (you can always email me privately at mike@chescotimes.com) but I ask that you be measured and responsible in your comments on this site.
I understand emotions are running high right now and I understand why. But my hope is that we can be measured, responsible and able to sort the facts from the rumors.
* * *
And now, onto something that everyone can agree upon: the Pocopson Roundabout, which was supposed to open this week.
I'll pause for a second while we all laugh ruefully.
Here's the good news: there were signs of life this week when I visited the work site. Verizon was moving its lines, leaving only a couple of more utilities to move theirs before real construction work on the project can resume. And yes, it's been stalled since June 19. PECO moved its lines on Aug. 6.
Other good news: work appears to be proceeding well on the small bridge just south of the intersection. It appears that the state Department of Environmental Protection was able to issue the needed permits in a reasonable time frame — so the bridge doesn't appear to be an issue holding the project up.
So, here's the bad news: now even the Pennsylvania Department of Transportation doesn't have the slightest idea of when the project will be done. On the District 6 project status list the project has gone from having a 9/26/14 completion date to 11/26/14 to…"indefinite."
When PennDOT lists something as "indefinite" it's not a good sign.
Worse, the project has to be done before work can start on the Rt. 926 bridge over the Brandywine, slated to start Jan. 15, 2015 — a start date designed to best work around weather issues. Beyond multiple promises that the bridge work won't start before the roundabout is complete, it is unclear at this time what the impact will be if the roundabout project drags into 2015.
Once this is all wrapped up, we do need to think about the actual financial costs. Between the extra gas and time, I figure (and I'm generously costing my time out at minimum wage, rather than my usual $150/hour consulting fee) this project is costing me personally on average of $5 a day. And that doesn't count any additional impact on school costs (the rerouting of the buses and extra time for drivers is a cost that comes out of our property taxes), local or county taxes.
Maybe that amounts to $300 to $400 per month, per household. That's not exactly chump change — and needs to be part of the discussion when any of these utilities come up for franchise renewal. I might also suggest — as a form of expressing your anger, go buy an Apple TV or a Roku or similar device and stop buying Verizon or Comcast pay per view movies and — most importantly — let the Comcast and/or Verizon know you're doing it and why. Mention it on the company's Facebook page (they really, really hate that), too. These companies have hurt our collective bottom line, we should hurt theirs as well.