Plus: Heather Davis solo show and The Hickman's Art of Caring!
By Lele Galer, Columnist, The Times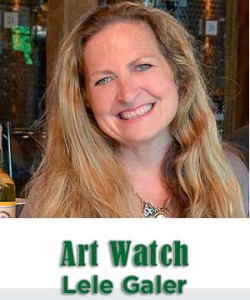 When you think of painterly flower and lush fields of poppies, you first think of the Impressionists, and then you might think of local delightful painter Margaret Matuszewski. I first saw her work at the Unionville Art Gala where she is a longtime favorite, with her feathery brushstrokes and abundance of color, Margaret's painting are lush with natural bounty.
This Thursday Margaret will be doing a one day pop up show at Galer Estate Winery from 4-8pm, where you can meet the artist and choose from some of her modestly priced painted originals. A portion of the proceeds benefit Tick Tock Early Learning Center which is currently raising funds for a kitchen expansion.
Brilliant plein air painter Heather Davis with be exhibiting in her paintings in her first solo show opening Wednesday September 24th from 6-7:30pm at Penn State Great Valley Main Building (2nd Floor Gallery).
Heather won this solo show after winning first prize in the Chester County Art Association's Member show back in the Spring, and she has been painting non-stop to prepare for this not-to-be-missed first solo show.
After leaving the art world for many years while she owned her own construction firm, Heather has come back to the Chester County art scene with complete dedication and determination. Winning first prize at the esteemed Children's Beach House Plein Air competition last year,  she immediately established herself as a stellar plein air painter in the Brandywine Tradition. I can't wait to see her show this Wednesday and cheer her on!
The big Chester County Art Association & The Hickman's "Art of Caring" two-day event is finally here this weekend in downtown West Chester. The Art celebration and fundraiser begins at the Hickman on Friday Night with a Galer Estate Winery wine-tasting and food pairing, amidst a background of wonderful Hickman artworks of former Art of Caring celebrations.
The event is held at The Hickman's beautiful historical building at 400 North Walnut Street in West Chester and will go from 5-8pm. The Art of Caring event continues then at the Chester County Art Association which will present the Exhibition "Place" which will have awards and prizes, as well as music, food and drink. For tickets you can go to online or call 610.696.5600 x13,or just show up and pay at the door. Great causes, great art and just a great evening all around for this Friday night.  The Hickman/CCAA partnership continues on Saturday for a first ever outdoor Art Festival located in front of the Hickman from 10am to 4pm. Should be good fun for the whole family.
If you are going to walk through town and go to the fabulous Saturday West Chester open market, you might stop by Starbucks and check out the latest works by award winning pastel artist Denise Vitollo. There is also a new show at the Church Street Gallery featuring the beautiful paintings of Beth Clark  . The Clark show is titled "Explorations" because the artist explored the many possible viewpoints of a small number of Chester County woodlands.  These locations include the now vanished Paxson Woods, currently the new Dean St. extension. These very special paintings of the Paxson Woods are a beautiful reminder of our borough's more recent history. Also included are the artists many "viewpoints" of the Stroud Preserve, one of Chester Counties finest unspoiled landscapes. The opening is Friday night from 5-9pm! A busy Friday for art lovers.
https://paintedcountyryviews.eventbrite.com
Lele Galer is an artist who has chaired numerous art shows, taught art history and studio art, public art and has chaired, written and taught the Art in Action Art Appreciation series for the UCFD schools for the past 12 years. She worked at the Metropolitan Museum of Art, and wrote for the Asociated Press in Rome.  She has been dedicated to Art History and art education for most of her adult life. Lele and her husband Brad own Galer Estate Winery in Kennett Square.