Also: West Chester Restaurant festival serves it up again
By Denny Dyroff, Staff Writer, The Times
Circle your calendar for September 20 if you're looking to attend the Brandywine Valley Association's annual Jam on the Brandywine (Brandywine Valley Association grounds, Route 842 near Northbrook Road, West Chester, 610-793-1090, www.brandywinewatershed.org).
The festive open air music event will be staged at the Brandywine Valley Association's scenic outdoor amphitheater at the Myrick Conservation Center, which is located on Route 842 just west of West Chester. The exact address to feed your GPS is "1760 Unionville-Wawaset Road, West Chester, 19382."
Tickets priced at $20 will be available at the gate, which is scheduled to open at 11 a.m. The music will get underway at noon and continue until 9 p.m. Visitors can bring their own picnic lunches or purchase food and beverage items at concession booths. It is listed as a B.Y.O.B. event.
The diverse roster of performers for the one-day music festival are Uncle Jimmy, Cameltones, Gnasty Girls, Special Delivery, Spokey Speaky, Double Dose, Apache Trails, Brad Newsom & Friends and Endeavor to Persevere. There will also be acoustic sets by Nancy Micciulla, O'Brien Brothers, Sam Smick, Calabrese Sisters and Steve Pepper.
The event, which also features children's nature activities, is held each year as a benefit for BVA with proceeds used to promote the conservation and enjoyment of the natural resources in the Brandywine Watershed.
Autumn doesn't officially start until the middle of next week but it will arrive on September 21 at the Brandywine River Museum (Route 1, Chadds Ford, 610-388-2700,www.brandywinemuseum.org).
The museum's Fall Harvest Market, which opens on September 21 and runs through November 9 on most weekends, features regional artisans who will be showcasing their crafts in the museum courtyard. Items featured on a rotating basis will include hand-woven rugs, dried flowers and wreaths, pottery, quilted fabric items, and handcrafted dolls.
Featured attractions on the weekend of September 20 and 21 will be quilted items by members of the Brandywine Quilters, jewelry by Susan Schulz, sterling handcrafted jewelry by Janet Kofoed, hooked rugs by Allie Barchi, hand-woven items by Pam Horstman, wool animals by Lois Grace, jewelry by Shirley St. Jean-Davis, wood items by Bob Rogers and handmade soap by Jean Innocenti.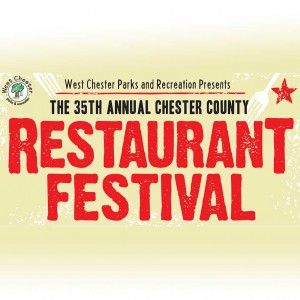 For more than three decades, the Chester County Restaurant Festival (Gay Street and downtown area, West Chester, 610-436-9010, http://chestercountyrestaurantfestival.com) has been treating visitors with the opportunity to sample a wide variety of gourmet treats.
This year, the free festival, which will be held on September 21 from noon-5:30 p.m. in downtown West Chester, is celebrating its 35th anniversary. Many of the area's top restaurants — more than 65 altogether — will have booths where visitors can purchase samples of a mouth-watering array of culinary delights and gourmet food items.
There also will be approximately 110 vendor booths featuring arts and crafts, three stage areas for live music and the "Church Street Café," where patrons can sit and relax with a pint of refreshing brew.
Some this year's participating restaurants are GiGi's & Big R Caribbean Soul Food, Hillbilly BBQ, Twenty 9 Restaurant and Bar, Rams Head Bar & Grill, Margaret Kuo's Mandarin, Ka'Chi, Southbound BBQ Company, Lulu's Café, Limoncello Ristorante, Anthony's Coal Fired Pizza, Barnaby's of West Chester, Bon Bon Sushi and Sweet Lavender.
The long and varied roster also features Capt'n Dicks, Sabatino's Grill, Teca Calberto Café, Destarr's Restaurant and Bar, Judy's Kitchen, Kildare's, The Gables at Chadds Ford, Pietro's Prime, Spice Indian Thai Bistro, Roots Café and Garden, Doc Magrogan's Oyster House, Iron Hill Brewery, The Social Lounge and Amani's BYOB, Pita Pit, Mas Mexicali Cantina, Olive Branch and Taste of Puebla.
Live entertainment will be presented throughout the day with Jason Reed, Joy Ike,
Billy Roach & the Political Theatre, Toney Rocks, Flux Capacitor, Naelee rae and Spotted Atrocious.
Parking in all Borough of West Chester garages is $5 for all day.
This is the time of the year when farms in the area become a bustle activity. For most of the farms, autumn means it's time for harvest. Such is not the case at Cherry Crest Adventure Farm in Ronks (150 Cherry Hill Road, Ronks, 717-687-6843, www.cherrycrestfarm.com).
The farm's popular annual "Flashlight Maze" is now underway tonight and will continue every Friday and Saturday night through November.  Cherry Crest Adventure Farm has reserved several weekends during the autumn months for Flashlight Maze.
This special activity allows visitors to experience the Amazing Maize Maze in total darkness. All you need are flashlights and a few friends. The Flashlight Maze is a nice, non-scary, Halloween alternative that has appeal for people of all ages. The Flashlight Maze, which has a $12 admission fee, is open from 6:30-10 p.m. with the last entrance into the Maze at 9 p.m.
The "Harvest Fest" celebration starts this weekend and runs every Saturday through October 25. Special activities at the festival include pony rides, face painting and cheek art, pumpkin picking, sand art and a "Corn Cannon."
The main attraction is Cherry Crest's "Amazing Maize Maze," which is billed as "the world's most dynamic and interactive corn maze." It is a five-acre corn maze with over two-and-one-half miles of paths, scenic bridges, and clues.
Participants can walk at their own pace as they encounter the "Kernels of Knowledge" along with a variety of clues, tunnel slides, and watering stations. They can also check out a bird's eye view from the two bridges and watch everyone's flags waving high above the corn.
The average time to complete the "Amazing Maize Maze" course is one hour. Tickets are $15 on Thursday and Fridays and $18 on Saturdays, $18.
One of the most popular special events each year at the Strasburg Railroad (Route 741, Strasburg, 717-687-7522, n) is "Day Out With Thomas." Kids love Thomas the Tank Engine and Thomas the Tank Engine loves them back — especially when he encounters them up-close during his visits to the Strasburg Railroad.
Every year, the steam locomotive named Thomas makes several visits to Lancaster County where he entertains enthusiastic children and their parents. The locomotive, which has its own PBS television series, will be in Strasburg now through September  21 to participate in "Day Out With Thomas."
For more than 50 years, Thomas the Tank Engine and his Island of Sodor friends have been favorites of preschoolers and their parents. Based on "The Railway Series" (classic stories authored by a father who loved trains and wanted a shared experience with his son), "Thomas & Friends" has evolved into a rite of passage that inspires imagination.
America's favorite little blue engine will bring along a special guest for his stay in Lancaster County — his pal Percy. The locomotive named Percy has traveled from the Island of Sodor for to make his national debut in Strasburg.
Tickets for "Day Out With Thomas," which are $21, include the train ride with Thomas the Tank Engine, the opportunity to meet Percy and a bonus train ride aboard Strasburg Railroad's miniature steam train "The Pint-Sized Pufferbelly."
The annual Dressage at Devon (Devon Horse Show grounds, Lancaster Avenue, Devon, 484-358-5510, http://dressageatdevon.org), which is recognized as one of America's premier equestrian events, began in the early 1970s as a small dressage event at a farm in Glen Mills.
In 1975, it moved to its current home at the Devon Horse Show grounds and officially became known as Dressage at Devon. It combines world class dressage competition and the world's largest open breed show. The six-day event attracts hundreds of horses from around the world and thousands of spectators.
This year, the event, which also includes the Fall Festival at Dressage at Devon, will open on September 23 at the facility on Lancaster Avenue in Devon and continue through September 28. The competition featuring world-class horses will take place in a variety of divisions and classes, including a full range of Individual Breed classes.
The annual event is a family-friendly festival that offers much more than just equestrian competitions. The Fall Festival features a large selection of vendors and an equally large number of specialty boutiques where visitors can shop for arts and crafts, clothing, horse-related items and gourmet food. Tickets are $10 for adults and $5 for children (ages 3-12).
This is the weekend for the "Willows Concert Celebration and Fireworks Blast!" which will be held on September 20 at the Willows Park and Mansion (490 Darby-Paoli Road, Villanova, 610-688-5600,www.radnorrecreation.com).
The event will feature live music, food giveaways, a variety of prizes and, the main attraction, a gala fireworks display. Visitors are invited to bring their lawn chairs, blankets and picnics to enjoy a fun night under the stars on the grounds of the historic Main Line mansion.
The late-summer celebration is slated to get underway at 6 p.m. After a concert by the Fabulous Greaseband, the sky will light up with the event's ambitious fireworks display.
This is the time of the year when there are ethnic food festivals almost every weekend. This weekend's schedule has events representing three European nations — Germany, Greece and Poland.
You can experience a visit to Germany this weekend without ever leaving the Delaware Valley because the Delaware Saengerbund's Oktoberfest (Saengerbund festival grounds, 49 Salem Church Road, Newark, Delaware, 302-366-9454, www.delawaresaengerbund.org) is running from September 19-21.
The Delaware Saengerbund's festival is a traditional Munich-style Oktoberfest featuring a wide array of tasty German food delicacies, including Bratwurst, Weisswuurst, soft pretzels, Rollmops (marinated herring served with rye bread), Kartoffelsalad (potato salad), sauerkraut as well as dessert items such as Torten and traditional plum cake.
On September 19, the opening parade will be held at 7 p.m. The lid-lifting event features the "Muenchner Kindl" (Munich Child — the symbol of the city of Munich) who is dressed in brown monk's garb with golden stripes, similar to that of the Benedictine order (founders of the City of Munich).
The "Enzian Volkstanzgruppe", the Bavarian dance group of the Delaware Saengerbund, will entertain throughout the three days of the festival. When the EVTG is not dancing, German music will be provided by "Those Austrian Guys" on Friday and Saturday nights and again on Sunday afternoon. "Heidi and Heimat Echo" will perform on Saturday afternoon.
There will also be concessions with an array of imported German gifts and souvenirs, as well as Oktoberfest souvenirs and Bavarian specialty clothes. Also included in the admission price of $8 are unlimited free amusement rides.
The Seventh Annual Boyertown Oktoberfest (Inner Core Parking Lot, Boyertown. 610-369-3054, www.boyertownoktoberfest.com) is scheduled for September 19 and 20 beginning with a "Homecoming Celebration" on Friday evening.
Activities on September 20 include the tapping of the ceremonial keg, German music and entertainment, food, and wine and beer. Hours are 5-9 p.m. on Friday and 11 a.m. – 9 p.m. on Saturday. The rain date for the free event is September 21.
If you like European cuisine that features a lot of meat — especially sausages — you'll also like St. Hedwig's Polish Festival (Frawley Stadium parking lot, Wilmington Riverfront, Wilmington, Delaware, 302-594-1400 or www.polishfestival.net) which is running now through September 20.
The 57th annual staging of the festival offers a variety of Polish treats including  placki (pancakes), pierogis (dough filled with cheese and/or potato, holubki (stuffed cabbage), kielbasa (sausage) and chruschicki (bow cookies).
The free festival will feature a full slate of live entertainment featuring TKO Band on September 18, Crab Town Sounds on September 19 and the Golden Tones on September 20.
Dinner will be served Thursday and Friday from 5-10 p.m. and Saturday from 3-10 p.m. Additionally, lunch will be served on September 19 and 20 from 11 a.m.-2 p.m. each day. The Midway, which is a large midway with over 20 rides along with a variety of amusement games, will open at 6 p.m. on September 18 and 19 and 3 p.m. on September 20.
The 37th Annual Greek Affair at St. Luke's Greek Orthodox Church (35 North Malin Road, Broomall, 610-353-1592, www.st-luke.org) is running now through September 21. The free festival focuses on food — tasty Greek main dishes such as moussaka (eggplant dish), shish-ka-bob (meat and vegetables on skewers) and placki (fish) and Greek dessert treats including baklava (phyllo, nuts and honey) and kataifi (shredded wheat and nuts).
Other activities at the free popular annual event are midway rides, vendors with crafts and Greek items, live music by Greek-American bands and folk dancing demonstrations. Additionally, the Taverna will be open from 9 p.m.-midnight on Friday and Saturday with music by DJ Kalo.
On September 20, a special fun and educational event called "Living History: Clothing the Common Sort" will be presented at Pottsgrove Manor (100 West King Street, Pottstown, 610-326-4014,www.montcopa.org).
Deborah Peterson will give show-and-tell presentations at 11 a.m. and 1 p.m. The acclaimed local historian will explain the clothing of laboring men, women and children in 18th-century America.
At the event, which will run from 11 a.m. until 3 p.m. at the Montgomery County historical site, visitors will be able to see living history volunteers dressed in working-class clothing. These volunteers will also be demonstrating various Colonial chores throughout the day.
On the same day, there will also be a special event at another of the five Montgomery County historical sites — Pennypacker Mills (5 Haldeman Road, Schwenksville. 610-489-9732,www.friendsppm.org).
On September 20 from 9:30 a.m.-3 p.m., Pennypacker Mills is hosting its Third Annual Craft Marketplace. The event will have more than 50 booths featuring talented artisans.
A wide array of arts and crafts will be represented, including jewelry, home décor, stained glass, wood products, scroll saw, primitives, quilting, soaps, candles and books.
The event will be held rain or shine and all proceeds will support the mission of the Montgomery County-owned turn-of-the-20th-century estate.
It's never too early to start your holiday shopping. If you're thinking about buying jewelry or gemstones for someone on your holiday shopping list, you'll find a lot of gift ideas under one roof this weekend at the Greater Philadelphia Expo Center (100 Station Avenue, Oaks, 484-754-EXPO, http://www.phillyexpocenter.com.)
From September 19-21, the exhibition space is hosting the International Gem & Jewelry Show this weekend. The show will feature exhibitors from around the world who will be presenting a wide array of first-quality items at reasonable prices.
Attendees will be able to shop for diamonds, silver jewelry, colored gemstones, watches and gold items in a wide range of prices — from $5 items to magnificent works in the $500,000 range.
The large selection of jewelry will include rings, necklaces, earrings, pendants, bracelets and custom settings. The show features one-of-a-kind jewelry creations, exotic gems, beads, pearls, exquisite fine jewelry, estate collections and much more.
With over 150 booths, the event will showcase an amazing variety of beautiful jewelry — all in one place. Visitors to the show also have the opportunity to bring along their own pieces of jewelry for on-site services such as jewelry sizing, cleaning and repair.
Show hours are noon-6 p.m. on September 19, 10 a.m.-6 p.m. on September 20 and 11a.m.-5 p.m. on September 21. Tickets for the event are $8.
The Greater Philadelphia Expo Center will be a busy place this weekend as it is also hosting the Pennsylvania National Quilt Extravaganza now through September 21.
The event, is billed as "the largest and most prominent textile arts event on the East Coast all under one roof," has been around so long that it now uses Roman Numerals to designate its vintage. This year's show is the Pennsylvania National Quilt Extravaganza XXI.
The exhibits of the Extravaganza will offer over 600 quilts and garments presented in gallery style. There will also be more than 200 vendor booths with items including completed quilts and garments as well as the supplies and equipment used in making them.
The Pennsylvania National Quilt Extravaganza will also offer a wide array of lectures and workshops presented by some of the top professionals in the field of quilting and the textile arts, including Tammie Bowser, Phyllis Twigg Hatcher, Frieda Anderson, Bobbie Berdquist and Marjan Kluepfel.
Show hours are 10 a.m.-6 p.m. on September 18, 19 and 20 and 10 a.m.-4 p.m. on September 21.Tickets for adults are $14 on the first three days and $12 on Sunday. Children under the age 16 are admitted free.