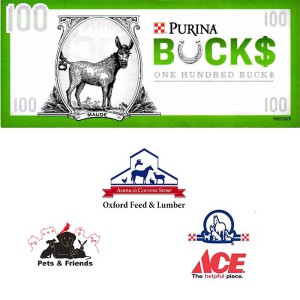 OXFORD — Oxford Feed & Lumber is thrilled to offer a fun and innovative program, "Purina Bucks", in which customers earn Monopoly-like money on their Purina branded product purchases from October 1 through November 30, 2014.  The "Purina Bucks" can then be redeemed at a celebration hosted by Oxford Feed & Lumber on December 10.  Featured at the live and silent auctions will be a wide array of prizes including a free ton of feed, a wide screen TV, a Weber Genesis grill, and a Stihl chainsaw along with many more items of varying values.
For each bag of branded Purina horse and farm feed or Infinia/Exclusive dog food purchased at either Oxford Feed & Lumber, Pets & Friends, or Brandywine Ace Pet & Farm, a customer will earn $100 in "Purina Bucks".   Pet food purchases get double points.   Plus, throughout the two-month period, there will be several special opportunities to earn double or triple "bucks" for participating in weekend contests! 
The Drennen family, owners of Oxford Feed & Lumber, Pets & Friends, along with Brandywine Ace Pet & Farm, believe their customers will embrace the "Purina Bucks" program.  "You just can't feed your animals anything better than Purina.  When it comes to their animals, our customers want the best and they believe in the science and research behind the nutrition that Purina guarantees.  We look at 'Purina Bucks' night as an opportunity to thank our customers for their business," said the Drennen brothers.
Stop in Oxford Feed & Lumber, 112 Railroad Ave., Oxford, Pets & Friends, 51 Jenners Village Center, West Grove, or Brandywine Ace Pet & Farm, 1150 Pocopson Rd., West Chester, and begin earning your "Purina Bucks" today.
Established in 1894, Purina Mills is recognized as the industry leader in animal nutrition.  Through continual research at their 1,188-acre Purina Animal Nutrition Center, the company develops state-of-the-art nutritional diets for horses and other animals.