Plus; Art Sales at Chester County Art Association and DCCA
By Lele Galer, Columnist, The Times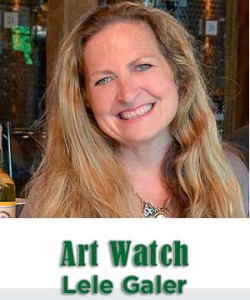 The Delaware Valley Collage Cooperative is having a Popup show this Thursday at Galer Estate Winery in Kennett Square from 4-8pm.  One of the original DVAL artists,  Linnie Greenberg, says it was "serendipity that brought a few women together in the winter of 2011" at a collage class on the Main Line. What started as a "pot luck gathering of art minded women" turned to an creative team of collage artists that show together and give back to their community. So, for a pleasant change on a Thursday night, come to the winery, located behind Longwood Gardens, sip some wine and enjoy some collage art from this inspiring group of women artists.
Speaking of Wine and Art, The Oxford Art Alliance's Gallery is currently showing its exhibit "Imagined Vineyards" which shows artists' designs for wine labels and exhibits still life paintings that incorporate those bottles – cool idea! You can still buy tickets to the Oxford Alliance's Harvest Dinner which is happening September 29th from 6:30-8:30; proceeds support the art and music education at the Alliance.
There are two shows now at the Chester County Art Association: Push-Pin which offers wonderful local art at a very affordable price (no frames – ergo the pushpin!), and the All Media show which has a number of interesting works on display in the CCAA' s main gallery.
For fun, one-of-a-kind artisan jewelry, Chester County Art Association has two display windows full of jewelry that is for sale. I particularly love Laura Lewis's incredible necklaces, but I own so many of them now that I have to really restrain myself. I did not restrain myself at the PushPin show -I bought 6 Angela Meanix watercolors because I couldn't resist the work and the great prices!
The Art Trust is currently showing "Finishing Touches"  which is a fun exhibit of clay works conceived by different artistic  points of view. "Thrown, pinched, coiled, or slab-built, all clay work has a personal flavor" writes the curator.  Check out these ceramic works by Heather Ossadon,  Katherine Radomsky, Emily Wilkins and Phillip Yannella before the exhibit leaves us on September 19th.  The Art Trust is located in the Meridian Bank Building in downtown West Chester.
At the Delaware Center for Contemporary Art (free to the public) they are  launching "2nd Wednesdays" from 5-7pm you can go to the new Art Lounge and checkout their changing gallery of affordable art "trunk shows". This Wednesday will feature paintings by Michael Kalmbach, ceramic works by Heather Ossandon, and canvas and leather bags by Bri Brant. From 6-7pm Chelsea Gifford, the art collector and Registrar for the Jack Shainman Gallery in New York City will give an informal talk about her experiences in collecting art. What a wonderful way to spend a Wednesday after work!
Lele Galer is an artist who has chaired numerous art shows, taught art history and studio art, public art and has chaired, written and taught the Art in Action Art Appreciation series for the UCFD schools for the past 12 years. She worked at the Metropolitan Museum of Art, and wrote for the Asociated Press in Rome.  She has been dedicated to Art History and art education for most of her adult life. Lele and her husband Brad own Galer Estate Winery in Kennett Square and she is on the Board of the Regional Center for Women in the Arts.