Will GOP turnout take a big hit? And 'Donationgate'…yawn
By Mike McGann, Editor, The Times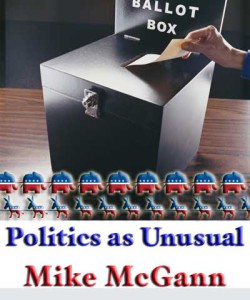 As Labor Day looms, we kick into high gear for the fall election, campaigns are gearing up with charges, counter charges — and in some races, what appears to be candidates distancing themselves from a certain Harrisburg office holder.
That office holder is, of course, Gov. Tom Corbett, who had the kind of week that didn't exactly warm the heart of his supporters. First off, the new Franklin & Marshall poll suggests Corbett trails Democratic challenger Tom Wolf by 25 points, 49-24. The F&M poll has a pretty good track record over the years (formerly known as The Keystone Poll) so one must take the numbers fairly seriously. I would be less likely to put stock in internal Corbett campaign polling showing the race to have closed to 7 points.
The F&M poll showed worse numbers than it had in June, suggesting that not only is the race not tightening, it could be getting worse for the governor, and by extension, Republicans in Chester County, who are worried about seeing lower GOP turnout than expected.
And while polling news wasn't good, Corbett may not have helped himself on the policy side this week, either.
The announcement late this week that the the state and federal government had reached a compromise to expand Medicaid under the Affordable Care Act probably won't help Corbett much with the state's moderates and liberals (who have pretty much locked on to Wolf), and because he might be seen as compromising on the hot-button issue of "Obamacare" could be another nail in the coffin with the state's conservatives — and adding to worries that a large segment of the state's most conservative voters might be so frustrated with Corbett, that they sit out the 2014 elections.
And while it probably won't impact the local congressional races — they don't appear to be all that close at this point — it seems clear some local legislators are sweating the impact of Corbett's unpopularity on their own races. With a number of state senate and house of representatives incumbents running in modified districts, many GOP candidates have less incumbency advantage than usual. Low turnout could turn usually easy races into nailbiters or even upsets.
We may have seen some sense of that when county Republicans gathered this week to demand that Wolf release his tax returns (more on that in a moment) — and not one Chester County Republican legislative member or candidate was on hand. The legislature was out of session, everyone was home — and not one was there. Scheduling issues? Maybe. Not wanting to be tied too closely to Corbett? You have to think it is at least some of the issue.
Privately, a number have expressed frustration with Corbett — and some have publicly opposed the governor on some of his initiatives. But that frustration could turn to real concern if the governor can't make the race close enough to turn out GOP voters — and maybe even flop-sweat fear, if it starts to look like a Wolf wave is blowing through Chester County.
On the tax return issue: while it's a bit of a distraction and a way for GOP party officials to show the flag and boost the morale of the party faithful, they kind of have a point.
Wolf does need to release his full tax records — despite the angry protestations of his campaign this week, he hasn't exactly been forthcoming about data, releasing it in very controlled, minimalist ways.
Aside from being proper for folks to know about his personal and professional finances before electing him to office, even to wait this long is poor political trade craft. They should have released the whole mess back in the spring, when Wolf was running away with the Democratic primary — given it time for people to absorb the information (especially if there's bad news) and move on. Now, the inevitable release will come with just weeks to go and could, in the short term, hurt Wolf and give Republicans a rallying point in an otherwise nearly hopeless race.
We saw this entire drama play out two years ago with presidential candidate Mitt Romney — one would think the Wolf Campaign would have seen how that played out and acted accordingly.
Elsewhere, Democratic Sixth District Congressional Candidate Manan Trivedi tried to make the argument that his Republican opponent Chester County Commissioner Ryan Costello took campaign contributions from people who either directly who through their companies did business with the county.
Was this a high-minded debate about the ongoing cancer of money in politics? Nope, that would have been interesting, thoughtful but amazingly lost on most voters whose eyes glaze over at the mention of the subject, sadly.
No, it was more like a carny barker pitch — "See the man with 'Four Arms' " kind of thing. When you plunk down your $5, you go in and see Maury, sitting in his armchair, watching the Phillies and displaying his "forearms."
Yawn.
I could, with a couple of hours research, make the exact same claims about any number of Republicans and Democrats — and I'm willing to bet that some of the same donors would appear on the lists of both candidates.
Some of the donations Trivedi hyperventilates about date back to 2009 — before Costello was a Commissioner. Many of the things that Costello voted for from donors were 3-0 votes — all three commissioners, including Democrat Kathi Cozzone, voted for.
Just for those of you keeping score at home, rest assured that President Barack Obama made decisions that profited companies who happened to employ donors to his campaign. So did President George W. Bush. And Gov. Corbett. And Gov. Ed Rendell. And basically, pick any elected official, with maybe a tiny handful of exceptions.
It's far from ideal — and again, speaks to the larger issue of money in politics— but to single out one candidate and act like it somehow is something unusual, when it's not regardless of party, is disingenuous.
Many, many of the donations were what we call "safety" donations. Folks who routinely do business with government, donate to both candidates, to make sure whoever wins isn't annoyed post-election.
Is that a deeply sad commentary on our current political state? Yes, but it represents the reality of the situation.
But suggesting that Costello is, in essence, accepting bribes? That's beyond the pale — Costello is no more compromised by campaign donations than anyone else running for office.
Unless you're doing poorly at fundraising, of course.