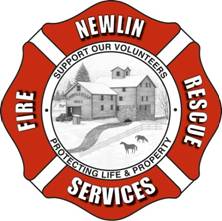 NEWLIN — "Count Me In!" is the message of this year's second annual Newlin Fire & EMS Committee's Party held in support of their Volunteer Fire Companies – Po-Mar-Lin, West Bradford and Modena.
The Party will be Saturday, Sept 13 (raindate 9/14) 5pm till dusk at the Natural Lands Trust's ChesLen Preserve, 1199 Cannery Rd.   Food will be provided by Unionville's famous Hood's BBQ and Megan Bittle will be DJ'ing, so wear your dancing shoes!  Wines and Beer will be available for a donation. 
There will be raffle drawings of several exciting items to entice each ticket buyer to generously remember that the community count on volunteer Fire Companies to be there for us and, in return, they can count on us to support them!
Tickets are $25 through any Committee Member, by the Unionville Post Office Fridays afternoons and Saturdays 11am-2pm, or Send checks to Newlin Fire & EMS, PO Box 447, Unionville, PA 19375 and pick up your tickets at the Party.  See you there!