Also, the Mavericks are back, Rivers Rockabilly Trio in Exton
By Denny Dyroff, Staff Writer, The Times
Jackie Evancho, one of the brightest young stars in the music industry, is coming to this area for a pair of shows. She will be at the American Music Theatre (2425 Lincoln Highway East, Lancaster, 717-397-7700, http://www.amtshows.com) on August 10 at 7 p.m. and then will have a concert on August 21 at Longwood Gardens.
When the tickets for the show at Longwood went on sale, they lasted about as long as an ice cube in a cup of hot coffee sitting in the sun on a sunny August day. Fortunately for area fans, tickets are still available for the show at the American Music Theatre. Tickets for the show in Lancaster are $85, $99 and $115.
If you heard Jackie Evancho's vocals without knowing what she looked like, you'd expect her to be a mature woman who looked the part of an opera diva. Then, when you saw a picture of her or a video of one of her performances, you'd be stunned.
Evancho, who sounds as if she could sing a lead role in a major opera or an adult lead in a Broadway musical, is a petite 14-year old singer from Pittsburgh. Her voice and ability seem way too mature for a small blue-eyed blonde with angelic looks but she delivers.
There is no doubt that Evancho is the real deal — the genuine article. Billboard magazine ranked her as the Number One Classical Albums Artist of 2011.  In November 2011, she became the youngest person ever to give a solo concert at Lincoln Center in New York City as part of her "Dream With Me Tour."
Evancho has released four studio albums and one EP since 2009. She has a new album ready to be released. Titled "Awakening," the album will drop on September 23.
"I recorded the new album at the beginning of the year," said Evancho, during a phone interview last week from her home in western Pennsylvania. "It was really fun. I recorded it at a local studio in Pittsburgh. It's just easier to record close to home and the people there seem like my second family.
"We took one week out of each month to record every month. I picked some of the songs. The song selection came from a combination of me, my mom and dad, my manager and my record label."
The album has a variety of styles under the umbrella of classical crossover — operatic songs, tunes from soundtracks, classical songs and pieces that came from Broadway hit musicals. The disc includes "Think of Me" from "Phantom of the Opera" and its first single is "The Rains of Castamere" from "Game of Thrones."
"'Think of Me' was a song I really wanted to do," said Evancho. "It would be fun to do a Broadway musical but it requires a different style of singing. I like my style — classical crossover."
Despite her young age, Evancho already is a top-selling recording artist, a veteran of live touring, a model ("Fall 2012 Guess Kids Campaign"), a spokesperson (the U.S. Humane Society's "Mission: Humane") and an actress in a movie ("The Company You Keep").
"Acting is fun," said Evancho. "It's similar to singing because you have to pull emotions from inside. But, singing will always by my main thing. It's what I love.
"I'm growing a lot more comfortable as a singer. Recording is easier. I've always felt comfortable on stage but I'm more comfortable now. Right now, I'm just doing a few concerts here and there. I'll start a big tour after the new album is released."
Evancho has starred in two PBS specials for the television series "Great Performances." She will tape her third PBS special at Longwood Gardens' Open Air Theater.
"I thought that Longwood Gardens was a beautiful place," said Evancho. "We were looking for locations to make the new PBS special and decided on Longwood Gardens. It's just a beautiful place to play."
The American Music Theatre will also present Third Day on August 8 and Human Nature with a Motown Show on August 12.
While Evancho can be considered as "something new," the Mavericks are definitely "something old."
The Mavericks formed back in 1989 in Miami (Florida), disbanded 15 years later and then got back together a few years ago. Fans and band members couldn't be happier that The Mavericks have come to life again.
Earlier this year, the Mavericks embarked on their "Twenty-five Live Tour" — a tour that touches down in this area on August 7 at the Sun Center (63 Concord Road, Aston, 610-492-7722,http://www.suncenterconcerts.com).
"Cuban music was always big in Miami," said drummer/founding member Paul Deakin, during a recent phone interview from his home in Nashville. "When we started as a band, South Beach was just being renovated — great architecture.
"A lot of small clubs became clubs for indie music. We did a lot of shows with Marilyn Manson there when we started. We were much more into country than we were in later years."
The Mavericks released their "What a Crying Shame" album in 1994 and it yielded four Top 40 country hits. The band reached a lofty height in 1995 when it was named "Top Vocal Group" at the Academy of Country Music Awards, "Vocal Group of the Year" at the Country Music Association Awards and "Best Country Performance By A Duo Or Group With Vocal" at the Grammy Awards.
"Then, we changed from country more into rock," said Deakin. "We always had this weird selfish tenet that if we please ourselves first, it will spread to the audiences. We barely snuck in the back door of country radio in the 90s but not so much anymore. We're a non-genre-specific band.
"When we disbanded in 2004, the primary reason was burnout and fatigue. We had been doing it so long and so hard. We said that we would call it quits when it stopped being fun and it had stopped being fun."
In 2011, the Mavericks came back to life.
"We got a phone call from a promoter offering us a ridiculous amount of money to do a reunion tour," said Deakin. "So we did. Then, we decided to make a record. We went directly into the studio and we got nine songs in three days.
"I think it did surprise me that it all went so well. But, it reminded me of what this band is all about. Now, we just finished a new record that we recorded at Blackbird Studio in Nashville."
Tickets for the Mavericks' concert, which gets underway at 7:30 p.m., are $39.50 and $59.50.
In addition to the Mavericks' show, the Sun Center will have the Mavericks on August 7 (7:30,), Get the Led Out on August 8, Buddy Guy on August 11 and the Indigo Girls on August 12. The first-year venue's season finale on August 13 will feature the Beach Boys.
The Mavericks are just one of thousands of bands that have rockabilly music in their DNA. The Chester County-based Rivers Rockabilly Trio has a genetic code that is dominated by rockabilly music.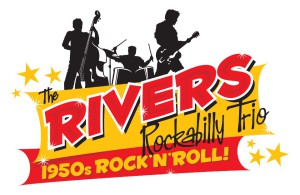 On August 12 at 7 p.m., the Eagleview Summer Concerts on the Square (Wellington Square, Exton, www.ineagleview.com) will host the Rivers Rockabilly Trio and Jordie Lane in a free outdoor concert.
"The real rockabilly music is there and we try to faithfully represent the music," said Rivers Rockabilly Trio founder/guitarist/vocalist Stu Frederick during a recent phone interview.
"The people we try to reach are the ones who grew up with this music. We also do a lot of events for younger people. We do a lot of weddings and this music is very popular at weddings."
The artists most covered by the Rivers Rockabilly Trio are Buddy Holly, the Everly Brothers, Eddie Cochran, Carl Perkins, Chuck Berry and Elvis.
"It's an unexpected niche that we fell into," said Frederick, who lives in Glenmoore. "I think there is a real appreciation for that decade. There is a real lure about it.
"Rockabilly really grew after (the Stray Cats') Brian Setzer came out and gave it a shock. Prior to that, rockabilly was huge in Europe but couldn't do anything over here.
"For me, playing this music is like falling off a log. People listen to it and it makes them happy. I got the idea to start a rockabilly band when I was a singer-songwriter bar musician. I noticed that every time I threw in an Everly Brothers song, people really perked up.
"I started studying this music in 2005 and found a mentor in a rockabilly expert from Denmark named Vince Gordon. I really researched it. Then, I had to do a lot of guitar practice. My style had to be tweaked."
A short while later, Frederick teamed up with a drummer and an upright bass players and the Rivers Rockabilly Trio was born.
The Flash (102 Sycamore Alley, Kennett Square, 484-732-8295, www.kennettflash.org) will present veteran guitarist/vocalist Jeffrey Gaines along with Colin McGetrick on August 8 and Live at the Fillmore (an Allman Brothers tribute band) on August 9.
Shows on the Downstairs Stage at the World Café Live at the Queen (500 North Market Street, Wilmington, 302- 994-1400, www.queen.worldcafelive.com)  include Susgud Presents Tomb of Car'Tunes on August 9 and King's X presented by Bob Rose on August 12.
The Upstairs Stage at the Queen will have Jake Lewis and the Clergy and The wayfarer Experiment on August 7, Adrian Dickey, Charlie Bell, Lydia Rene, Tommy McIntyre, Paul St. John and Adam Beck on August 8, Kyle Swartzwelder, Michael Braunfeld and Adam Burrows on August 9 and the Unsung Hearos on August 13.
On August 8, the Ardmore Music Hall (23 East Lancaster Avenue, Ardmore, 610-649-8389, www.ardmoremusic.com) will host the legendary rock band New Riders of the Purple Sage along with the Wallace Brothers Band. Splintered Sunlight, a Grateful Dead tribute band, will play the venue on August 9.
Also on August 9, the Bryn Mawr Twilight Concerts series (9 South Bryn Mawr Avenue, Bryn Mawr, 610-864-4303, www.brynmawrtwilightconcerts.com), will close out its season with Richard Shindell as the headliner and Jonathan Doh as the opening act.
"Always…Patsy Cline," which is based on the story of Patsy Cline, is running now through August 24 (Fridays and Saturdays, food service starts at 6 p.m.; Sundays, food service starts at 1 p.m.) at the Candlelight Theater (2208 Millers Road, Arden, Delaware, 302- 475-2313, www.nctstage.org).
Tickets, which include a tasty buffet dinner, are $59 for adults and $33 for children (ages 4-12).
"Book of Mormon" opened this week and is running through September 14 at the Forrest Theatre (1114 Walnut Street, Philadelphia 866-276-2947,www.kimmelcenter.org/broadway) as part of the Kimmel Center's "Broadway Philadelphia" series. Ticket prices ranges from $67-$277.
Chaplin's (66 North Main Street, Spring City, 610-792-4110, http://chaplinslive.com) will feature a Bluegrass Jam on August 7, The Mob on August 8 and a triple-header with The One2s, Black Rue and Risen Resilient on August 9.
The Sellersville Theatre (24 West Temple Avenue, Sellersville, 215-257-5808, www.st94.com) will host Kinky Friedman's Victory Tour on August 7, the Steel Drivers on August 9 and Tinsley Ellis on August 10.