The Barn and Denton Hollow need cooler heads to prevail on all sides
By Mike McGann, Editor, The Times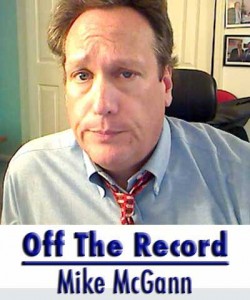 POCOPSON — Let's face it, it's kind of a lousy week to be supervisor here in the township.
Facing not one, but two issues, where pretty much no matter what the Board of Supervisors do, they're going to make people angry, it makes me kind of glad I have such a lousy record when it comes to elections (including two losses for supervisor. Whew.).
First, we have a lot of people frustrated by the Barn at Spring Brook and its potential closing and the loss of a program that clearly helps a lot of handicapped kids in need. Unfortunately, the barn is located in the middle of a residential neighborhood, which means it is not a permitted use under township zoning and a neighbor complained about it.
Ultimately, the Barn's organization sought and got a conditional use hearing last December, and approval with 33 conditions — with the conditions to be met by May 30. Unfortunately, no work even started by the end of April, prompting for a request of an extension until Sept. 1.
You could ask both sides a lot of questions about this: why did nothing happen on the Barn for months when there was a clear deadline? Why so many — and some cases questionable — conditions for use, some of which seem to defeat the whole purpose of the facility?
From here — and I know most of the folks involved being a 15-year resident of the township — it seems like neither side was thinking "how can we make this work and meet the needs of the township and the neighbors without ruining the program and its obvious benefit for the kids?"
Although some were quick to vilify the Board of Supervisors, let's keep in mind that the Barn operated in variance with township rules for eight years and the supervisors would have been within their rights to just say no and shut down the Barn. But they didn't. Again, you can argue that some of the conditions seem a bit like head scratchers — but I will assume there was some reasoning behind them.
The fact that no work was done until May with a May 30 deadline looming is equally puzzling — and yes, the winter was rough, but having just completed a building project in another municipality, I can tell you steady and constant progress continued throughout the winter and spring, so I don't entirely buy that as an excuse.
In the end, I have a sense that both sides played a role in this mess.
So how to go forward? Cooler heads need to prevail here. Is there wiggle room to negotiate a settlement that meets the needs of the township and the neighbors and keeps the program running? Yes, I think so. I would hope that both sides set aside the rhetoric and petition drives and actually work for a solution.
Now on to Denton Hollow Road (figuratively, of course, as the road doesn't need more traffic).
As someone who technically could use the shortcut through Denton Hollow — I live in Brandywine Hills and now it takes twice as long to get to Unionville — I've made sure I stayed away from the road (and Riverside, too) because I know how unhappy I'd be if there were large amounts of traffic redirected through my neighborhood.
That having been said, the roadway is a public road and as such, there are rules for closure, converting it to a one-way and such, so there are limited good options for supervisors.
Limited, but not none, of course.
My suggestion is two-fold: first, purchase and install temporary, rubber traffic humps. They do two things: they discourage certain kinds of traffic because they're annoying and they slow down traffic, especially when more than one is deployed. Better yet, they can be removed when Rt. 52 is reopened and reused when the Rt. 926 bridge is closed — and they can be removed for snow plowing.
If the neighbors can live with a little extra noise, it will slow and reduce traffic.
The second part would be to ask township residents — my neighbors in Brandywine Hills and the other neighborhoods along Route 52 — to show courtesy to their neighbors and not use Denton Hollow. Obviously, folks have the legal right to use it, but again, if they were to think for a second how they'd feel if traffic in front of their homes increased by a factor of 13, maybe they'd realize that saving that extra 10 minutes might not be worth it.
This won't eliminate all of the traffic — some of it is misrouted traffic along Route 52 trying to get to the prison or the Pocopson Home or points south — but it should help some.
Between the roundabout — which is slightly less popular right now than poison ivy — and the bridge replacement, this is going to be an issue for the next couple of years. If we can find a solution that maybe not everyone is delighted with, but can live with, we can move onto more important issues.
Like getting a traffic light at Pocopson Road and Route 52 before someone gets killed.
Seriously.
Let's solve this, so we can start pressuring PennDOT (and various local state legislators and the governor) to get this moving, and moving right away.