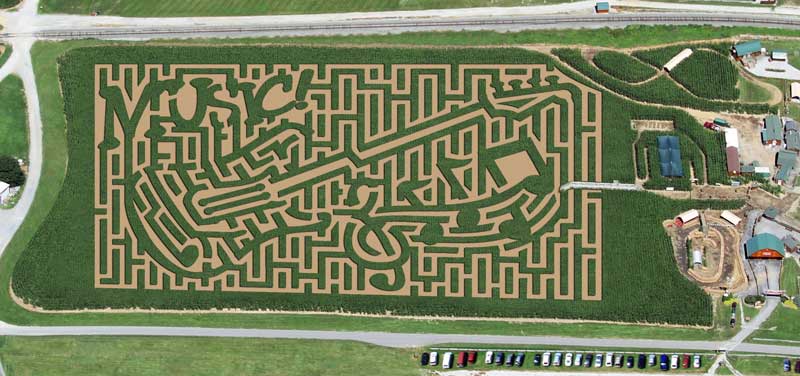 LANCASTER — Cherry Crest Adventure Farm, located in the heart of Pennsylvania Dutch Country, launches its Summer Season Friday, July 4th, with the grand opening of its 19th Annual Amazing Maize Maze®.  Summer hours are 10am-5pm Tuesday-Friday and 10am-7pm on Saturday.
Renowned as one of America's finest examples of agri-tainment, Cherry Crest annually attracts around 100,000 visitors from countries worldwide. The 15-acre Adventure Farm features over 50 family fun activities, games and rides  – from a Lil' Farmers Playland and Farm Experience Center with its own Goat Mountain, to a lively Singing Chicken Show, Obstacle Course and Bucking Broncos. The Discovery Barn – home to the popular baby chicks hatchery and other interactive displays – sports an Outdoor Barn Stage for daily demonstrations on butter making, interactive story-telling and a Saturday Meet the Cow program.
A Farm Tour Wagon Ride takes visitors through Cherry Crest's 300-acre cattle, poultry and farming operations that have received numerous conservation awards for their reliance on green management and solar energy.   Interactive displays cover subjects from the importance of bees to how to milk a cow, to watching a baby chick peck its way out of an egg. "It gives us gerat joy to share our somewhat corny vision of life on the farm," said Marketing Manager Brian Groff. "Our mission is all about family fun and creating memories that last a lifetime."
Of course the corn maze, billed as the world's largest interactive game, remains the star attraction. This year maze trekkers will travel in, around and through a humongous 5-acre guitar deigned to reflect a "Music Through the Ages" theme. There are three levels of play – Easy, Intermediate or Advanced for die-hard players who seek the Kernels of Knowledge and 15 hidden puzzle pieces that complete a map. There are plenty of tricky turns and fun diversions to test your music skills.
There are eight different food corrals, food wagons and cafes to catch a snack, lunch or dinner. Cherry Crest is famous for its fresh-picked roasted sweet corn, homemade cider donuts, fresh-squeezed lemonade and kettle corn. The menu also includes Angus burgers, hot dogs,  chicken and pork, fries, salads and wraps. And don't miss the School House Sweet Shop, home to Lancaster's Best Fudge in over 30 flavors. All food is made on premise from fresh ingredients.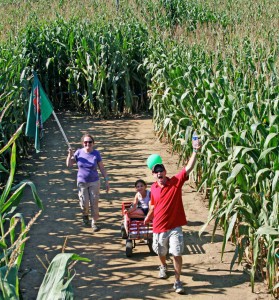 Cherry Crest Adventure Farm is located at 150 Cherry Hill Road, Ronks (Lancaster County) PA 17572. Call toll free (866) 546-1799 or visit CherryCrestAdventureFarm.com. Last entrance to the maze is 90 minutes prior to closing. A $15 Summer Day Pass includes 50+ Farm Fun activities and the maze. Free parking is available on premise.
A Summer Bounce Back Special, $20 each, offers unlimited admission  through Sept. 20 (including the first Amazing Maize Maze). An All Seasons Pass, $50 each, and Family of Four Membership at $175, offers unlimited admission opening day through closing day Nov. 8 and includes all Flashlight Mazes. Children age 2 and under always admitted free.