By Denny Dyroff, Entertainment Editor, The Times
When spring arrives, gardens begin coming back to life.
First, a crocus emerges with its burst of purple color. Then, over a period of weeks, more flowers join the annual resurrection of garden blooms.
Before you know it, what was previously a bleak and barren space has transformed into a home for floral activity.
In many ways, that has been what is happening with regard to the restrictions caused by COVID-19.
Little-by-little, tourist attractions, local museums, garden sites and other entertainment venues have come back to life and have become open to the public.
In normal times, nearby Lancaster County is a great place to visit either for a day visit or a weekend stay. It is a Mecca for tourists who are looking for an experience that is neither too urban nor too rustic.
Fortunately, Lancaster County has been released from some of the state-imposed COVID-19 restrictions. Not everything is up and running again but there are still plenty of attractive destinations worth investigating.
Video link for Lancaster County tourism — https://youtu.be/XlDk7GHwNXU.
Here is an overview of sites ready to welcome back visitors.
Kreider Farms Farm Tour (1463 Lancaster Road, Manheim, www.kreiderfarms.com)
Experience the sights, sounds and smells of a real, working dairy farm on the Kreider Farms farm tour!
On our 90-minute tour you will see our Cow Pantry, Perfume Factory and Moo Lagoon and take a drive through out Moo-ternity Barn and Calfing Corner! Then grab a chocolate milk and get an aerial viewing of our milking 'Cow' rousel.
After the tour, climb our 100-foot silo observation tower for a birds-eye-view of the farm and spectacular views of Lancaster County farmland!
Unlike other dairy companies, Kreider Farms milk is truly local to Lancaster County because our milk comes only from our cows, all located within a half-mile of our milk plant, and it's bottled in 24 hours or less!
Please call ahead to reserve your tour. Tours offered daily from 9:30 a.m.-1:30 p.m. by reservation only.
Old Windmill Farm (262 Paradise Lane, Ronks, https://www.oldwindmillfarm.com/)
The authentic working Amish dairy farm's Farm Tour includes:
– Guided one hour tours of the working farm
– Petting farm
– Bottle feed a calf
– Horse shoes for sale
– Fresh flowers (in season)
– Milk a cow
– Gather eggs
– Feed pygmy goats
The 90-Minute Farm & Garden Tour includes everything in the Farm Tour plus a tour of the garden. We also offer hayrides around the farm.
Lancaster Science Factory (454 New Holland Ave, Lancaster, https://www.lancastersciencefactory.org/)
Experience the interactive, hands-on learning environment of the Lancaster Science Factory. Through exhibits, work stations and mini-labs, children can experiment and create as they learn the principles of science and the application of science in engineering and technology.
In this exciting learning environment, children of all ages will develop curiosity about how things work, will be challenged to think creatively and will build self-confidence as they discover that Science is Fun.
Tiny Town (533 Janet Avenue, Lancaster, https://www.tinytownpa.com/)
Tiny Town is Lancaster's newest indoor play place for children – a hands-on, interactive, play-based center. Kids can explore nine luxury playhouses with all the accessories. We provide a rich environment that stimulates children's curiosity and creativity through play.
Tiny Town is full of opportunities for kids to role play and practice cooperation, sharing, fine motor skills, imagination, and so much more. Check out an x-ray in our hospital, deliver mail to every playhouse, slide down our firefighter pole, read a new book in our library, get a new updo in our salon, and so much more. Recommended ages 7 and under.
Not only for kids, our town is built with the caregivers in mind — with a coffee bar, snacks, contained baby play area, cafe seating, and free WIFI. Moms and dads can relax all while their children are playing within view.
Tickets should be purchased in advanced through our online store. Walk-ins are strongly discouraged. All customers must re-sign our new waiver prior to visiting. If you've signed a waiver in the past, please just log in and update your waiver.
COVID-19 message on its website –
We at Tiny Town believe the safety of children and families is of the utmost importance and we have taken many measures to help provide a safe environment for our customers. Take a look at our new processes below.
Limiting Admission
All customers must pre-pay for admission tickets at this time. We will limit the time people are together to 3 hour sessions. Walk-ins will be strongly discouraged. We will limit capacity to less than 50% of our code capacity.
Mask Wearing
We require anyone ages 3 and older to wear a mask into our building. Individuals with legitimate health concerns are exempt.
Social Distancing
We have placed reminders throughout our building for adults to social distance while their children are playing.
Hand Washing
All guests will be asked to wash hands upon arrival. We have purchased additional hand sinks for guests to wash hands throughout their time playing.
Cleaning
We are dedicated and committed to cleaning our play area every single day and throughout the day. We use safe hospital grade disinfectants throughout our building.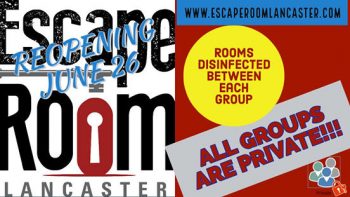 Escape Room Lancaster (18 East McGovern Avenue, Station Square Center, Lancaster, https://escaperoomlancaster.com/)
Escape Room Lancaster is a unique interactive, entertainment experience that appeals to a wide range of demographics including co-worker interested in team buildings, couples looking for an interesting date night, bachelor parties, or a group of friends who want a challenge and laugh.
Escape Room Lancaster will give participants the opportunity to select from three customized rooms, each with a unique goal to be solved within one hour. As the suspense and adrenaline builds, you will work as a team using your wits, intuition, logic, and communication with team members to solve puzzles and connect clues before the time runs out.
COVID-19 message on its website —
We are reopening on Friday June 26!
We will have a modified schedule to allow time to clean and disinfect between groups. All groups are private! Reservations are required. Please book through the website: www.escaperoomlancaster.com.
Amish Farm and House (2395 Covered Bridge Drive, Lancaster, https://www.amishfarmandhouse.com/)
HOUSE TOUR:
Experience Lancaster's Living Heritage at America's first Amish attraction! Come explore where today touches history at the Amish Farm and House and learn about the unique culture of Lancaster County's Old Order Amish. Our historic 1805 farmhouse, which was last occupied by real Amish family, is furnished like a modern Amish home. Your highly knowledgeable guide will explain the history, customs, clothing, and culture as you visit the various rooms of the home. You will learn the "whys" behind many of the traditions on this tour.
FARM TOUR:
Afterwards, wander the 15-acre farm that was part of a 1715 land grant from Pennsylvania's founder, William Penn. Follow the walking paths as you see a wide variety of farm animals—sheep, cows, chickens, goats, donkeys, alpacas, and more! Step into one of our historic barns and check out the farm displays. Visit the blacksmith shop and talk with our resident blacksmith. Children of all ages will love "Scooter Run"—a place where they can try their hand (or foot!) at a real Amish scooter. There's something for everyone on this fun-filled farm!
WILLOW LANE ONE-ROOM SCHOOL:
Built in 2006 for us by a local Amish crew, this is Lancaster County's only Amish schoolhouse designed, built, and furnished with you—our guest—in mind. Step inside and you'll experience what school is like for Amish children. Rose, a former Amish teacher herself, can sometimes be found inside the school. She'll be happy to sit and chat for a while and answer your questions.
We also have Amish artisans and craftsmen on our farm. Rachel Esh is our resident quilter. She handcrafts Amish dolls and souvenirs. Rachel greats each guest that visits her shop and even demonstrates how she creates her handmade items. Elam Stoltzfus, our farrier, is on the farm from time to time. He enjoys demonstrating how to make a horseshoe and answering questions.
DELUXE DINNER TOUR AND CHICKEN BBQ STAND:
We have two authentic meal options for the hungry traveler!
The Dinner tour combines the best of both worlds, a countryside bus tour and authentic PA Dutch food. After a 90-minute guided tour through beautiful Amish countryside, the final stop will be at an Amish restaurant. With classic meals like homemade meatloaf and chicken pot pie, dinner is the perfect capstone to your tour.
Our second option, the Amish Chicken BBQ Barn, is a new addition to our farm. David King and his family offer a wide variety of lunch and dinner options. You can choose from grilled chicken, ribs, and sandwiches. Dinners include PA Dutch classics like sauerkraut and whoopie pies. Enjoy a quick snack or meal, ready to eat picnic style on our farm.
COVID-19 message on its website –
We are excited to safely open our farm and tours! We are open 7 days a week, 9:00 a.m.- 6:00 p.m.
For your safety, we are reducing the number of people per tour. All of our tours include access to our 15-acre farm where it's easy to social distance! If you are not interested in a guided tour, we offer Farm Only Tickets.
Please read the following guidelines before visiting. We look forward to sharing Amish Country with you!
What We Need You To Do:
Wear A Mask — We are requiring all guests over the age of two to wear a mask during their visit.
Keep A Safe Distance — While on tour and on the property, we ask that you please keep a safe distance of 6 feet from anyone not in your direct party.
One person per group in the lobby to purchase tickets or to check-in. All other group members should wait outside.
Wash Your Hands Often — There is a handwashing station set up outside on our farm as well as bathrooms located on the front and back porch. We recommend bringing hand sanitizer to use after petting the animals on the farm.
Stay Home If You Are Sick — If you or anyone in your household is experiencing symptoms of COVID-19, please stay home.
Purchase Pre-Paid Tickets — To help facilitate social distancing and reduce your time in the lobby, we suggest purchasing tour tickets before arrival. The Classic Bus Tour and Premium Package are available for purchase online. The Guided Farmhouse tour and Farm Only tickets must be purchased on site.
The Amish Experience at Plain & Fancy Farm (3121 Old Philadelphia Pike, Bird-in-Hand, https://amishexperience.com/)
The Amish Experience provides a variety of guided tours (including a "Contactless Tour") in Lancaster County Pennsylvania.  Located on Route 340 at Plain & Fancy Farm, completely surrounded by Amish farmland, this is where you come to learn about the Amish and their way of life.
The Amish Experience at Plain & Fancy Farm is a complete cultural interpretive center for visitors wanting to learn about and interact with the Amish community. The Amish Experience is open every day.
In the Amish Experience Theater, "Jacob's Choice" focuses on the Amish today through the eyes of the Fisher family, with historical scenes re-created with multiple screens, special effects, and ghostly images of historical figures.
Also on-site is the Amish Country Homestead & One-Room School, the only designated Lancaster County "Heritage Site" Amish house tour. Guides explain the Amish way of life, one-room education, life without electricity, and Plain dress.
For over 60 years, the Amish Experience has also provided the area's original Amish Farmlands Tour, a guided shuttle bus tour that explores Amish culture up close at work and play.
The Amish Village (199 Hartman Bridge Rd, Ronks, https://www.amishvillage.com/)
Take a guided tour of an authentic 1840's Amish farmhouse and learn about today's Amish lifestyle. Then, after your farmhouse tour, explore our 12-acre village grounds, mingle with our Amish staff and say "hi" to Mr. Ed the horse. Even have your picture taken on a real Amish buggy.
Have fun while learning something new with the area's only authentic Amish lessons, taught in our one-room schoolhouse. During the summer, an actual Amish schoolteacher will share her wisdom along with a real Amish lesson.
Amish Village Backroads Bus Tours
Your driver will narrate as you gaze out the windows, giving you a behind-the-scenes look at Amish life – history, customs, beliefs and traditions. Each bus tour includes at least at one stop at unique locations such as an Amish home, quilt shop, pretzel bakery or bake shop.
COVID-19 message on its website –
Welcome Back, We Are Now Open.
We are excited to welcome you back to The Amish Village for an authentic Amish experience. For the safety of our guests and our employees, we are adhering to the Centers for Disease Control (CDC) guidelines. Our safety procedures include the following:
Masks are to be worn during your visit
Reduced farmhouse tour sizes
Limited seating on the Backroads Bus Tour
Increased custom and private tour options
Increased cleaning throughout the 12-acre property
Portable hand sanitizers and handwashing stations throughout the property
We look forward to your visit!
AAA Buggy Rides (3529 Old Philadelphia Pike, Intercourse, https://aaabuggyrides.com/).
AAA stands for "All About Amish!" Visiotrs can choose from three different buggy rides:
– The Ultimate Four-Mile Country Buggy Ride — Enjoy a relaxing tour in the country through a real Amish farm where you will be able to witness the unique Amish lifestyle on real working farms.
– The Five-Mile Covered Bridge Ride — Take full advantage of your time spent in Lancaster County by experiencing a ride through a real covered bridge on back country roads.
– Our Original Ride Around Town — Take a ride through the historic town of Intercourse.
COVID-19 message on its website –
AAA Buggy Rides Is Open! We are fully open! As of Friday, June 26, Lancaster County has moved to the green re-opening phase for Pennsylvania. We are now open Monday-Saturday from 9 a.m.-5 p.m.
Aaron & Jessica's Buggy Rides (3121 Old Philadelphia Pike, Bird in Hand, https://www.amishbuggyrides.com/)
Aaron & Jessica's Buggy Rides is owned by Plain people (Amish, Brethren and Mennonites.) Jessica's little sister Miriam takes you along private Amish roads. We travel through non-commercial, working Amish farms. You can visit with us right inside the house and barn. No cars. Experience real Amish life. Ride through our covered bridge. All Amish area. When you ride with us, you'll pass farms that are only farmed with horses. Enjoy our four-mile regular ride, or longer tours available. Seven routes and twenty options available.
COVID-19 message on its website —
YES!  We are Open and look forward to taking you and your family on a Private Ride with Your Safety as Our Priority.
Ghost Tours (www.ghosttour.com) offers tours with haunted themes in Lancaster, Strasburg and Philadelphia.
Ghost Tours of Lancaster (5 W. King Street, Lancaster, https://www.ghosttour.com/lancaster.html)
Push aside the cobwebs of the old Pennsylvania Dutch Country on a candlelight walking tour of downtown Lancaster. The Ghost Tour of Lancaster features 300 years of haunted history from the Red Rose City's thorny past, along with long-forgotten mysteries and haunting tales of eternal vigils, fatal curses and star-crossed lovers.
The Ghost Tour departs at 8 p.m. at 5 West King Street, Lancaster.
Ghost Tour of Strasburg (https://www.ghosttour.com/strasburg.html)
Hidden deep in Pennsylvania Dutch folklore lurk stories seldom told and then only in whispers. Join us for a candlelight walking tour of the quaint and historic town of Strasburg in the heart of PA Dutch Country, and experience an entertaining evening with a costumed tour guide spinning tales of haunted mansions, eerie graveyards, and spirits that roam the night … in a town lost in time.
Ghost Tour of Philadelphia (https://www.ghosttour.com/philadelphia.html)
Discover the secrets hidden in the shadows of America's most historic and most haunted city! Join the Ghost Tour of Philadelphia for a candlelight walking tour along the back streets and secret gardens of Independence National Park, Old City, and Society Hill, where ghostly spirits, haunted houses, and eerie graveyards lurk in the night. Named one of the top 15 "must see" attractions in the US.
Indian Echo Caverns & Echo Dell (368 Middletown Road, Hummelstown, http://indianechocaverns.com/)
A 45-minute guided tour of Indian Echo Caverns reveals stunning natural underground beauty. (A non-walking tour is also available.) Also, be sure to visit Gem Mill Junction to pan for gemstones and on the way out stop at the spacious Gift Shop which offers an array of fine items and local souvenirs.
Like many caverns in the Mid-Atlantic states, Indian Echo Caverns is a limestone cave. Cut through Beekmantown limestone, which is over 440 million years old, they were formed through the erosive properties of water. As time progressed, geological forces led to an "uplift" of the surrounding limestone, eventually allowing more and more water to flow through the formation. As the water flowed over the limestone, it began to create small crevices, these small crevices led to larger ones, and eventually, over a series of millions of years, it created the caverns as they are today.
The temperature inside the caverns is 52° year around.
Strasburg Rail Road (301 Gap Rd, Ronks, www.strasburgrailroad.com)
Take a ride on America's oldest operating railroad at Strasburg Rail Road. During the relaxing 45-minute train ride, you can soak in the scenery as you travel through Lancaster County's picturesque farmland. The authentic steam trains offer seating in our Presidential, First-Class, Coach, and Open-Air Cars. No matter how you choose to take your journey, it will be an experience to remember.
When you arrive back at the station, you can expect a genuine steam train railroad atmosphere. Along with the charming setting, Strasburg Rail Road offers plenty of unique extras such as pump cars, a shop tour, and plenty of fun extras for the little passengers, like our Pint-Sized Pufferbelly and Cranky Cars.
COVID-19 message on its website —
The Strasburg Rail Road is committed to taking any and all necessary steps to maintain the health and safety of both our Guests and Team Members.
We're doing our part to keep you safe, but we can't do it alone. The success of our Reopen Plan requires the cooperation of all our Guests. Guests of The Strasburg Rail Road are invitees to private property and, as such, are required to follow all of our policies.
Furthermore, in accordance with our current policies, our Guests help us ensure the health and safety of all by agreeing to the following:
Guests who have been exposed to COVID-19 recently or have symptoms of COVID-19 (including a fever, cough, or shortness of breath) will not visit, and
Guests who have underlying health conditions or are otherwise concerned about contracting COVID-19 acknowledge their option to not visit the Strasburg Rail Road.
Access to the Strasburg Rail Road requires pre-purchased tickets or advance reservations. Tickets and pass reservations are only available through StrasburgRailRoad.com or by calling 866-725-9666. Entry without a ticket or reservation is not permitted.
Contactless Guest check-in will be conducted by Team Members at our main parking lot entrance. Guests will not check-in at the East Strasburg Station building.
All Guests will undergo a temperature check before crossing from the parking lot into the Station and mall area. (Likewise, Team Members will undergo a temperature check and Health Assessment before the start of their shifts.) Any Guest or Team Member with a temperature of 100.4 degrees Fahrenheit or greater will be denied entry.
Face masks are required for all Guests over the age of two (2) years old, as well as all Team Members. Guests unwilling or unable to wear a face mask must refrain from visiting until the face mask requirement is lifted.
Time between train departures is extended from the traditional 60 minutes to 90 minutes to allow time to thoroughly sanitize the train and to limit Guest density throughout our mall and retail spaces.
Train capacity is reduced by limiting railcar capacity to no more than 50% of the available seats. Guests will be encouraged to social distance while onboard.
Our picnic groves, playground, and our Fun Extras (Cranky Cars, Pint-sized Pufferbelly, and Pump Car) amusement rides are closed.
Hand sanitizing stations are located throughout the property and on select railcars. Our public restrooms remain available for handwashing.
Retail transactions must be cashless. Additionally, shields are installed at retail registers to protect both Guests and Team Members.
Frequent and enhanced cleaning and sanitization is occurring throughout our property and railcars, with particular focus on high-touch areas.
Signage throughout the property encourages social distancing, use of face masks, and good hand hygiene.
COVID-19 presents all of us with challenges we never could have imagined, but the Team at the Strasburg Rail Road is excited to safely welcome our Guests aboard! We are committed to the health and safety of our Guests and Team Members, and with your help, Strasburg Rail Road's authentic steam railroading experience will continue to provide joy, hope, and inspiration for many generations to come.
Choo Choo Barn – Traintown U.S.A. (226 Gap Rd, Route 741 East, Strasburg, https://www.choochoobarn.com/)
Experience one of America's largest, most engaging custom model train displays. Choo Choo Barn features more than 1,700 square feet of special model train displays with more than 150 hand-built animated figures & vehicles, and 22 operating trains.
The layout represents many Lancaster sights and sounds, such as an authentic Amish barn raising, Dutch Wonderland and the Strasburg Rail Road. From the baseball game to the circus, from the zoo to the operating quarry, we guarantee you've never seen anything like the Choo Choo Barn.
COVID-19 message on its website —
We are happy to announce that the Choo Choo Barn layout will be reopening on Friday, June 26 at 10am! In order to comply with CDC guidelines and state mandates, as well as for the protection of our customers and employees, we are operating under the following policies:
If you are not feeling well or have been exposed to someone with COVID-19 within the past two weeks, refrain from visiting at this time.
Everyone over the age of 2 who enters the building (including employees, customers and necessary outside contractors) are required to wear a mask at all times. The mask must cover both the nose and mouth. This rule is without exception.
Please maintain a 6 foot distance between parties while in line and inside the layout.
Please refrain from touching the plexiglass and any merchandise that you do not intend to purchase. Your cooperation with this will greatly decrease the risk of spreading germs.
At this time, stools will not be available for children under 3 feet tall. Outside stools are not permitted.
Parties must stay together. Parents must keep children with them at all times in the gift shop and the layout.
During peak periods, we may need to limit the number of families inside the layout. This may require you to wait outside until enough space clears. Our sidewalk is covered in the event of rain. Keep in mind that rainy days are our busiest!
During peak periods, we may limit the number of trips around the layout to one. You are always welcome to return by 4pm the same day if there is no line.
We are accepting cash and credit cards (preferred). Debit transactions and credit cards with chip are touchless.We will need your full cooperation to ensure that we can REMAIN OPEN. Should any of our employees become sick, we would be forced to close again, something that we simply cannot afford to do. We have a very small staff and our employees are our family. Our top priority is to protect their health and their jobs. Everyone entering the layout agrees to follow the rules and practice patience.
Wolf Sanctuary of PA (465 Speedwell Forge Rd, Lititz, https://wolfsanctuarypa.org/)
In the heart of Pennsylvania Dutch country, quietly secured on 80 plus acres of natural woodland, you will find the home of the Wolves of Speedwell.
For nearly 40 years, the Darlington Family has offered refuge to gray wolves and wolf-dogs. Originally created as a private rescue, Wolf Sanctuary of PA has grown into an educational facility. We are devoted to assuring the highest quality of care and enrichment for our wolves. Here at Wolf Sanctuary of PA, wolves and wolf-dogs are given back their dignity.
COVID-19 message on its website –
As our region slowly begins to reopen, we have begun to offer tours by reservation only. We are still unable to offer weekend public tours at this time. We will continue to provide updates via our website and social media. As a 501c3 nonprofit, our tours program has served to be the major funding source that enabled us to continue in our important mission. We have experienced a severe decrease in tour income since the onset of the pandemic. With limited income from our tours, we ask that you consider making a donation to help the wolves through this difficult time.
Cherry Crest Adventure Farm (150 Cherry Hill Rd, Ronks, https://www.cherrycrestfarm.com/)
Join over a million adventurers who have discovered one of Lancaster's true attraction gems. Over 50 farm fun activities for the whole family included in your admission!
We also offer hearty lunch and dinner menus of Angus burgers, hot dogs, grilled chicken, fries, salads and wraps, pizza and much more! Don't miss our fresh made cider donuts and farm fresh roasted sweet corn.
Admission includes: the Amazing Maize Maze, Farm Tour Wagon Ride, Wagon Express Ride, Hay Jump, Strawbale Racer, 2 Jumping pillows, Giant Hay Chute Slide, Giant Slinger, Lil' Farmers Playland, Singing Chicken Show, Pedal Kart Tracks, Logic Mazes, Goat Mountain, Farm Animal Center and more.
COVID-19 message on its website —
Due to Cherry Crest being an outdoor facility and the hot and humid weather we sometimes experience, masks are optional but encouraged when in a building or within six feet of others not in your party.
​By working together, we can help each other stay healthy while enjoying precious time with our families and friends again.
​According to the Center for Disease Control and Prevention an inherent risk of exposure to COVID-19 exists in any public place where people are present. COVID-19 is an extremely contagious disease that can lead to severe illness and death. Senior citizens and guests with underlying medical conditions are especially vulnerable.  By visiting Cherry Crest Adventure Farm, you voluntarily assume all risks related to exposure to COVID-19.
Ziplines and Outdoor Adventure at Refreshing Mountain (455 Camp Rd, Stevens, https://refreshingmountain.com/)
Refreshing Mountain is a year-round retreat and adventure center providing family-friendly outdoor activities and overnight getaways in Lancaster. There are options for kids and adults with all skill and thrill levels for something fun to do outside in Lancaster.
ZIPLINE CANOPY TOURS
– FLYING V: 2 ziplines
– CHALLENGE ADVENTURE: 5 ziplines and 9 aerial challenge obstacles
– AERIAL EXCURSION: 7 ziplines and 3 sky bridges
OTHER OUTDOOR/INDOOR ADVENTURE ACTIVITIES
– ELEVATED OBSTACLES: 2 levels of challenging aerial obstacles.
– WILDLIFE CENTER: Interact with 40+ native & exotic reptiles and amphibians and the new Birds of Prey exhibit featuring native owls and hawks.
– ARCHERY: Learn how to shoot at targets with a bow and arrow (safely) from a personal guide.
– CLIMBING TOWER: A 37 ft. tower with novice to expert skill levels.
– RAPPELLING: Guided by trained staff, learn how to safely rappel 40 ft. on your own (meaning you have control), while being securely belayed.
– GIANT SWING: A 30 ft. pendulum swing you will not forget!
– PEDAL CARTS: Engineered to function like a classic go-cart, these fun sturdy vehicles are powered by your legs great for kids to adults.
– ESCAPE ROOMS: Engaging, private bookings, these fun escape rooms are great for groups, families and friends.
– FARM ANIMAL EXPERIENCE: Perfect for kids to interact with some common (or not so common) domestic animals like bunnies, pigs, alpacas, and horses.
– COMMUNITY POOL AND SPLASH PARK
COVID-19 message on its website –
Following Gov. Wolf's Announcement That Limited Outdoor Recreational Activities Can Re-Open On May 1, We Re-Opened A Select Number Of Activities, With Responsible Spacing Modifications.
We agree with Gov. Wolf, that getting outside is a great way to boost mental and physical health.  Our adjusted options focus on ways that you can enjoy the outdoors in a safe way that continues to honor responsible spacing guidelines.
Refreshing Mountain Features:
We have 100+ acre outdoor property with plenty of space to spread out.
We have installed hand sanitizer stations throughout our grounds.
Enhanced sanitation procedures in place around the property.
Temporary Guidelines In Place For Outdoor Activities
Mask Info per PA Department of Health (as of July 1) requires all persons ages 2+, unless prohibited by a personal health need, wear a mask in the following situations — Anytime inside a public space; Anytime outside within 6 feet of a non-household member.
Turkey Hill Experience (301 Linden St, Columbia, https://www.turkeyhillexperience.com/)
The Turkey Hill Experience features interactive exhibits allowing you to learn about dairy culture, the story of Turkey Hill Dairy and how the company's ice cream and iced tea flavors are selected and created. You will truly experience what it's like to be a Turkey Hill Dairy ice cream maker for a day, including the opportunity to create your own virtual ice cream flavor.
In addition, you can sit in our vintage milk truck, milk our mechanical cows, star in your very own Turkey Hill commercial and enjoy plenty of free samples of iced tea and ice cream.
COVID-19 message on its website —
The Turkey Hill Experience (THE) will be reopening on Friday, June 26. In accordance with CDC guidelines, several new protocols will be in place:
Reservations required.
Facility capacity reduced by 50%.
Temperature screenings will be conducted prior to entering the facility. You (and everyone in your party) must have a temperature of 100.3° Fahrenheit or less to gain entry.
One entry and one exit for all guests.
Face masks required for all team members and visitors over the age of 2. They must cover both your mouth and nose.
Our team will be sanitizing high-touch areas at frequent intervals throughout the day.
Instant hand sanitizer will be available at multiple locations throughout the facility.
Abundant signage about the importance of social distancing.
We are instructing staff to stay home if they do not feel well.
Enhanced nightly deep cleaning and sanitation of our facility.
Admission vouchers and annual memberships that were scheduled to expire after March 15, 2020 will be extended for one year.
How you can help us:
Purchase tickets online at www.turkeyhillexperience.com before visiting. Annual members should call 717-684-0134 X104 between the hours of 10am and 4pm to make reservations.
Be sure to arrive at your scheduled arrival time. Please do not arrive significantly earlier or later.
We encourage you to not bring strollers into the facility.
Maintain social distance between you and the next party.
Guests who arrive together will be asked to stay together for the duration of their visit.
Bring face masks for anyone in your party over the age of 2.
Adhere to healthy travel practices: wash hands often for at least 20 seconds, cough into your elbow and avoid contact with people who may be sick.
If you feel ill or experience flu-like symptoms, we urge you to stay home and visit us when you feel better.
We are eagerly anticipating your visit! When the time is right for you, come make memories with your family and friends one scoop at a time.
Julius Sturgis Pretzel Bakery (219 East Main Street, Lititz, https://juliussturgis.com/)
The Julius Sturgis Pretzel Bakery, established in 1861, is the first commercial pretzel bakery in America. Visitors can tour the original 19th century pretzel bakery, get a hands-on lesson in pretzel twisting, and learn the history of pretzel making in the United States. You can also see old-fashioned soft pretzels being made by hand.
The Julius Sturgis Pretzel Bakery retail store features hand-made soft pretzels, as well as many varieties of hard pretzels baked by the direct descendants of Julius Sturgis at Tom Sturgis Pretzels near Reading, PA. These include traditional Sourdough, Cheese, and Chris B pretzels, as well as flavored pretzels like Honey Mustard and Onion, Ranch, Hot Cheese, and Cinnamon & Sugar.
The Julius Sturgis Pretzel Bakery underwent extensive renovations in 2007 and is newly restored and updated. Since reopening, the bakery is once again operated by the Sturgis family, the oldest pretzel baking family in America.
COVID-19 message on its website —
We are now open noon-4 p.m. seven days a week! Tours by appt. only – call during business hours to schedule.
You can also make the short drive west to Lancaster County to enjoy nature in the area's many parks, including Susquehannock State Park (1880 Park Drive, Drumore, https://www.dcnr.pa.gov/StateParks/FindAPark/SusquehannockStatePark/Pages/default.aspx). Four properties along the scenic Lower Susquehanna River comprise the Susquehannock State Park Complex.
The 224-acre Susquehannock State Park is on a wooded plateau overlooking the Susquehanna River in southern Lancaster County. In addition to the outstanding view, the park offers a variety of recreational opportunities for year-round fun.
In Lancaster County, more great places to get close to nature are provided by the Lancaster County Conservancy (https://www.lancasterconservancy.org/preserves/).
The Lancaster County Conservancy protects more than 2,900 acres of land for the health of the ecosystem and the enjoyment of the public. Nine of these nature preserves are highlighted below, including what is quite possibly the premiere natural area in Lancaster County — Tucquan Glen.
The closest to Chester County is the Octoraro Creek Nature Preserve (https://www.lancasterconservancy.org/preserves/octoraro-creek/).
The Octoraro Creek Nature Preserve primarily serves as the tree and shrub lined buffer for the Octoraro Creek. From the water there is very little disturbance of the creek's wild and scenic nature. Wildlife abounds with regular sightings of otter, kingfisher, bald eagles and osprey.
Eel and shad still migrate up the Octoraro Creek from the Atlantic Ocean because there are no dams on the lower section of the creek. Octoraro Creek empties directly into the Susquehanna River in Maryland.
The Conservancy acquired this land in 2008 with funding from the PA Department of Conservation and Natural Resources, the Natural Lands Preservation Fund of Lancaster County, and the 1675 Foundation.
Tucquan Glen Nature Preserve (https://www.lancasterconservancy.org/preserves/tucquan-glen-pyfer/) is quite possibly the premier natural area in Lancaster County — the most attractive and perhaps the most pristine of the seven ravines or glens which open into the Susquehanna River in this area.
The Susquehanna River is a "Wild and Scenic River," lush and green in spring and summer, colorful in autumn, and beautiful all year round with extensive rhododendron thickets and more than 40 species of trees. In its middle section, the stream rushes headlong into huge boulders and through narrow crevices.
Two differently colored blazed trails provide a loop within the preserve. Both trails are strenuous with short sections of relief across floodplains. A lesser-used trail, blazed white, climbs into groves of large, mature canopy trees and connects with the Conestoga Trail which provides access back into the glen by hiking south.
A section of the Conestoga Trail traverses the preserves and captures some of the best highlights of the preserves including waterfalls and rock outcrop vistas and provides seldom used access from Reed Run Nature Preserve (by hiking south) and Pinnacle Overlook Nature Preserve (by hiking north).
Ferncliff Wildflower and Wildlife Preserve (https://www.lancasterconservancy.org/preserves/ferncliff-wildlife-and-wildflower/) is a  National Natural Landmark.
Ferncliff's old growth forest and wooded ravine are home to a profusion of plants common to the River Hills. The wildflowers of Ferncliff are what make this area most special. On the hillsides and ravines are some of the best examples of River Hills timberland. Transient and nesting bird populations are varied.
Fishing Creek Nature Preserve (https://www.lancasterconservancy.org/preserves/fishing-creek-south/) has no official trail but approximately three miles of dirt road follows a stream with three fords.
This preserve is located in one of the most remote areas of Lancaster County. It is bisected by a dirt road that closely follows the stream and fords it in several places. In wet weather, however, vehicle traffic is difficult. More than 20 tree species exist, as does an impressive array of ferns.
Trout Run Nature Preserve (https://www.lancasterconservancy.org/preserves/trout-run/) offers a moderate hike with three stream crossings.
This beautiful ravine well known to nature lovers and biologists. The wooded glen has almost everything a naturalist would want to preserve, including a stream whose clear water tumbles along a fairly steep gradient with pools along its length. Tall, mature trees shade the stream.
Homewood Nature Preserve (https://www.lancasterconservancy.org/preserves/homewood/) offers a mix of forest and field, gentle rolling hills, cultivated and grassy fields, an old barn, and a woodland valley overlooking Eshelman Run. Mature black walnut, oaks, tulip poplars, beech, and birch cover the hillsides. The preserve features more than 115 plant species and 25 documented bird species.
Rannels-Kettle Run Nature Preserve (https://www.lancasterconservancy.org/preserves/rannels-kettle-run/) offers a moderate hike with a steep slope.
Adjoining State Game Lands and the Horseshoe Trail, this preserve includes the hillside between Kettle Run and the top of the ridge. A small tributary of Hammer Creek meanders through the woods. More than 10 species of ferns grow on the property, a fine example of a mixed hardwood forest that has been uncut for more than 60 years.
Steinman Run Nature Preserve (https://www.lancasterconservancy.org/preserves/steinman-run/) has easy well-established trails through a wood of mixed hardwoods with giant oaks, towering tulip poplars, and stately old beeches, along with spicebush and mountain laurel. The melodic wood thrush is commonly heard here. Steinman Run traverses the property with many wetland plants along its course.
Turkey Hill Trail (https://www.lancasterconservancy.org/preserves/turkey-hill/) features spectacular vistas and secluded paths through a somewhat dry deciduous forest, varying from early successional species to fully mature hardwoods with scattered mountain laurel. It offers great views of the Susquehanna River. Of special note is the world's largest paw paw patch north of the 39th Latitude.
Lancaster is also home to eight county parks, totaling 2,003 acres. All Lancaster County parks have hiking trails and parking lots. Central, D.F. Buchmiller and Chickies Rock parks have pavilions, picnic areas and ball fields. Central and D.F. Buchmiller parks have tennis courts.
Central Park has an Environmental Center and library, The Garden of Five Senses and the county pool. There are two overlooks at Chickies Rock Park offering incredible vistas of the Susquehanna River and one at Money Rocks Park that views the twin valleys of eastern Lancaster County.