Tedeschi Trucks Band headlines at Sun Center, Paul Cullen at The Flash
By Denny Dyroff, Correspondent, The Times
Coming up soon are three entertainment events that offer something new with a touch of something old — the Tedeschi Trucks Band at the Sun Center in Aston, the "Odd Couple" at Candlelight Theater in Arden (DE) and Paul Cullen at The Flash in Kennett Square.
There is a brand new venue in Aston called the Sun Center and the Tedeschi Trucks Band will be the first act to perform on the outdoor stage when the Center's "Starlight Summer Concert Series" gets underway on June 11 at 8 p.m. One night later, blues legend Buddy Guy will be the headliner.
While the concert facility is new, the music served up by the Tedeschi Trucks Band and Buddy Guy will be heavily laced with older music such as blues-influenced Southern Rock by the TTB and straight-ahead blues by Buddy Guy.
Derek Trucks and his wife Susan Tedeschi are both established recording artists, stellar guitarists and accomplished bandleaders. After years of touring and recording with their own bands, they merged their bands. The result is a powerhouse 11-piece group that plays a high-energy blend of Delta blues, Memphis soul, Sixties rock and Seventies funk infused with a distinct southern flavor.
The TTB has recorded three albums in the four years it has been together — "Revelator" (which won the Grammy Award for Best Blues Album) in 2011, "Everybody's Talkin'" in 2012 and "Made Up Mind," which was released last August.
Trucks, who formed the Derek Trucks Band in 1996 (when he was 17), was a guitar prodigy. Ironically, he played alongside Buddy Guy before he even turned 13.He also has been an official member of the Allman Brothers Band since 1999.
"It's been another really busy year," said Trucks, during a recent phone interview from Las Vegas just prior to the start of this tour. "Between playing with the Allman Brothers and this band, I haven't had much time off.
"We started the year in Japan and played India, Bahrain and then Holland, Belgium and France. That was a lot of shows. We've been home for a few weeks doing some writing and recording at Swamp Raga (his studio in Jacksonville).
"We're getting a little start on our next album. We've been making a record a year so far. With the new one, we want to take our time and have it so that the band in the studio sounds like it does when it's playing onstage."
The Tedeschi Trucks Band shines onstage — frequently playing a two-hour set that features solos by all the band members as well as blistering guitar duets featuring Trucks and Tedeschi. The TTB Band jams but it is far from a jam band. It also captures the vibe of early concerts at the Fillmore in the early 70s without sounding dated.
"We're definitely not trying to be retro," said Trucks. "But, when things are good, they're good and they last. When people see a band like this, they see how good it can be. Everyone onstage plays their heart out.
"We watched Joe Cocker's 'Mad Dogs & Englishmen' live DVD around the time we were thinking of putting this band together. That was part of the inspiration. Tours like those by Cocker and the Allman Brothers can be a wild circus — but they can also spiral out of control."
Trucks has been a mainstay on guitar for the Allman Brothers since before the turn of the century while the band itself dates back to 1969.
"I have some shows with the Allman Brothers later this year," said Trucks. "I think this is it — at least for me. I've been wanting to make a move for five or six years. I think the band is going to hang it up after 45 years. This lineup has been together for 15 years and that's the longest incarnation of any of them."
A few days after the interview, the Allman Brothers officially announced that the ABB performances would be October 27 and 28 at the Beacon Theatre in Boston, a venue the band has played exactly 232 times since their annual tradition began there in 1989.
"I'm ready now to focus on just one thing and, when I'm not doing that, be home with my kids," said Trucks.
The Sun Center Studios is a film and television production facility which opened in 2011 and has been the location for filming for a number of movies, including M. Night Shyamalan's "After Earth," "Paranoia" with Gary Oldman and Harrison Ford and "Franny" with Richard Gere. BRE Presents is the promoter for this summer's music series.
Other shows in the "Starlight Summer Concert Series" lineup are the Bacon Brothers on June 20, Straight No Chaser on July 16, Procol Harum on July 17, Gordon Lightfoot on July 19, the Mavericks on August 7, Get the Led Out on August 8, the Indigo Girls on August 12 and the Beach Boys on August 13.
Sun Center Studios are located at 63 Concord Road in Aston. It is an outdoor venue and shows will be held rain or shine. Tickets for the Tedeschi Trucks Band concert are $45 and $75. For more information, call (610) 492-7722 or visit http://www.suncenterconcerts.com.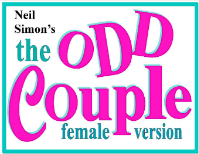 At the Candlelight Theater (2208 Millers Road, Arden, Delaware, 302- 475-2313, www.nctstage.org), the name is new — it used to be the New Candlelight Theater — and the current production is a new take on an old show.
From June 5-22 (Fridays and Saturdays, 7:30 p.m.; Sundays, 2:30 p.m.), the Candlelight will present Neil Simon's "The Odd Couple — Female Version."  Unlike most of the venue's productions, this show does not include a full dinner buffet but does feature appetizers and a cash bar. Tickets are just $30 apiece.
The zany award-winning comedy by Simon focuses on the crazy relationship between an Unger and a Madison — but not Felix and Oscar. It's Florence rather than Felix and Olive rather than Oscar. Additionally, the Pidgeon sisters have been replaced by the two Constanzuela brothers.
"I wasn't familiar with the female version until this production came along," said Gerri Weagraff, during a recent phone interview. "I was familiar with the story from the movie with Jack Lemmon and Walter Matthau but I had never even seen the play version."
The show converts to a female version really well and has been universally accepted whenever it's been staged. It's a funny show. What makes it so good is the construction of all the jokes. Neil Simon is a terrific joke writer.
"I've been performing for 40 years and this is my first time to do a Neil Simon play," said Weagraff. "This show has some iconic scenes like the throwing of the spaghetti. It captures all the characters' idiosyncrasies.
"I think I share a lot of characteristics with Florence so it was a little bit of type-casting. The director Bob Kelly has really worked with us and refined what needs to be done such as the timing. With Neil Simon comedies, timing is really important. He's a great director and he tells us exactly what to do."
At The Flash (102 Sycamore Alley, Kennett Square, 484-732-8295, www.kennettflash.org), Paul Cullen will present "Night in Tuscany: The Ultimate Food Wine and Music Event" on June 8 at 5 p.m.
This is a relatively new multi-tiered venture for Cullen, whose musical resume includes playing in an older classic rock band. Cullen spent several years back in the 90's playing bass for Bad Company.
Cullen, who has traded his bass guitar for a nylon-string acoustic guitar, will present an evening featuring a four-course meal with traditional Italian cooking and complementary wine pairings, live music and cooking demonstrations.
"I've been doing this combination for a little over two years," said Cullen, during a recent phone interview from his home in southern Delaware. "My grandmother was a full-blooded Italian and she taught me how to cook early.
"In recent years, I've had people over for dinner. I made her recipes for them and it was fun. Eventually, that led to what I'm doing now. I do a demonstration on how to make the dish.
"Everyone gets to have a plate of it and I pair it with Italian wines. It's four courses and they are all traditional Tuscan dishes. Then, while they're eating each course, I play my guitar. I play acoustic solo with a Latin jazz feel.
"I also play some Bad Company songs and some Stones. And, I have 43 original songs that I can play. I just released an e-Book called 'From Bad Company to Good Company.'
It includes stories, recipes and 10 new original songs."
Tickets, which are available for advance purchase only, are $0. Seating is at 4:30 p.m. on June 8 with dinner and music slated to start at 5 p.m.
In other action at The Flash this weekend, the Sin City Band will present its "40th anniversary Show" at 8 p.m. on June 7. Tickets are $16 in advance and $20 at the door.
The schedule for the main stage shows at the World Café Live at the Queen (500 North Market Street, Wilmington, Delaware, 302-994-1400,queen.worldcafelive.com) includes Get the Led Out on June 5, In the Light performs The Who on June 6 and Jesse Cook on June 8.
The Steel City Coffee House (203 Bridge Street, Phoenixville, 610-933-4043, www.steelcitycoffeehouse.com) will present Tracy Grammer with Zoe Mulford on June 6 and the Rent-A-Cops with Chris Grunwald on June 7.
Chaplin's (66 North Main Street, Spring City, 610-792-4110, http://chaplinslive.com/schedule) will feature a bluegrass jam on June 5, April Verch on June 8 and Mark Schultz and the Wayne Rangers and The Barn Swallows on June 7.
Bad Company's name pops up again this week regarding a show on June 5 at the Ardmore Music Hall (23 East Lancaster Avenue, Ardmore, 610-649-8389, www.ardmoremusic.com).
Simon Kirke, who has been the only drummer ever to play in Bad Company, will bring his band to the venue and be the opening act for Lez Zeppelin, an all-female Led Zeppelin tribute band.
Other shows this weekend at the Ardmore Music Hall will be Pure Jerry on June 6, Melissa Ferrick and Anne Heaton on June 7 (7 p.m.) and the John Byrne Band paying tribute to Shane MacGowan & the Pogues on June 7 (10 p.m.).
Burlap & Bean Coffeehouse (204 South Newtown Street Road, Newtown Square, 484-427-4547, www.burlapandbean.com) will feature a Bob Dylan tribute by Charlie Phillips on June 6 and The Parlor Sessions on June 7.